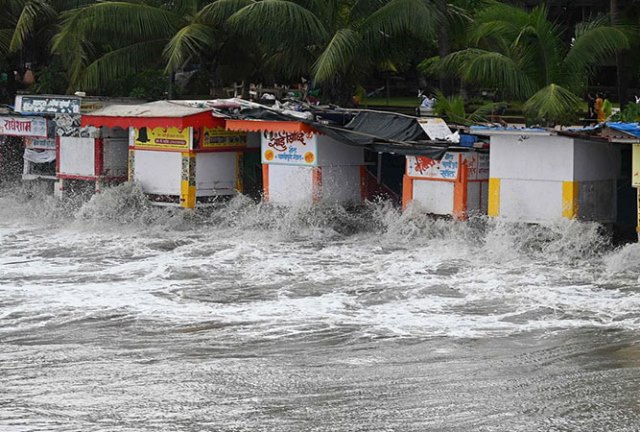 LM NEWS 24
LM NEWS 24
Cyclone Biparjoy Landfall Begins, To Continue Till Midnight
The landfall process of extremely severe cyclonic storm 'Biparjoy' has begun and it will continue till Thursday midnight, a senior weather scientist at India Meteorological Department (IMD) said.
"The landfall process (of cyclone 'Biparjoy') has commenced and it will continue till (Thursday) midnight," Mrutyunjay Mohapatra, director general, Meteorology, IMD, told ANI.
Earlier, on Thursday, the IMD said cyclone 'Biparjoy' will cross Jakhau Port of Gujarat by Thursday night after making landfall as a very severe cyclonic storm (VSCS).
"Cyclone Warning for Saurashtra and Kutch Coasts: RED MESSAGE. VSCS BIPARJOY at 1130IST today near lat 22.8N & long 67.3E, about 140km WSW of Jakhau Port (Gujarat) and 190km WNW of Devbhumi Dwarka. To cross near Jakhau Port (Gujarat) by tonight as VSCS," IMD said in a tweet on Thursday.
Meanwhile, Gujarat Chief Minister Bhupendra Patel chaired a review meeting at the State Emergency Operation Center in Gandhinagar on Thursday morning as cyclone 'Biparjoy' neared.
The IMD issued a Red alert for the Saurashtra and Kutch coasts on Wednesday, saying that VSCS (Very Severe Cyclonic Storm) 'Biparjoy' will cross Saurashtra and Kutch and adjoining Pakistan coasts, between Mandvi and Karachi near Jakhau Port, by Thursday evening.
Warnings about extensive damage to temporary housing structures and falling of trees and branches due to high-speed winds, high tides and heavy rainfall have already been issued by India Meteorological Department.
"Sea conditions will remain disturbed in the northeast Arabian Sea due to cyclone 'Biparjoy'. All fishing operations should remain suspended. Offshore activities, port and industrial activities and oil explorations should be regulated today," the director general of IMD said.
Preparations for protection against the cyclone are on in full swing on the Gujarat coasts. District authorities have also been sharing timely updates on evacuation measures and the provision of temporary shelters for evacuees.
Amid the approaching cyclone, National Disaster Response Force (NDRF) and State Disaster Response Force (SDRF) deployed teams in Gujarat on Wednesday. The teams set about evacuating people and livestock from low-lying, coastal areas to safely and mobilising other emergency measures to save lives and property. (ANI)
Read More: lokmarg.com