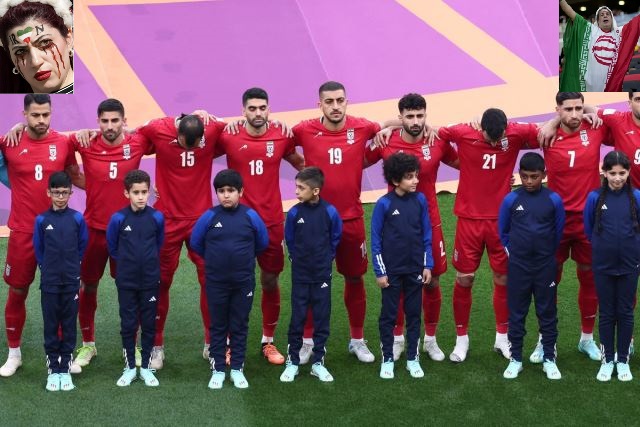 OPINION
OPINION
Damned If They Sing, Damned If They Don't…
There were boos and jeers in their second match, as some of them, seemingly reluctant, mumbled the national anthem. Others tried to sing along half-heartedly, while still others kept their lips sealed, bravely. This was a difficult moment, even as a young woman held a placard which said, 'Mahsa Amini – 22', the woman's eyes painted with the red tears of blood. A young man unfurled a banner – 'Women, Life, Freedom', (Zen, Zindagi, Azadi, in Persian), the slogan now popular all over Iran and across the world.
Taking a political stand in a public platform as big as the FIFA World Cup is not easy. No banners or placards are allowed inside the stadiums with political messages. Iranian official TV had censored the national anthem episode in the first match against England, in a country which loves soccer with unimaginable passion, including girls and women who are still not allowed to watch a match in a football stadium.
Jafar Panahi, a great filmmaker who made 'Offside', on how some young girls sneak into an all-male world cup qualifier in Tehran disguised as boys, and are caught and placed in confinement, is now rotting in jail, along with other eminent filmmakers, intellectuals, writers, journalists and thousands of women.
No one knows how many have been killed in the last few weeks of raging protests – 350 plus according to reports – most of them women, many of them teenage girls. A famous international footballer, Voria Ghafouri, also a Kurdish like Mahsa, who spoke in support of the protesting women, was picked up. Top actor Hengameh Ghaziani was arrested, according to official news agency, IRNA. Ghaziani, 52, had posted a video in her Instagram account without a hijab, in an open act of defiance, something women are doing on traffic crossings, classrooms, public squares, airports, metro stations, all the time, even while cops are opening fire indiscriminately. Ghaziani wrote on Instagram: "Maybe this will be my last post. From this moment on, whatever happens to me, know that as always, I am with Iranian people until my last breath." Earlier, another top actress, Taraneh Alidoosti, posted a pictue without the hijab, while holding a placard saying: Women, Life, Freedom.
If this is not infinite courage, then what is?
The arrests sparked outrage which intensified the movement, even as the 40th day after the funerals have turned into a mass uprising against the dictatorship, with slogans, singing, dancing, poetry, street theatre, graffiti, and endless marches by tens of thousands across campuses and public spaces, including by school girls and boys. The rebellion against compulsory hijab and brutality of morality police, and the murder of young Mahsa is a spark which has ignited a peaceful, spontaneous revolution. Even as 'Baraya', the sublime song of existential and political angst of daily life, has become an alternative anthem, while the singer too has been picked up.
That is why, imagine the psychological condition of the footballers of Iran, playing a high-pressure game in a world cup. Their hearts beat fiercely for their people, and women, but they know that a sinister regime is waiting for their return. They are damned if they sing, damned if they do not sing.
Give it to them, the Football Team of Iran is a supremely brave team. They stood firm with the ground beneath their feet, their eyes closed or moist, their collective lips sealed, as the national anthem played – against the match in England. This was a silent protest which made rivers of tears flow inside the stadium and across the world. This was a silent protest which triggered a wave of global adulation for this exemplary act of courage. Even while the English captain chose not to wear the protest arm-band, the sword of FIFA hanging on his head.
ALSO READ: Iron Women of Iran
What is it that touches a chord deep inside millions of hearts, like a magical, musical symphony, or, creates a brilliant, sparkling moment of idealism, or, even a soul-stirring syndrome of sudden sadness in soliloquy? What is that micro moment, which, in a flashing fraction, becomes a spectre, a revelation, a silent prayer, a song in chorus, sung inside the heart? What is it that strikes an invisible chord, even if it might not turn the world upside down, but you know that something sublime, enlightened and deeply stirring has happened, in hope or despair, great ecstasy or collective tragedy!
And what did the Iranian captain say? "My condolences to all the mourning families in Iran… We stand with them and share their pain… We must accept that conditions in our country are not right and our people are not happy… My people are sad and our presence here does not mean that we cannot be a voice for them or should not respect them," captain Ehsan Hajsafi said.
"We have to accept that the situation in our country is not good and that our people are not happy, there is discontent," he said, addressing a press meet. "We are here, but it does not mean we should not be their voice or that we should not respect them. Whatever we have is theirs. We have to perform the best we can and score goals and dedicate those goals to the people of Iran who are feeling hurt."
Some struggles become immortal. Remember the murder of George Floyd — choked to death? How his last words, "I can't breathe," became a universal cry of angst and anger of not only the Afro-American community, but all those who believed that white supremacism and racism is destroying American democracy, even as predatory capitalism has entrenched a handful of obscenely super-rich billionaires, while millions struggle to make two ends – especially during and after the pandemic.
The Black Lives Matter movement rocked America, resurrecting the heady memories of the non-violent struggles waged by Martin Luther King, inspired by Mahatma Gandhi's Satyagraha. It too struck a chord which became an oceanic undercurrent against established racism in American society, which has routinely tried to eliminate the gory history of genocide of native Indians, as the invading whites conquered land and territory with relentless brutality.
As the Black Lives Movement spread, most city council members in Minneapolis, where George Floyd was killed, promised to disband the city's police department. In Los Angeles, the mayor proposed to cut the police budget by $150 million. Mayors in Lansing, Boston, MA, Seattle, etc. promised to follow.
Among other radical ruptures, monuments and statues dedicated to cruel and racist white men in Dallas, Washington DC, Boston, Philadelphia, San Francisco, Richmond, among other cities, were removed. The statues included that of Christopher Columbus, among others. Indeed, 'chokeholds' by cops were banned in Minneapolis, Minnesota, Houston, Austin, Chicago, Illinois, Washington DC, Colorado, Denver, New York, Connecticut, among others. "I can't breathe," became a moment of deep mourning and liberation in a country where bitter memories of the past refuse to fade away.
That is why, when that spontaneous, epical moment arrives, it becomes a universal movement, touching souls and hearts. Tears flow. Songs are sung. Fists are clenched. Slogans resound on the streets. Hands and fingers join hands and fingers. And a new stream of consciousness is yet again reborn. Promising peace against violence. Beauty against ugliness. Solidarity against isolation. And in praise of a more enduring, humane and better world.