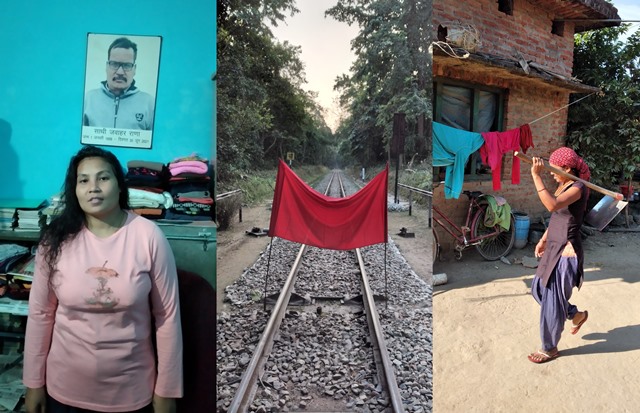 OPINION
OPINION
Daughters Of Dudhwa Reclaim Forest Land
They dance with the north wind, as if the cool forest breeze is caressing their movements like an Edgar Degas painting of graceful ballerinas. Slow and soft, they move in a circular rhythm like the many petals of a spring flower, and you can almost hear the wind as they dance with its flow.
At other times, they work very hard, much before the crack of dawn, nourishing their fertile land. At other times, they sit around the fire and tell ancient, forgotten stories, their faces full of warmth; their eyes shining in the nocturnal fire. At other times, they reclaim their land and forests, and lead a peaceful resistance, unprecedented in Adivasi history in Independent India.
Inside the core tiger zone of the dense forests of the Dudhwa National Park on the Indo-Nepal border, near the lush green sugarcane fields in Lakhimpur Kheri and Pilibhit in the Terai of Uttar Pradesh, Tharu women and men are at the vanguard of a protracted, non-violent struggle. Their struggle is for the implementation of the Scheduled Tribes and Other Traditional Forest Dwellers (Recognition of Forest Rights) Act — FRA — and for the sovereignty of the Gram Sabha, guaranteed by Parliament and enacted by the Congress-led UPA 1 government in December 2006.
The adivasi communities in around 46 villages with no lack of water and abundant forest resources, are in the midst of a silent transformation. "We believe in the Indian Constitution," says young Sahwaniya, leader of the Tharu Adivasi Mahila Mazdoor Kisan Manch, who is doing her Masters and drives a motorcycle in the thick of the forest. "Why is the Forest Department not allowing us the benefits of the FRA? Why is it so rigid and predictable? Why do they refuse the legitimacy of the Gram Sabha? Why do they deny us the right to forest produce, when we are the original inheritors of this ancient land of our forefathers, when we actually preserve and protect this vast range of the forests, the wildlife, rivers and water-bodies, because we love our forests and land, and all those who live here?"
Sahwaniya's angst is shared by most adivasis in the villages deep inside the national park, especially women. They are unanimous that the Forest Department routinely harasses them, threatens them of police cases and jail, and once there has been a major skirmish too. This has always been a pattern.
This is because the Tharus enter the forest to collect the tall grass (ghas phoos) which they use to build homes and cattle-shelters since decades, 'jaloni' (wood) scattered on the ground for cooking and for warmth during winter days and nights, wild fruits and vegetables, and herbs which they use as medicine.
ALSO READ: Fishing In The Tribal Talent Pool
They claim that many of their herbs are more effective than modern medicine – like Pipli for cough and cold, which grows abundantly around their homes, Kaalmukti, the leaves of which can be a cure for diabetes, and another herb which is effective against cancer.
Besides, there is no economic scarcity. They grow fruits, vegetables, pulses, sugarcane and foodgrain throughout the year. Education levels are abysmally low in many villages, though some villages have girls and boys studying in towns nearby, also in Bareilly and Delhi. Many girls and women drive motorcycles and cycles and public transport is largely absent. Says Sahwaniya, "I often drive alone deep inside the forest. What is the fear – this is our homeland. The tigers know us, and keep their distance. We have sighted them since we were children. We too respect them, and keep our distance. It's a peaceful co-existence."
Said Beermati of Kajaria village, "Once the forest department attacked us when we were cutting grass. They took away our sickles with which we were cutting grass. All male guards. What is their problem, attacking women like that?"
Not only forest produce, fishing, for instance, is prohibited. So several villagers led by Phoolmati Rana of Bhooda village, a feisty leader who died young of a serious illness, led several villages to a pond to do fishing. "The forest guards took aim with their guns. Phoolmati went forward and said, 'Come, kill us'. "They were forced to back out," said Pratap Singh, former pradhan of Bhooda. "Why are we not allowed to do fishing in a pond which has been a collective water resource since decades?"
Women in Kajaria village and its neighbourhood, with their organized Kisan Manch leading it, under the auspices of the All India Union of Forest Working People, have now chosen a unique method. They write to the authorities in advance, including the district magistrate, that they will enter the forest on a particular day to collect ghas-phoos and wood. Then several women, in hundreds, gather together, and enter the forest. And, until now, they have not faced any obstacle from the forest department in the face of this collective, peaceful action.
Surprisingly, one can see hardworking Nepali women, also Tharus, from across the border, cross over to India and collect wood. Locals do not object but they allege that often Nepali women have to bribe the forest department to collect wood. They say: "If we are not allowed to collect wood in our own land as Indians, why do they allow Nepalis?"
The winds of change are blowing in Dudhwa amidst the tall trees. "In almost 22 villages, we have spread social awareness about the Gram Sabha and FRA. In our strongholds, they are now unable to harass us," said Sahwaniya, who is part of the struggle since her childhood. Her father, Jawahar Rana, is a legend in the area. He was one of the original leaders of this peaceful movement, along with veteran Ramchandra, which started in the 1990s. Rana was arrested and allegedly brutally assaulted by the police. After his imprisonment, his health deteriorated, though he was still leading the struggle. During the lockdown of Covid, he died.
Sahwaniya's beautful village is neatly organized in aesthetically designed mud huts, like most Tharu homes, constructed with architectural finesse, often with no doors and open-to-sky courtyards, and made with natural resources. They store food in storage rooms, in huge mud containers, anticipating a drought or natural catastrophe.
Surma, surrounded by dense forests and spread across sprawling fields of mustard, dhan, vegetables and fruits, was once the epicentre of the movement. "We fought in the courts, we appealed to the government and political parties, we waged a prolonged non-violent struggle. They were just hell-bent to throw us out from our ancestral village. Finally, we won the battle.
However, they are still denying us our fundamental rights – there is no electricity here. Not an iota of development has touched this village because they want to victimize us," said Sahwaniya. Most adivasis believe that things were not so bad under the British. They would come and enjoy, or do hunting, and leave the indigenous communities in peace. Says Nevada, young leader from Suda village close to river Mohana on the India-Nepal border, which routinely floods the villages of Sohnah, Nijhota, Biriya, Kajaria, Bankati, among others, "Earlier, every village had to give huge amounts of foodgrain (in quintals), garlic, vegetables, chicken, etc to the forest department because there was terror all around. Since we have organized ourselves, we have refused to follow this illegal system. Obviously, they hate us for asserting our rights. Why should they take the fruits of our hard labour?"
According to Rajnish, leader of the Union who has worked in the belt for many years, recently the Tharus took a delegation to the district administration with pictures of several trees which were felled, thereby proving that there is a huge timber mafia operating in the protected park. The entire apparatus went into a tizzy. The nexus was out in the open.
As we move on bikes through the thick of the forest, a young mother walks back home with her little school-going daughter. Another woman passes by on a cycle, the 'kudal' and sickle, balanced on her shoulder. "We live happily in our beautiful forest. There is no fear of predators. And we love it," said Sahwaniya, perched on her bike.
Read More Article: https://lokmarg.com/