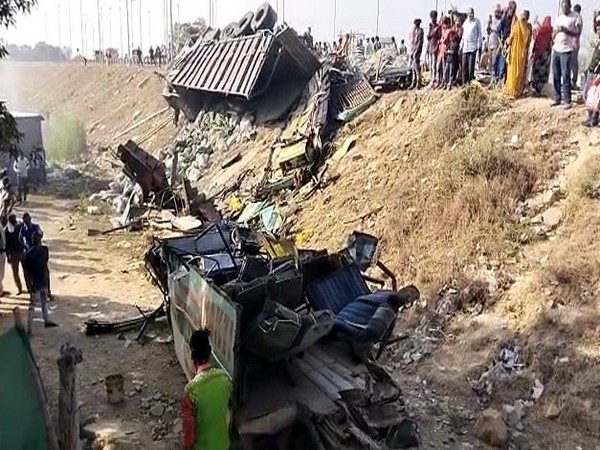 LM NEWS 24
LM NEWS 24
Death Toll In MP's Sidhi Rises To 14
The death toll in Friday night's accident in Madhya Pradesh's Sidhi district has risen to 14 people, while the count of injured has gone to 56, the police said.
"A total of 14 deaths have been confirmed in the accident so far and 56 people injured. Of these injured, 39 people are undergoing treatment at Sanjay Gandhi Hospital in Rewa district," Rewa Superintendent of Police (SP) Mukesh Srivastava said.
Out of 14 deaths, eight died on the spot, two were declared dead at Sidhi district hospital and four died at Sanjay Gandhi Hospital, he added.
The accident occurred near Barkhada village close to the Mohania tunnel in the district. Sustained injuries after a truck rammed into two buses from the rear in Madhya Pradesh's Sidhi district late Friday night, a police official said on Saturday morning.
The buses were carrying people returning from Union Home Minister Amit Shah's rally.
The truck reportedly lost control which resulted in the bursting of the tyre. The injured were immediately rushed to the nearby hospital.
Rewa SP Srivastava said, "Two buses were parked, a truck came from behind and got uncontrolled after its tyre got burst, leading to the collision."
The police's investigation into this matter is underway.
Union Home Minister Amit Shah condoled the loss of lives. Taking to Twitter, Shah said, "The road accident in Sidhi (M.P.) is very sad. I express my deepest condolences to the families of those who lost their lives in this accident. May God give them the strength to bear this sorrow. Treatment is being provided to the injured by the administration. I pray for the speedy recovery of the injured."
Madhya Pradesh Chief minister Shivraj Singh Chouhan also expressed grief over the incident and he announced an ex-gratia of Rs 10 lakh for the next-of-kin of those, who died in Sidhi's road accident.
He also announced that an amount of Rs 2 lakh each has also been sanctioned for the persons, severely injured in the incident and Rs 1 lakh for people with normal injuries. (ANI)
Read More:http://13.232.95.176/