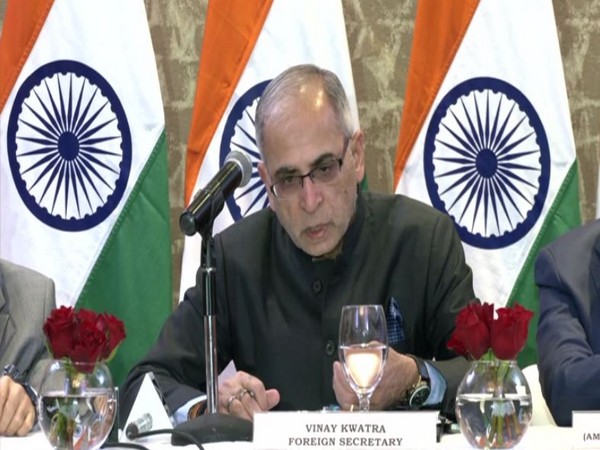 LM NEWS 24
LM NEWS 24
Decision Is Yet To Arrive: Kwatra On Egypt's BRICS M'ship Request
After Egypt has requested to join the BRICS economic group, Foreign Secretary Vinay Kwatra said that member countries are examining requests and simutaneouly deliberating on the criteria of expansion of the BRICS membership.
"Currently, the member countries of the BRICS are examining all these requests on one hand, but on the other hand, they are also currently discussing between them as to what should be the criteria of expansion of the BRICS membership, what should be the process and procedure relating to that. That is yet to arrive," Kwatra said while answering the question on Egypt's request for BRICS membership.
"BRICS takes all its decisions by consensus. So from our side, we are a very active participant along with other BRICS countries in that process. Right now, that is the current status. But we are looking actively at all the applications, naturally, including a very friendly and strategic partner like Egypt in the expanded structure of the BRICS," Kwatra said in a special briefing on Prime Minister's visit to Egypt.
This statement came after Egypt submitted its application to join BRICS, Russian Ambassador to Cairo Georgy Borisenko confirmed, TASS News Agency reported.
On Wednesday, 14 June, Egypt began the process of potential accession to the BRICS – the country has filed an application to join the five countries. This was reported by TASS, citing the message of the Russian Ambassador to Cairo, Georgy Borisenko.
"Egypt has submitted its application to join the BRICS group because one of the endeavors that BRICS is currently pursuing is to shift trade to alternative currencies, be it national currencies or a new common currency. Egypt is very much interested in that," the envoy said in an interview with TASS.
According to him, Egypt is eager to boost trade and economic cooperation with Russia. "New payment mechanisms are being created for trade transactions," the ambassador added.
The foreign ministers of BRICS member states (Brazil, Russia, India, China, and South Africa) held a meeting in Cape Town on June 2.
The meeting was also attended by top diplomats from the 12 countries of the Global South that wish to join the group, namely Argentina, Bangladesh, Comoros, Cuba, the Democratic Republic of the Congo, Egypt, Gabon, Indonesia, Iran, Saudi Arabia, the United Arab Emirates, and Venezuela. (ANI)
Read More: http://13.232.95.176/