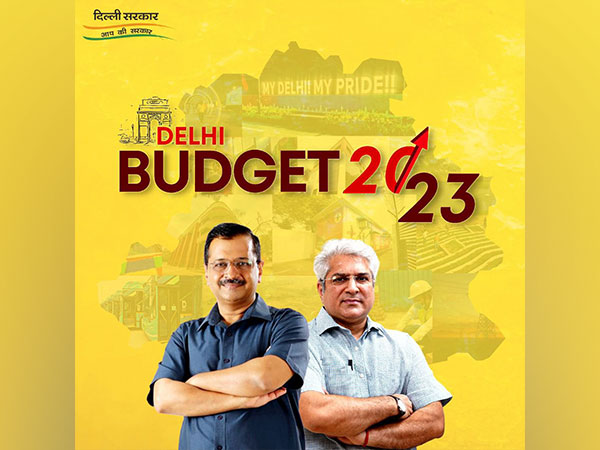 LM NEWS 24
LM NEWS 24
Delhi Budget 2023-24: Focuses On Transport, Health, Education
The Delhi administration finally presented its Budget document on Wednesday, a day after it was initially supposed to be tabled in the Assembly.
The theme of the Delhi Budget largely revolved around 'Clean, Beautiful, and Modern Delhi'.
The Budget proposed for the year 2023-24 worth Rs 78,800 crore, was presented by Delhi Finance Minister Kailash Gahlot, which is almost two and a half times the expenditure of Rs 30,940 crore in the year 2014-15, and 8.69 percent higher than the revised estimates for 2022-23.
Of the budgeted estimate of Rs 78,800 crore for 2023-24, Rs 56,983 crore is for the purpose of revenue expenditure and an outlay of Rs 21,817 crore under capital expenditure.
Notably, the share of capital expenditure as part of the overall budget has been raised 27.68 per cent in this year's budget. The proposed capital expenditure of Rs 21,817 crore is almost three times the capital outlay of Rs 7,430 crore in 2014-15.
Through this budget, the Arvind Kejriwal-led administration aims to launch what it said is one of the most ambitious and comprehensive plans in Delhi's history to transform it into a 'clean, beautiful and modern city'.
Nine major schemes are proposed under the ambitious theme.
Delhi seeks to upgradation and beautify 1,400 kms of the entire PWD road network with a 10-year estimated expenditure of nearly Rs 20,000 crore – the biggest such effort in Delhi's history.
The Budget document said total 28 flyovers were completed in the last eight years, and construction of another 26 new flyovers is underway. These include projects like Barapullah Phase 3 flyover from Sarai Kale Khan to Mayur Vihar and elevated road at Najafgarh Phirni.
It will construct three double-decker flyovers in collaboration with DMRC at Bhajanpura to Yamuna Vihar, Azadpur to Rani Jhansi intersections, and from Saket to Pul Prahaladpur. Vehicles will run on the lower deck of these double-decker flyovers, while the Metro rail will run on the upper deck.
The Budget proposes to introduce 1,600 new zero-emission electric buses next year, as part of a massive plan to induct a total of 8,280 electric buses (80 per cent of the total fleet) by 2025 with a financial outlay of Rs 28,500 crore in 12 years.
In a first, a dedicated last-mile connectivity scheme called 'mohalla bus' scheme will be launched in Delhi next year with 100 smaller (nine-metre length) electric buses, scaling up to 2,180 'mohalla buses' by 2025.
Also, electrification of all 57 existing bus depots of Delhi will be done so that they are ready for induction of electric buses. The estimated cost would be about Rs 1,500 crore.
For modernisation of transport infrastructure, three modern Inter-State Bus Terminals (ISBTs) with airport-like amenities at Sarai Kale Khan, Anand Vihar and Dwarka will be set up. These will be called as "Bus Ports".
In addition, two multi-level bus depots with parking upto six levels, two modern bus terminals, and nine new bus depots will also be constructed.
Further, 1,400 new and modern bus queue shelters in Delhi with digital screens with modern Passenger Information System (PIS) that will display the arrival time of buses will be erected.
Six-point action plan for a Clean Yamuna
The Delhi government said in the Budget it will rapidly expand the reach of the sewer network to all the colonies and clusters.
The total number of unauthorised colonies connected to the sewer network will almost double from 747 to 1,317 colonies next year. The people of Delhi will continue to receive the benefit of free household sewer connections.
"Delhi Government to join hands with MCD and provide financial assistance to get rid of Delhi's three garbage mountains of shame in next two years – Okhla landfill by December 2023, Bhalaswa landfill by March 2024 and Ghazipur landfill by December 2024," said the Budget document.
Education and Health
Education and health are set to continue to get the highest allocation for 2023-24. Allocation to education is pegged at Rs 16,575 crore (21 per cent) and health is Rs 9,742 crore (12 per cent).
The Budget proposes to provide new tablets to all teachers (including regular, guest and contractual), vice principals, principals and DDEs of Delhi government schools.
Major proposals under Health department
Free test facilities at Mohalla Clinics to be increased from 250 to 450.
"New Aam Aadmi Mohalla Clinics to come up at Metro stations. Number of Mahila Mohlla Clinics to expand from 4 to 100 in the coming year," it said.
Also, an expansion plan is underway to increase the number of beds available for patients in Delhi government hospitals from 14,200 to 30,000.
Separately, in a few months, the Delhi government will complete the work of reviving 20 lakes.
Coming back to the friction ahead of the Budget, the Aam Aadmi Party (AAP) on Monday alleged that the Union Ministry of Home Affairs had stalled it.
It was learnt certain observations were made by the Delhi Lieutenant Governor Vinai Kumar Saxena on the Budget after which the Union Ministry of Home Affairs (MHA) on Monday requested the AAP-led Delhi government to resubmit the Budget addressing these concerns. Reports say the Centre had sought clarification on the Aam Aadmi Party government's expenditure on advertisements before approving the presentation of the Budget.
Notably, Delhi's Budget goes to the Home Ministry for approval and can be presented in the Delhi Assembly only when the MHA approves the Budget.
On Monday, the Delhi administration tabled in the Assembly the Status Report of Outcome Budget and Economic Survey for 2022-23.
The Economic Survey document showed that the advance estimate of Per Capita Income of Delhi at current prices during 2022-23 is seen at Rs 444,768, registering a growth of 14.18 per cent over the previous year.
The Economic Survey typically details the progress of various departments along with the statistics related to the economy of the state. The annual document is prepared every year and presented in the Budget Session before the Legislature.
Delhi's Per Capita Income was always been around 2.6 times higher when compared to national average, both at current and constant prices, the survey said.
The Economy Survey also typically gives some idea about the tone and texture of the actual Budget for 2023-24, which is typically presented a day before Budget day.
Further, the survey said Delhi, being predominant as a service sector, has a share of contribution to Gross State Value Added (at current prices) at 84.84 per cent during 2022-23 followed by a contribution of Secondary Sector (12.53 per cent) and Primary Sector (2.63 per cent).
"The tertiary (or service) sector plays a pivotal role in the state economy both in terms of employment generation and contribution to state income," the Economic Survey for 2022-23 said.
Regarding GDP size, the survey said the Advance Estimate of GSDP of Delhi at current prices during 2022-23 is likely to attain a level of Rs 1,043,759 crore which is at a growth of 15.38 per cent over 2021-22.
With the economy returning to normalcy brought closer by the successful mega vaccination drive in Delhi, hopes of a robust recovery in the services sector, consumption, and investment have been rekindled.
Coming to the Outcome Budget 2022-23, it covered 23 major departments under which, major programmes and schemes were identified and key output and progress indicators were defined against each of them.
"Our government is the first to start the outcome budget. We keep our report card in front of the public and we track each flagship scheme through two indicators, the Output Indicator and the Outcome Indicator," Delhi NCT finance minister Kailash Gahlot had said. (ANI)
Read More Article: http://13.232.95.176/