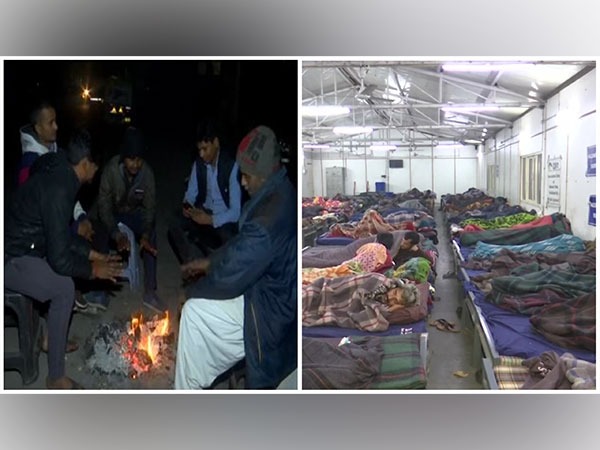 LM NEWS 24
LM NEWS 24
Delhi Cold: Homeless Deprived Of Facilities, Govt Lauds Initiatives
With the capital continuing to reel under intense cold waves, many homeless Delhites continue to be at the receiving end complaining of not much help from authorities.
A group of people at the Minto Road told ANI that they are not getting any help from the government and hence are forced to rely on traditional methods to stay warm.
"We are labourers. We feel cold every time, at work and while we are at home as we cannot afford a blanket and are making this survival possible with the help of fire. We came from Bihar to make both ends meet but sometimes it turns difficult as we have no support from the government or anybody," said one Fasekhtar Alam.
Another person, Rajiv Kumar, an auto-rickshaw driver expressed before ANI that they would die of starvation in a couple of days if they did not run their rickshaw despite the hands being numb due to cold.
"The cold is so severe that we are not even able to move our vehicle, it gets really tough to hold the clutch. But we are compelled because if we don't do this, we will die in two days," Rajiv Kumar said.
Meanwhile, certain other people living in the shelter home in the Yamuna Bazar area said that the ones who complain of getting no assistance are purposely keeping them exposed to this cold and not arriving here despite the arrangements made.
One Sanjay Tiwari, who has been living in the shelter home for 13 years told that the government has made all the arrangements necessary for survival here, including food, medicines, sanitation, etc.
"I am living here for the past 13 years and here they have made several arrangements for us to cope up with this winter. When we fall ill, they call a car for us which immediately takes us to the hospital. We even get our breakfast, lunch and tea in time," Sanjay Tiwari said.
"Their team visits regularly to bring homeless people here but there are some people who deliberately don't come," he added.
Another person Pappu Singh termed the shelter homes a "good option" for survival in the biting cold.
According to the caretaker of this shelter home, their rescue teams pull up their socks as early as the winter sets in and make all the necessary arrangements including food, blanket, medicines, and sanitation.
"We have also arranged for tents if by any chance the available land seems smaller. The government helps us in every possible way- we asked for a TV, library, and water cooler, we have it all," the Caretaker of the shelter home, Vimal said mentioning that the home has a capacity of 500 people which can be further increased by setting temporary mattresses at the floor.
Notably, a senior scientist of the Indian Meteorological Department (IMD) RK Jenamani on Monday said that the national capital would experience severe cold wave conditions for two days, i.e., Wednesday, January 18.
"The minimum temperature in Delhi has dipped to 1.4 degrees Celcius, with severe cold wave conditions prevailing in Delhi. For the next two days, the same temperature may prevail as the chances of further dipping are unlikely. The temperature may likely go up from January 18," RK Jenamani said on Monday. (ANI)
Read more: http://13.232.95.176/