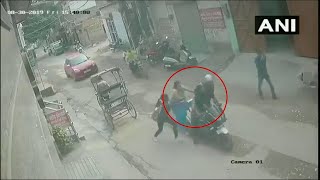 LM NEWS 24
LM NEWS 24
Delhi Woman, Auto Driver Nab Chain Snatchers After 2km Chase
Two phone snatchers were arrested after a 33-year-old woman whose phone was snatched by the duo chased the thieves for nearly two kilometers in an auto-rickshaw near north Delhi's Wazirabad.
According to Deputy Commissioner of Police Sagar Singh Kalsi, the two accused have been identified as Mohammad Chand and Aftab Alam.
Giving details about the incident, the DCP said, "The incident occurred on the night of September 2, when the 33-year-old woman had hired the auto from Burari and was on her way to ISBT Kashmere Gate.
Shortly after the vehicle reached the Wazirabad flyover, two youths on a motorcycle came and snatched the phone from her hand," he added.
After this, the woman asked the auto driver to chase the duo and after chasing them for about 2 kilometres, a snatcher fell down.
Subsequently, he was caught and arrested by the police.
During the interrogation, the accused confessed to the crime and led the cops to the second suspect.
Further, the accused person also disclosed that he and his associate had been indulging in the theft of other motorcycles and two-wheelers for the last three months and were using the stolen vehicles to commit crimes.
"Subsequently, raids were conducted at possible hideouts of an absconding co-accused who was also arrested. Four cases of theft across the city have been worked out with the arrest," the DCP said. (ANI)
Read More: https://lokmarg.com/