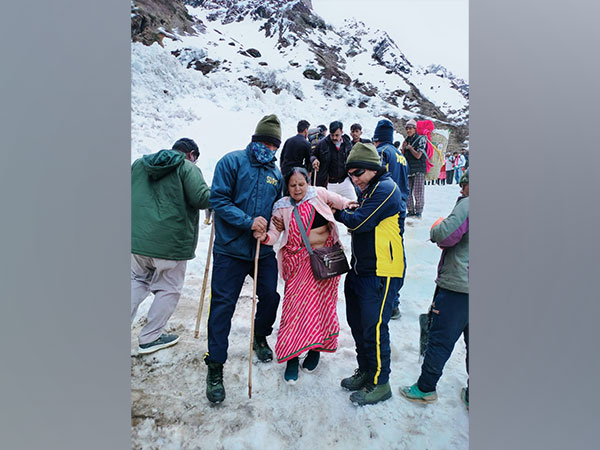 LM NEWS 24
LM NEWS 24
Despite Continuous Snowfall, Record Number Of Pilgrims Perform Char-Dham Yatra
Despite continuous snowfall and harsh cold weather, a record number of pilgrims are arriving for the Char-Dham Yatra this year.
After the snowfall, 2 inches of white snow spread in Badrinath Dham. Due to continuous snowfall, the mercury in the area has dropped below zero.
According to Uttarakhand Police Headquarters, the number of pilgrims visiting Char-Dham by October 16, 2023, has crossed 50 lakhs. Along with this, about 5 lakhs 41 thousand vehicles have also reached Char-Dham. After the commencement of the Yatra, more than 17 lakh, 8 thousand devotees visited Kedarnath Dham, 15 lakh 90 thousand Badrinath Dham, 8 lakh 46 thousand pilgrims in Gangotri, 6 lakh 94 thousand pilgrims in Yamunotri, and more than 1 lakh 77 thousand devotees visited Hemkund Sahib.
Ashok Kumar, Director General of Police, Uttarakhand said, "Uttarakhand Police is providing all possible assistance to the pilgrims at every level, due to which memories of the sacred faith of Devbhoomi as well as the positive image of Uttarakhand Police are being imprinted in their minds. We are committed to a safe and uninterrupted Chardham Yatra."
Meanwhile, the doors of Shri Gangotri Dham will be closed for the winter season on November 14, an official statement issued by the Badrinath Kedarnath Temple Committee said.
On the occasion of Annakoot also known as Govardhan Puja, the doors of Shri Gangotri Dham will be closed for the winter season.
According to the Shri Badrinath Kedarnath Temple Committee, Shri Yamunotri Dham will be closed for winter on November 15.
"The date of closing of the doors of Shri Badrinath Dham will be decided on Vijay Dashami, Tuesday, October 24 in Badrinath Dham. A religious ceremony will be organized on the premises of Shri Badrinath Temple to announce the date of closure of the doors," an official statement said. (ANI)
Read More: https://lokmarg.com/