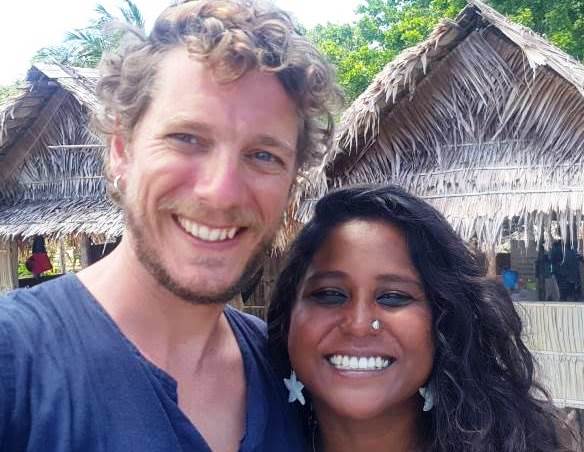 LOK ISSUES
LOK ISSUES
'Devangana's Arrest Was A Message To Activists, Their Families'
Andre Ling (38), husband of student activist Devangana Kalita, says it was terrifying to see his wife being targeted by an entire state machinery. He feels this episode is only the beginning of a long battle ahead.
I am an international development consultant working at the intersection of development and humanitarian work, particularly in conflict affected areas. Devangana (Kalita) and I met in 2008 in Rajasthan at an NGO where I was working and Devangana had gone to do an internship. We have been together since then, though we only got married in 2014.
For me, having Devangana back is like recovering a part of myself without which I could not properly function. I suspect it is the same for many others in whose life she has played a part. But we are still waiting to see what comes next, with further hearings in the Supreme Court, and ultimately the trial. In addition to that, there are so many other people locked up under similar charges who have not yet been released. In a sense then, this battle is just beginning. There is still a very long way to go.
I find it appalling that something as serious as the UAPA has been used so frivolously (as observed in the High Court's bail order). It sends a terrifying message to the public, to all those who have grievances resulting from state policies, to those who believe in democracy, and to all those who dream of a more inclusive, free and just society.
The crackdown on dissent is part of a global wave of repression and authoritarianism that comes at a time when our economic and political systems are in a crisis. Dissent and protest are forms of collective public expression. It's about people asking to be listened to; to have their concerns taken seriously. It strikes me as the abdication of a government's responsibility to not listen to its people. The extent that governments will go to, to fabricate cases against democratic protesters, is chilling.
Seeing one's friend or family member get arrested, with the full backing of the state machinery, is obviously terrifying. Just the emotional pain of seeing someone you share your dreams, your life with, taken away and locked behind bars makes it difficult to think or act. It sends a message that no one is safe to speak their mind or stand up for what they believe in; it made everyone afraid for their own safety and that of their friends.
Parents wouldn't want their children to be associated with political activism. I am sure that this was the intention behind the wave of arrests – and to some extent it was successful. But when something as powerful as the truth is bottled up for too long, it starts to fester and searches for outlets. I don't think it can be subdued for very long.
Devangana, Natasha (Narwal) and Asif Iqbal's democratic spirit continued to radiate within jail, and spilled out into the public domain, through letters to friends and families. The fearlessness that they have shown is an inspiration to others.
The experience in jail has left a big impression on Devangana. The time spent in isolation, the uncertainty – "will this ever end?", hardships, and the friendships forged in the jail… and the many stories shared. I was always in awe of how she managed to compose herself, to continue sending out messages of love and strength to friends and families, to file – along with Natasha – a writ petition for prison reform securing COVID vaccines for inmates, increasing the frequency and duration of contact with family members, to name just a couple of items.
I don't think her time in jail – up close with the most dehumanising face of the state – has reduced her determination or grit at all. Rather it has expanded her perspective and given her new energy and focus for the years ahead.
I tried to be there for her and show up in whatever ways I could. At the beginning that meant following her from one police station to the next, as she went through interrogation; bringing changes of clothes and home-cooked food when it was allowed. I tried to match her seemingly endless positivity on phone calls and video calls, to make sure that she got whatever could be arranged for her in terms of books, stationery, clothing and her MPhil registration. There was quite a lot of running around to be done. I had support from friends, family and of course her lawyers, who have been outstanding in their commitment.
I believe when the truth is on your side but the state is not, you have to be brave, for in the long-run it's worth it. There is a well-oiled machine that will try to frighten you, or force you into silence. But fear fuels injustice. Of course, everyone has their own vulnerabilities, so you just have to do whatever you can from your own social location and never give up.
As Told To Mamta Sharma