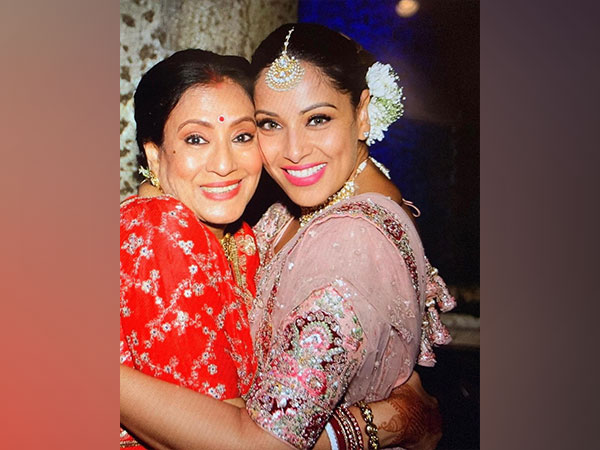 LM NEWS 24
LM NEWS 24
Devi Loves Her Mumu Ma More: Bipasha
Actor Bipasha Basu extended her heartfelt birthday wishes to her mother Mamta Basu on her birthday.
On Monday, Bipasha took to Instagram and shared an adorable picture of herself with her mom and baby Devi.
She wrote, "Happy Birthday to my beautiful mother @mumu_basu. Learning to be the best from the best. I love you Ma. Devi loves her Mumu ma more."
The three of them wore ethnic wear and looked super adorable in the picture.
Bipasha, who embraced motherhood last year, returned to the runway after a long hiatus.
Recently, She walked for acclaimed designer Bibhu Mohapatra in the national capital.
Sharing a video of herself walking the ramp on Instagram, Bipasha wrote Sunday night, "Love yourself at every stage of your life. Wear your confidence."
Reacting to the clip, Bipasha's husband and actor Karan Singh Grover wrote, "I do I do love yourself with my breath."
Bipasha is quite active on social media and often shares a glimpse of her daughter. From celebrating her 10-month birthday, Devi's bedtime moments to dressing her up in beautiful ghagra for Satyanarayan Puja, mother is enjoying this phase of her life fully.
Bipasha and Karan Singh Grover welcomed their first child, on November 12, last year, six years after their marriage.
Earlier, Bipasha opened up about how Devi was born with two holes in her heart during a chat with actor Neha Dhupia on Instagram Live.
She revealed that Devi had to undergo surgery when she was three months old. She said, "Our journey has been very different from any normal mother and father, it has been a lot tougher than the smile that I have on my face right now. I would not wish this to happen to any mother. For a new mother, when you get to know that…I got to know on the third day of me having a baby that our baby is born with two holes in her heart. I thought I will not share this, but I'm sharing this because I feel that there are a lot of mothers, who helped me in this journey, and it was very difficult to find those mothers. When you give birth you don't want anything to go wrong with your child.
Bipasha shared how they came to know about VSD (ventricular septal defect). The actor added, "We didn't even understand what a VSD is. It is a ventricular septal defect. We have heard about it, when kids grow it shuts on its own. We went through a crazy period. We didn't discuss this with our family, we both were in a little bit of a blur when we came out of the hospital. We wanted to celebrate but we were a little numb, me and Karan."The actor revealed how she and Karan made themselves ready to get their daughter operated.
She continued, "Last three months we are fine but the first five months have been very difficult for us. But Devi has been fabulous from day one. She is a fighter. We were told that every month, we have to do a scan to know if it's healing on its own. But with the kind of large hole that she had, we were told that it was doubtful, you will have to go through surgery. And the surgery is best done, when the child is three months old."
Bipasha also revealed that after surgery, Devi is now fine. (ANI)
Read More: https://lokmarg.com/