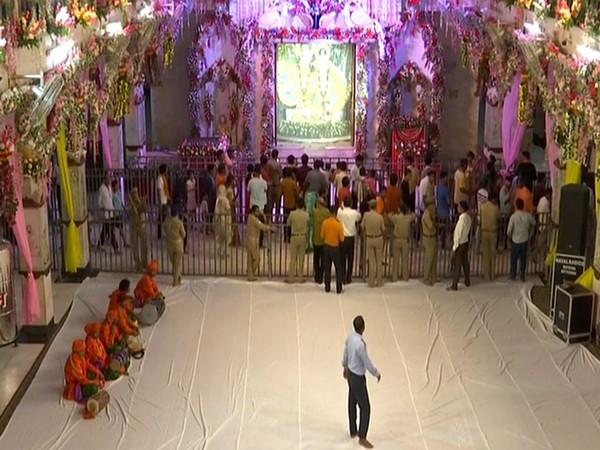 LM NEWS 24
LM NEWS 24
Devotees Offer Prayers At Shri Krishna Janmabhoomi On Janmashtami
The country is celebrating Krishna Janmashtami, an auspicious occasion, with great fervour and devotion. Devotees visited Shri Krishna Janmabhoomi in Mathura and offered prayers.
Lord Krishna's birthday falls on the Ashtami Tithi of Krishna Paksha in the month of Bhadrapad. Although the celebration takes place in different parts of the country, Mathura and Vrindavan hold a special significance. One being his birthplace and one where he spent his childhood and did his baal leela.
Devotees flock to the Lord Krishna temples, especially the Banke Bihari Temple in Vrindavan and the Krishna Janmabhoomi Temple in Mathura. The temples were decorated with flowers and crystal chandeliers, and the idol of Lord Krishna were decorated with colourful clothes and jewellery.
At midnight, a special ritual is performed when the idol of Lord Krishna is bathed in milk, yoghurt, honey, ghee, and water. During the Krishna Abhishek, bells are rung, conch shells are blown, and Vedic hymns are performed.
After the bhog, Prasad is given to the worshippers, who stand out for hours for Krishna darshan and puja.
Dahi Handi is also celebrated in numerous areas. One of the customary festivals of Krishna Janmashtami is Dahi Handi, also known as Gopalakala or Utlotsavam.
Dahi is the name for curd, while a handi is an earthen pot used to store milk products. One of the biggest celebrations in Maharashtra is Dahi Handi.
Lord Krishna is often referred to as makhan chor because he used to steal makhan. He organised a bunch of buddies to get milk from earthen jars dangling from the ceiling.
They arranged themselves like a human pyramid to help Krishna reach the earthen pots and fill themselves with milk products. During the Dahi Handi ceremonies, the same is demonstrated. (ANI)
Read More: http://13.232.95.176/