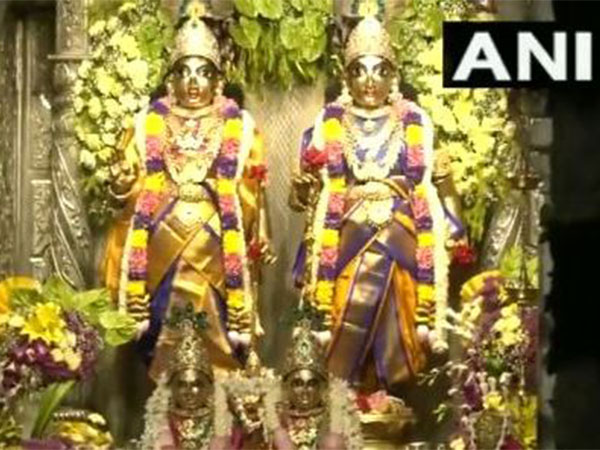 LM NEWS 24
LM NEWS 24
Devotees Throng ISKCON Temple In Bengaluru On Occasion Of Janmashtami
Devotees flocked to the ISKCON temple in Bengaluru on the occasion of Sri Krishna Janmashtami on Wednesday.
Devotees were seen offering prayers at the renowned ISKON temple. The idols of Radha Krishna were decorated with flower petals and leaves.
The ISKON temple in Bengaluru is one of the largest Krishna temples in the world.
Janmashtami is also being celebrated in other parts of the country with equal fervour.
Hundreds of kids from a nursery school in Siliguri under the Darjeeling district of West Bengal celebrated Janmashtami on Wednesday morning.
"While few kids dressed up like Lord Krishna and Radha, many carried flutes wearing peacock feathers on their foreheads. The school children enjoyed themselves by performing dance and breaking handi," said Bivha Surika, a teacher at a nursery school.
The teachers also informed the children about the significance of Janmashtami and distributed pencils, erasers and chocolates among the students.
A five-day-long Janmashtami fair commenced in Rajkot on Tuesday. According to the Ministry of Tourism, The fair is being held at Race Course Ground, Rajkot. "It commenced on September 5 and will continue until September 9, and the timings are from 10:00 AM – 12:00 PM," they said.
The Janmashtami fair also called Lokmela, Saurashtra's biggest fair, is held in Rajkot every year during the Satam-Aathma festival on the occasion of Janmashtami, they added. Janmashtami celebrations also began in Gujarat and Maharashtra.
This fair starts on the sixth day of the festival and lasts for five days till Dasham, an official said.
Meanwhile, in a first, the Maharashtra government led by Chief Minister Eknath Shinde plans to organise a "Pro Govinda" competition, with cash prizes, for this year's 'Dahi Handi', an event associated with the Hindu festival of Janmashtami, state Industries Minister Uday Samant said on Saturday. (ANI)
Read More: http://13.232.95.176/