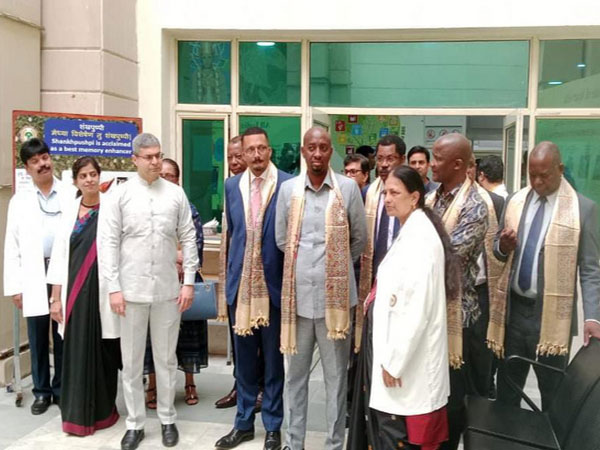 LM NEWS 24
LM NEWS 24
Diplomats From East, SA Visit All India Institute Of Ayurveda In Delhi
The 15-member delegation of diplomats and representatives from East and Southern African countries visited the All India Institute of Ayurveda (AIIA), New Delhi on Tuesday and explored the cutting-edge science and interventions of AIIA in the field of Ayurveda and integrative health care.
After joining the G20 bloc under India's 2023 presidency, the African nations are all set to explore the power of Indian Systems of Traditional Medicine and Integrative health care.
The diplomats from Namibia Ethiopia, Uganda, Lesotho, Zimbabwe, Botswana, South Africa, Kenya and Rwanda visited the Ayurvedic institution premises.
Prof (Dr.) Tanuja Nesari, Director, AIIA, Pramod Kumar Pathak, Consultant, Ministry of Ayush, Puneet R. Kundal, Joint Secretary, (East & Southern Africa Division), Ministry of External Affairs and staff of the institute welcomed diplomats & explained to them about various achievements of India in Traditional Medicine.
In his video message, Minister of Ayush and Ports, Shipping and Waterways, Sarbananda Sonowal welcomed the African delegation and said that this visit will help in achieving the objective of Universal Health Coverage in African nations through the potential of traditional medicine systems of India.
Taking to X, the Ministry of Ayush shared about the delegation visit saying, Diplomats and representatives of East and Southern African Countries today visited @AIIA_NDelhi. They were apprised of how AIIA is working towards providing high standards of education, research, and patient care through Ayurveda. (ANI)
Read More: https://lokmarg.com/