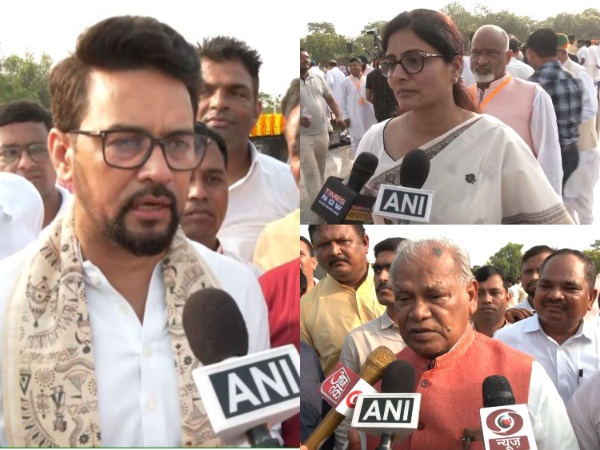 LM NEWS 24
LM NEWS 24
Disheartened, Disappointed: NDA Ally Anupriya Slams Oppn Alliance At Atal event
Union Minister Anupriya Patel on Wednesday came down hard on the Opposition alliance — I.N.D.I.A — saying that the members of the bloc are 'disheartened' as they have come to realise that they are not coming to power next year.
Speaking to ANI after paying floral tributes to former Prime Minister Atal Bihari Vajpayee on his fifth death anniversary, the leader of Apna Dal, which is a partner in the ruling BJP-led National Democratic Alliance (NDA), said, "The Opposition is disheartened and disappointed. They know that they not coming to power in 2024. The people don't trust them and I don't see any scope for the Opposition alliance to wrest power in next year's general elections. So they can say whatever they want as the people continue to repose their trust in PM Modi's leadership."
Talking up the prospects of the ruling NDA in the next general elections, she added, "The NDA is well on course to score a hat-trick of wins in 2024."
The Apna Dal leader was among several NDA partner leaders to pay tributes to Vajpayee on his fifth death anniversary on Wednesday.
Keen to shore and boost the ruling alliance, with an eye on the next Lok Sabha elections, BJP, for the first time, invited fellow partners NDA to Vajpayee's memorial on his death anniversary.
"I pay my humble respects to Vajpayee-ji on behalf of Apna Dal and the entire NDA family. His poems, literature, and political journey will continue to inspire us," Patel said.
Union Minister Anurag Thakur paid glowing tributes to Vajpayee, saying, "We get to learn a lot from Atal-ji's life, and by following in his footsteps. We will continue to take the country forward through good governance and development."
Also lauding Prime Minister Narendra Modi for his work to ensure the welfare and well-being of the poor, he added, "The BJP-led NDA, under the leadership of PM Modi, has added more partners. We are working with our partners. We will contest the next general elections together and deliver a resounding victory to PM Modi."
Union Minister Gajendra Singh Shekhawat, who also laid floral tributes at 'Sadaiv Atal', the former PM's memorial in the national capital, said, "Atal-ji had a great contribution to the making of the BJP into what it is today. His lifelong motto that we can change the country only by changing the life of the common man is what guides us in our day-to-day activities."
On the Opposition, he said, "They represent the actual threats that our democracy is facing today. Dynasticism, appeasement, and corruption should leave the country."
Hindustan Awam Morcha (HAM) chief and former Bihar chief minister, Jitan Ram Manjhi, too, paid his tributes to Vajpayee, saying, "Atal-ji had the quality to take people from every section of the society along. PM Modi is treading a similar path now."
"
Modi jaat ki nahi jamaat ki baat karte hai
(PM Modi speaks about people, not caste)," the HAM chief said further.
Atal Bihar Vajpayee served as the Prime Minister of India from May 16, 1996, to June 1, 1996, and again from 19 March 1998 to 22 May 2004.
He also served as India's External Affairs Minister in the cabinet of Prime Minister Moraji Desai from 1977 to 1979.
He passed away at Delhi's AIIMS Hospital on August 16 in 2018. (ANI)
Read More: http://13.232.95.176/