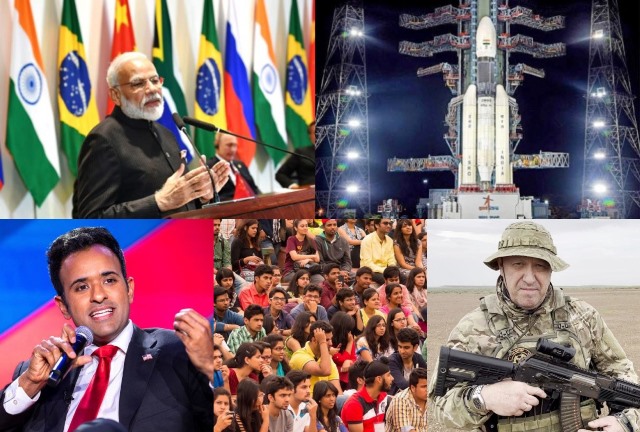 THEBUZZ
THEBUZZ
Does India Have a Meaningful Future in BRICS?
Three things made the news at the recently concluded summit in South Africa of the BRICS, a grouping of Brazil, Russia, China, India, and South Africa. The first of these is the group's expansion. Six new countries–Saudi Arabia. Iran, Ethiopia, Egypt, Argentina, and the United Arab Emirates–have been invited to join BRICS. The queue to join BRICS is actually longer with at least two-dozen countries showing interest in signing up to what is projected as an alternative to the US-led western bloc. BRICS' dominant leader, though, is clearly China with which Russia, the other big member of the group, is firmly in alliance.
The second thing during the three-day conference was that China's President Xi Jinping missed a highly-anticipated speech at the conference. Instead he sent his commerce minister to deliver his speech, which mainly consisted of hostile comments directed at the West (read: the US).
The third thing that happened is a bit of trivia but we mention it here because readers will be hard-pressed in their efforts to find it in the reportage by the mainstream media. It concerns India's Prime Minister Narendra Modi. According to a South African news portal, The Daily Maverick, when Modi landed in Pretoria he apparently refused to disembark because the South African president Cyril Ramaphosa had not come to receive him and that he finally emerged from the aircraft after deputy president Paul Mashatile was despatched to receive Modi.
Officially neither South Africa nor India has commented on this but the portal alleged that after it had reported on the "incident" its website was subjected to cyberattacks that it claims originated in India.
Cut to BRICS and its significance today. The reasons why countries want to join BRICS vary but many want to seek more economic opportunities and cooperation with other developing countries. Many of them also want to diversify their foreign policy and reduce their dependence on the West. In a sense, BRICS is seen as challenging the existing global order and international systems that are dominated by the US and its allies and many nations buy into the rationale for that challenge. BRICS, for many aspirant members, offers a platform where they can gain more recognition and influence.
Does BRICS have the potential to challenge the West, though? This year the world's interest in the BRICS summit has peaked and it is easy to see why. Russia, a BRICS member, whose powerful ally is China, the most powerful BRICS member, is at war in Ukraine; and Chinese-American relations are probably at its lowest in several decades. All eyes clearly are on what happens at a group such as BRICS that is also expanding rapidly.
The significance of BRICS in geopolitics is that it represents a potential alternative to the Western-led system of global governance. BRICS aims to promote the interests and values of the Global South, which often feel unfairly treated by the current international rules and norms. BRICS also seeks to enhance its collective voice and bargaining power in global issues such as trade, climate change, security, development and human rights.
By expanding its membership, BRICS hopes to increase its legitimacy and representation on the world stage. However, BRICS also faces many challenges and limitations. The interests of BRICS members vary as does the sort of political systems that operate in each of them: there are democracies such as India's, authoritarian dictatorships such as Russia's; and China's Communist system. BRICS in its current form lacks a clear vision or agenda.
For instance, for China, which was the main focus of interest in Pretoria, BRICS is seen as a way of garnering as much of the global south's support as it can in its quest to change the world order and shift its axis in its favour. Compare that with India, which, as it continues its long-standing trade and defence ties with Russia, has been cosying up to the US, and has disputes with China over the countries' border. For India. The relevance and importance of being in BRICS seems more ambiguous than, say, it is for China or, for that matter, Russia.
Now, with BRICS all set to expand vastly, especially with the inclusion of oil-rich Saudi Arabia, how the grouping's agenda and vision change will be interesting to watch.
Chandrayaan 3 and its Impact for India
For all Indians, the recent success of the nation's Chandrayaan-3 mission to the moon was a moment of great pride. India became the fourth country after the US, Russia, and China, to land on the moon and the first to do so near the lunar south pole, which is a region of great scientific interest and potential resources. The mission demonstrated India's technological prowess and ability to achieve its ambition in space exploration.
Chandrayaan also showed how India could carry out the mission at a much lower cost. India is believed to have spent around Rs. 615 crore, or about $74 million, which is much cheaper than many Hollywood movies or other space missions. The mission's outcome means that India has joined an elite group of countries that have successfully landed on the moon, and has opened new possibilities for future lunar exploration and cooperation.
The Surprise Rise of Vivek Ramaswamy
Vivek Ramaswamy is 38; a Tamil by ethnicity; and a Hindu by religion. He is also a member of the US Republican Party; and, most importantly, a candidate for the presidential nominee for that party's candidate for the 2024 US presidential election. And if you have been following the Republican Party's first debate among eight hopefuls running for the race to get nominated, then you'd have seen he was probably the most impressive among them during that debate.
Ramaswamy is no politician. In fact, he is a tech and biotech entrepreneur who is worth millions.
Now, the Yale and Harvard alum has cast his eyes on the White House. Pitted against seasoned Republican politicians such as former US vice-president Mike Pence, governors Chris Christie and Ron de Santis, and Nikki Haley, at last week's debate it was Ramaswamy who stood out.
As a self-proclaimed "outsider" Ramaswamy seemed to get popular support for many of his views, which include raising of the voting age to 25; cutting off the US support to Ukraine and instead focusing on securing its own southern border with Mexico through which the drug mafia and illegal immigrants operate; and the abolition of the the Federal Bureau of Investigation and some other US agencies because he feels they have become irrelevant.
His rightwing views seem to have touched a chord among many Americans. Immediately after the debate, during which his more seasoned rivals called him a rookie and novice, Ramaswamy is believed to have raised US$450,000 for his campaign.
The road to the presidential elections is a long one. There will be many more debates and campaigning before the Republican Party chooses its candidate. And, although former president Donald Trump, embroiled in a series of indictments, did not participate in the debate (his interview with a sympathetic former TV host was aired on X, instead) still commands the highest popularity among Republican voters for the candidacy. Yet, Ramaswamy's performance at the debate has created ripples. All eyes will now also be on him.
The Good and the Bad About India's Young Population
India, along with China and Indonesia, is projected by the consultant firm McKinsey & Co. to have the largest working-age population in the world by 2030. This demographic dividend could be a source of strength and opportunity for India, but also pose some challenges and risks.
Let's take a look at the pros and cons of this. First, the pros:
A larger labor force can produce more goods and services, and increase the GDP and per capita income of the country. India could add an estimated $1 trillion to its annual GDP by 2030 if it increases its labor force participation rate to 40%.
A larger pool of workers can also lead to more creativity and entrepreneurship, and enhance the productivity and quality of the economy. India could leverage its talent and skills to become a leader in sectors such as IT, biotechnology, renewable energy, and manufacturing.
A larger working population can also support the development of human capital and social infrastructure, such as education, health care, pensions, and housing. This can improve the living standards and well-being of the people, and reduce poverty and inequality.
Now for some cons:
A larger labour force also means more competition for jobs and wages, especially in a context of slow economic growth and structural changes. India already faces a high unemployment rate of around 7.5%, and many workers are employed in informal and low-productivity sectors.
A larger working population puts more pressure on consumption and production, which can strain the natural resources and environment of the country. India already faces challenges such as water scarcity, air pollution, climate change, and biodiversity loss.
A larger working population can also create social and political tensions, especially among different groups based on age, gender, caste, religion, region, or ethnicity. India already witnesses frequent protests and violence over issues such as jobs, land, education, reservation, citizenship, and identity.
A larger pool of workers, therefore, can be a double-edged sword.
Is Prigozhin's Death Putin's Revenge?
It has been barely two months since Yevgeny Prigozin, the head of Russian mercenary army Wagner, attempted a coup by marching his troops towards Moscow before aborting that attempt. Last week reports claimed that Prigozhin was aboard a private aircraft that crashed after an explosion occurred and that the one-time Vladimir Putin confidant and one of Russia's most powerful men had been killed.
No official version of details about what happened is available but speculation about whether Prigozhin's death is a fallout of his show of rebellion abounds. Was the plane sabotaged? Did a missile hit it while it was on its flight path not too far away from Moscow? Was it something that the Kremlin had a hand in? These are questions that are unanswered and will, probably, remain that way.
Read More: http://13.232.95.176/