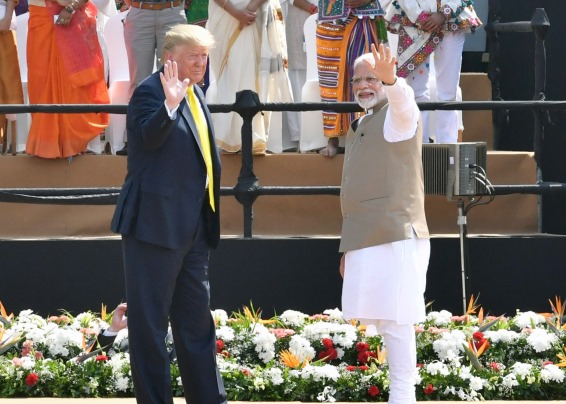 OPINION
OPINION
Domestic Brownie Points For Trump & Modi
India gave President Donald Trump exactly what he asked for. Massive crowds in Ahmedabad, the Taj Mahal in Agra and energy & defence deals in Delhi. A deal worth $3 billion for the purchase of Apache and MH-60 helicopters was finalized before the US President landed in India.
The show and spectacle in Ahmedabad's Motera stadium, where President Trump and First Lady Melanie were greeted by colorfully dressed enthusiastic crowds set the mood for the visit on Monday, soon after the US leader landed. He was accompanied by daughter Ivanka and son-in-law Jared Kushner, besides a host of senior officials.
It is well known that Donald Trump loves to be feted. Prime Minister Modi and his government ensured that President Trump would have exactly what he wanted. His ego got a massive boost and the visiting dignitary was clearly delighted. He showered praise on Prime Minister Modi and declared that America loved India and Washington would be a loyal friend.
Though violence has wracked north east Delhi during the Trump visit, the President has refused to comment on that or the Citizenship Amendment Act. On Kashmir, while he again offered mediation, he made it clear that he was willing to help only if asked. Though he spoke of fighting Islamic terror, he was not really aiming at rebuking Pakistan. For Trump Islamic terror is ISIS or Al Qaeda and not groups operating against India. Nevertheless he assured India that Pakistan is being urged to clamp down on these groups and Prime Minister Imran Khan is getting there. Trump also spoke of religious freedom and mentioned not just minority Muslims but Christians as well. The Christian right in the US is part of Trump's support base.
Some are disappointed that no major deals were announced, though a mega trade deal is in the offing. Two MoUs were signed on mental health and safety of medical products. A letter of cooperation between Indian Oil Corporation and ExxonMobil India LNG was also signed. India is now looking to US to diversify its energy market. Energy imports from the US which stood at $7 billion in 2019 will rise to $9 billion in 2020
The significance of the Trump visit goes way beyond deals or the personal chemistry between Modi and the US President. "It reinforces the connect between people of the two countries and it will resonate on every aspect of the relationship, from the strategic global partnership, maritime security, to trade and energy cooperation, homeland security," foreign secretary Shringla said at a news conference after the talks at Hyderabad House.  
The fact that President Trump chose to come on a standalone visit to India, and on an election year, shows exactly how far relations between India and the US have improved. The people connect with 4 million Indian American's playing a major part in this effort and contributing to the US economy, the sky is the limit for these two democracies. People in both countries endorse the ties. This is in sharp contrast with India's relations with Russia, which are excellent at the governmental and political level, but poor on people to people contact. Getting private business off the ground between India and Russia is a major problem, despite the best efforts of New Delhi and Moscow. But there is no such difficulty when it comes to Indian investment in US. Business leaders are eager to do so.
The transformation of ties between the two countries, which were on opposite sides of the Cold War divide, began with the Indo-US nuclear deal in 2005. The strategic consideration underlying Washington's decision was to checkmate China's growing military and economic might in Asia. By building ties with democratic India, another large Asian country and helping modernize its defence capabilities.
US wants India to be a part of the Indo-Pacific defence architecture an area which now includes the Indian Ocean. This works for both India and America, though Delhi has so far resisted the idea of joint patrolling of the Pacific, near the South China Sea. This has to do with avoiding a confrontation with China.
Trump's visit should be seen against this background. And if a few billions go into US coffers in the process of building up India's defence capabilities, it is fine. So far New Delhi has stuck to its promise of buying the S 400 missile defence system from Russia, despite enormous US pressure. Washington must realise that a country like India cannot be coerced.
It serves India for China to realise that Delhi has powerful backing in the international community. Though finally every country has to look after its own interests and not back on US or Europe to come to their help, developing India's defence capabilities is important, more so as China has transformed its army, navy and air force.
Successive Indian prime ministers from Atal Bihari Vajpayee, to Manmohan Singh and now Narendra Modi know the importance of friendship with the US. Manmohan Singh risked his prime ministership to get the deal through, despite opposition from a large majority of his party men as well as the BJP and the Left parties. Singh realized more than any other leader that the civil nuclear deal would open many doors for India and help Delhi to finally be counted as a force in the world. India's nuclear apartheid ended with the signing of the pact for which former President George W Bush did some heavy lifting.
The need to counter authoritarian China with a democratic India is shared by Republicans and Democrats alike. So it does not matter which party finally wins the November elections, India-US ties will remain strong. However a Democratic President, especially if Bernie Sanders is the winner, will certainly have much more to say about human rights, treatment of minorities and Kashmir. For Trump these are India's internal problem and he trusts Prime Minister Modi to take care of them. But democratic values are important and even Trump cannot totally ignore them up to a point.
Both Modi and Trump have gained domestic brownie points from the visit. Modi's image among his followers will get another major boost after Trump's fulsome praise of him as a leader with a vision. For Trump the India trip so close to elections may help to garner Indian-American votes, though most have usually opted for Democrats. More important Trump can boast of the welcome he received by adoring crowds in India, a rarity for him on visits to other parts of the world. Critics here believe India may have erred in opting blatantly for Trump in the November elections. But that remains to be seen.