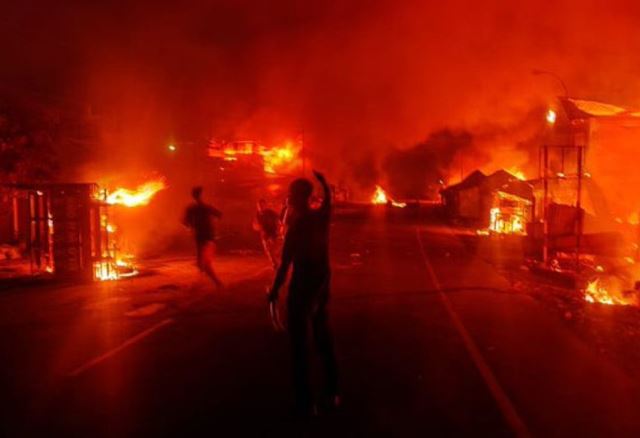 OPINION
OPINION
Double-Engine Manipur Goes Up In Flames
A tangible and transparent civil war, and as goddamned bloody as it can be, is ceaselessly on in BJP's double-engine Manipur, and there has been no apparent ceasefire, or, a momentary lull, despite the much-hyped visit of the Union Home Minister, and that too after 25 days, and that too when more than 100 had already been killed, scores of churches and homes destroyed, entire villages ransacked, and 50,000 plus panic-stricken people suddenly rendered homeless – their future uncertain, their lives in eternal danger. Inevitably, and as has been the predictable pattern, the messiah of 'acche din' has kept mum on this ongoing, 24/7 orgy of violence and mass human tragedy unleashed in what is definitely a sensitive border state in the north-east of India.
Well, that is his unique style. Eyes-wide-open-wide shut! It's like holding a mythical Sengol, surrounded by sundry high priests chanting Vedic hymns, while, not far away, his cops manhandle, brutalise, degrade, and drag on the streets our world champion women athletes. This, even while his entire State apparatus works with only one motto: how to protect a history-sheeter bahubali from UP who has been accused in clear testimonies, including by a minor, of being a perverse, serial offender, again and again, and which should have landed him in jail long time ago! But, no, not in these 'Vande Bharat' days of green-flagging, superfast, instant glory – while trains collide and derail, and when innocents rot in jail for infinite periods, and goons and sleaze-balls roam around free, cocking a snook at all concerned.
Witness the tragedy unfolding like a relentless nightmare in the sublime valleys, hills and bylanes of Manipur's remote villages. A beautiful landscape has been ravaged into a blood-soaked spectacle. Innocents keep dying, and the fire of revenge rages like hell-fire.
So, who are Tonsing Hangsing, 8, Meena Hangsing, 45, and Lydia Lourembam, 37?
A little tribal boy, his Meitei mother, and a relative, they were given shelter in a 'safe' Assam Rifles refugee camp; they were burnt alive in an ambulance. Mob-lynching, churches charred beyond redemption, minorities hounded and reduced to second-class citizens, rampant hate politics, communal polarizations as electoral trump-cards, vicious trolling, a stooge media, and bad propaganda cinema – these seem to be the time-tested landmarks in contemporary India since May 2014. Their story, thereby, too, follows a predictable pattern.
The boy was being rushed for medical treatment. He was hit by a bullet, while a mindless wave of vicious ethnic violence raged between the majority Meiteis and the miscellaneous tribal/ethnic communities. This happened in distant Iroisemba in West Imphal, as the blood-thirsty crowd bayed for blood, the victims pleaded for mercy, while the security forces apparently left them to their tragic fate. The child's heart-broken father told a local television: "I have not yet received the dead bodies but I have heard that the three were charred beyond recognition with just a few bones left in the ambulance."
ALSO READ: Does AFSPA Know A Mother's Heart?
Well, these were ordinary citizens, nameless names, silent signposts of the dying and the dead. Witness the tragic case of a BJP MLA, Vungzagin Valte, 61, from the Kuki community, three-time legislator, adviser to the state chief minister of the BJP-led government in Imphal, now lodged in a private hospital in Delhi. He was brutally assaulted by a mob soon after the mayhem begun on May 3. He has lost his voice. He can hardly move. His son told The Hindu that he "is like a child now and has to be taught to talk and walk again following the injuries…" His driver is already dead. Both seem to have been tortured for hours, said the son.
It is as clear as summer daylight that large parts of Manipur has been turned into a war zone, and the civil war has turned vicious and organized. Two militant Meitei groups have openly threatened civil war. Thousands of guns and ammunition have been looted in what seems a partisan and knee-jerk reaction from sections of the security forces from day one, with allegations of bias, and alleged alignments on the ground with armed groups. If these allegations are true, than it is too dangerous a trend – what do condemned people do if the protectors themselves turn partisan?
Witness another case, as reported on June 9 in The Indian Express. "A week before a BSF jawan was killed in Manipur's Kakching district on Tuesday, a similar killing of another jawan from the force took place in the border town of Moreh just ahead of Amit Shah's visit to the violence-hit state. But, more concerning for the security establishment in Manipur is the manner in which they appear to have been killed — pinpoint firing from a distance… Sources said since Kuki insurgent groups are not known to use snipers, forces are now trying to figure out if armed groups, largely civilians, have got any training in precision firing…"
Trained snipers killing Indian para-troopers! A mob burning alive a child, his mother and relative inside an ambulance, who were given shelter in a para-military camp. Multiple tribes and communities in an internecine war with each other – Nagas, Zomis, Kukis, Meiteis. Killings, burnings, ransacking and ravaging of homes and villages in full spree. So, what has the acclaimed double-engine government of the BJP achieved in this sensitive state?
Thereby, Mamata Banerjee has a point when she reiterates: "We have seen how the central government has been trying to suppress news about Manipur… Hence, when I say that this government hides facts, it is true. The hearts of our countrymen are burning, they will give a fitting reply to them. I am waiting for that day…"
So whatever happened to the railways minister without a railway budget after perhaps one of the biggest train accidents in the history of Indian railways with 300 dead, a 1000 plus injured, and scores of the dead still unidentified? Did he resign like many of his predecessors, starting with Lal Bahadur Shastri? Even Nitish Kumar and Mamata Banerjee, then railway ministers with the Atal Behari Vajpayee government, offered to resign after the train accidents during their tenure. But, no sir, not under this regime!
That is why Mamata Banerjee has quizzically "drawn parallels" between the train tragedy and the alleged Pulwama "hush-up" before the general elections of 2019 (Telegraph, June 9), now, yet again in the news because of new revelations on the tragic death of 40 of our jawans by a terrorist strike: "So many contradictory statements… I said this earlier too, and I will repeat it. All we want is the truth, as to what caused the accident. However, we have seen how the truth has been manipulated, and fake stories are being pushed to suppress the real cause of the accident… There should be a modicum of shame… which keeps their mouths shut for a week… Something happened for sure, for three trains to collide. What happened was for them to find out. But, just because they run the government, they will do as they please, that cannot happen. There has to be a system of investigation. Each day, a different person comes up with a different version, under political instructions. This is not, by any means, a small matter."
Small or big, in this New India with a New Parliament, there is not a remote chance of a semblance of accountability. Be it a bahubali who has routinely tormented our women wrestlers, a clueless chief minister in a border state, or, a railway minister apparently specialized in Anti-Collision Devices. As long as the prophet rules supreme, all is well in this brutalized and tragic landscape of a ravaged democracy, the largest in the world!
Read More: http://13.232.95.176/