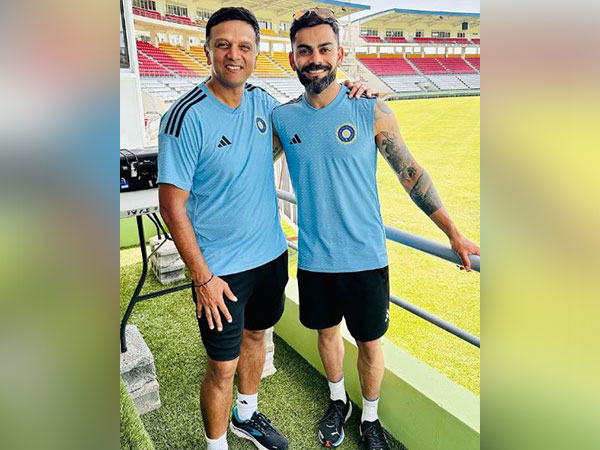 LM NEWS 24
LM NEWS 24
Dravid Reminisces On Virat's First Tour To WI In 2011
Ahead of the first Test against West Indies in Dominica, star India batter Virat Kohli and head coach Rahul Dravid, who were part of the Test team that toured Windies in 2011 and played in Dominica, reflected on their journey in long format which has saw Virat coming back to Windies with experience of 100-plus Tests, with Dravid in a different capacity as a coach.
Virat said that when the team came into the dressing room and for the practice session, he thought about his first series as a Test player in 2011 which came in West Indies.
"When we went to the dressing room and practice session in Dominica and I can remember my first series here as a Test player. This is the country where it all started. And coming here to play after 12 years, having played 100-plus Test matches. This is just amazing. I had never imagined anything like this," said Kohli in a video posted by BCCI.
"We all looked up Rahul bhai, we are blessed, only two members from 2011, life has come full circle & it has been amazing," he added.
Virat's first tour in Test cricket was disappointing despite the enormous success he had achieved in ODIs by then at such a young age. He could score only 76 runs in three matches, five innings at an average of 15.20, with best score of 30. Dravid on the other hand, topped the batting charts in the series with 251 runs in six innings at an average of 50.20, with one century and a fifty.
Dravid also said that it is special to comeback to the venue as a coach 12 years later with Virat, the only player active from that 2011 series. He also talked about how Virat was still finding his feet back then in Tests, but he could see that there was something special about Virat.
"To comeback as a coach and bring a team here after 2011 is special. Virat was the only player on that tour who is still active. I am sure Virat Kohli is proud of his journey from 2011 to now. It has been amazing and very nice to see his journey, going from a young player to grow into a senior player of the team," said Dravid.
"The first time back in 2011, he was a young kid, he had done well in ODIs and was finding his feet in Tests. But you could see that there was something special about him and he will stick around. I never thought I would coach him. Now, I am a young coach, having just started and he has played more than 100 Tests the tables have turned," added Dravid.
Since that series, Virat has established himself as one of the best players in modern Test cricket. In 109 Tests, he has scored 8.479 runs at an average of 48.72. He has 28 centuries and fifties each in the format, with the best score of 254.
In West Indies, Virat has struggled in Test cricket. In 9 Tests he has played there, he has scored 435 runs in 13 innings at an average of 35.61, with one century and two half-centuries. His best score is 200.
Overall against the Windies, Virat has played 14 Tests and has scored 822 runs at an average of 43.26. He has scored two centuries and five half-centuries, with the best score of 200.
Overall in West Indies, Virat has played 30 international matches, scoring 1,400 runs at an average of 46.66. He has scored five centuries and six half-centuries in 33 innings, with the best score of 200.
He has played a total of 70 international matches against the West Indies, scoring 3,653 runs at an average of 57.98. He has scored 11 centuries and 22 fifties against the side, with the best score of 200. (ANI)
Read More: http://13.232.95.176/