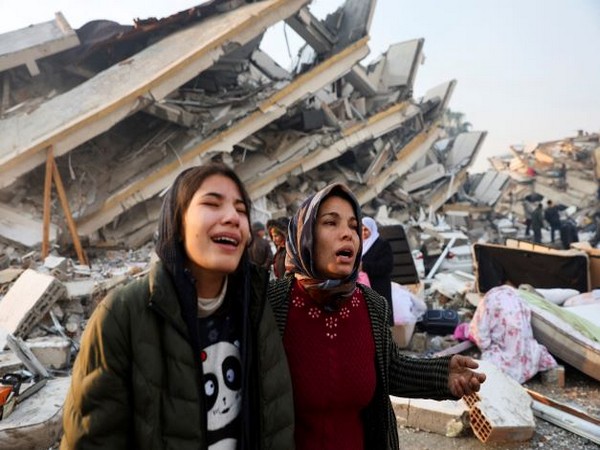 LM NEWS 24
LM NEWS 24
Earthquake Death Toll Rises To 4,900 In Turkey, Syria
Nearly 4,900 people have been killed and tens of thousands injured after a magnitude 7.8 earthquake struck Turkey and Syria on Monday, according to officials, reported CNN.
Turkey's death toll rose to at least 3,381 as of around 9:45 a.m. local time on Tuesday, Orhan Tatar, an official with the country's disaster management agency, said in a televised briefing.
At least 20,426 injuries have also been reported, according to Tatar.
Meanwhile in Syria, the death toll has risen to 1,509 across areas controlled by the government and by the opposition, officials said, reported CNN.
At least 3,548 people have also been reported injured in Syria, according to officials.
So far, 11,000 buildings have been reported damaged in Turkey, said Tatar. Nearly 25,000 emergency responders are working at scenes impacted, he added, reported CNN.
Rescuers are using at least 10 ships and 54 aircraft to transport the wounded and help with search operations, he said.
The international community has been quick to offer assistance to Turkey and Syria as the full scale of the disaster becomes clear, reported CNN.
On Tuesday morning, planes carrying aid from Iraq and Iran, including food, medicines and blankets, arrived at Damascus International Airport in Syria, Syrian state media SANA reported.
Japan announced it would send the country's Disaster Relief Rescue team to Turkey, and on Monday night, the first of two disaster relief teams left India for Turkey with dog squads and medical supplies.
Pakistan has also dispatched two search and rescue teams to the ravaged country, while Australia and New Zealand committed funds for humanitarian assistance.
The European Union activated its crisis response mechanism, while the United States said it would send two search and rescue units to Turkey.
Palestinian civil defense and medical teams will also be sent to Turkey and Syria to help in rescue operations, reported CNN.
Meanwhile, 10 units of the Russian army with more than 300 soldiers are clearing debris and helping in search and rescue operations in Syria, Russia's Defense Ministry said. Russia is the strongest foreign power operating in Syria, and Russian President Vladimir Putin has long allied with Syrian President Bashar al-Assad.
The United Nations Office for the Coordination of Humanitarian Affairs (UNOCHA) said emergency response teams from the United Nations Disaster Assessment and Coordination (UNDAC), the International Search and Rescue Advisory Group (INSARAG) and WHO's Emergency Medical Teams (EMT) are being mobilized to Turkey to assist in the humanitarian response.
However, the UN's humanitarian coordinator in Syria, El-Mostafa Benlamlih, told CNN the search and rescue mission was being hampered by a lack of heavy equipment and machinery.
He said the UN's supply of stock has been distributed and more medicine and medical equipment are needed, and especially freshwater or tools to repair damaged water tanks.
"Around 4 million people in northern Syria were already displaced and relying on humanitarian support as a result of war. Everyone is overstretched in that part of the world … there is an enormous amount do. People have fled their homes often standing around in bitterly cold conditions really without access to safe water. So water is key. Blankets, food, psychological support," according to James Elder, spokesman for UNICEF.
Hospitals in the country are overwhelmed as victims seek help, with some facilities damaged by the quake. And there is particular concern about the spread of illness, especially among children, who were already living in extreme hardship, reported CNN.
"This winter had been particularly tough due to the freezing conditions and a cholera outbreak, Elder said.
The United Nations said the 7.8 magnitude earthquake that struck southern Turkey early Monday was the county's most powerful quake in more than 80 years.
"This is Turkiye's most powerful earthquake recorded since 1939," a situational report released Monday by the UN Office for the Coordination of Humanitarian Affairs (UNOCHA) said.
At least 100 aftershocks measuring 4.0 or greater have occurred since the 7.8 magnitude earthquake struck southern Turkey on Monday morning local time, according to the United States Geological Survey.
On Monday, an earthquake of magnitude 7.8 centered in the Pazarcik district jolted Kahramanmaras and hit several provinces, including Gaziantep, Sanliurfa, Diyarbakir, Adana, Adiyaman, Malatya, Osmaniye, Hatay, and Kilis, as per the Anadolu Agency report.
Later in the day, an earthquake of 7.6 magnitude centred in Kahramanmaras's Elbistan district jolted the region. The earthquake was also felt in several neighbouring countries, including Lebanon and Syria.
The third earthquake of magnitude 6.0 on the Richter scale hit Goksun, Turkey on Monday, the United States Geological Survey (USGS) said. (ANI)
Read More:http://13.232.95.176/