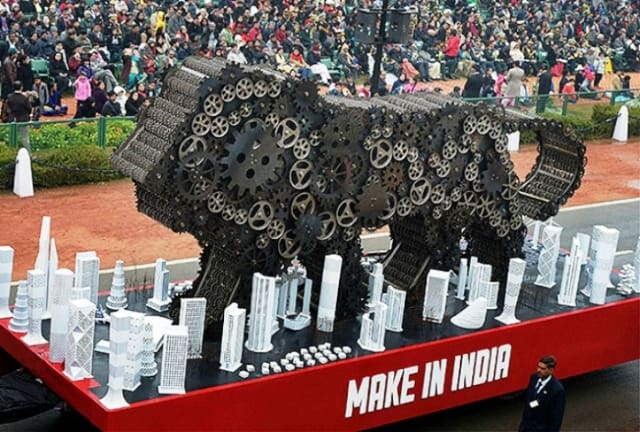 OPINION
OPINION
Economy Could Be Worse Than What Statistics Show
<![CDATA[
The biggest challenge for NDA-II will be to fix the faltering economy
The opposition though could never unite against the incumbent Narendra Modi government had a fairly good chance to put up a decent fight in the general elections had it been able to pin down the Hindu nationalist Bharatiya Janata Party-led National Democratic Alliance into debating the sputtering economy and never-ending rural distress during the long campaign.
But the Modi-Amit Shah duo was smart enough to steer clear of all that and focussed on the government's success in fighting local terrorism and that originating from across the border. The damage that Pulwama terrorist attack could have done to the electoral prospects of BJP was more than compensated by way of a daring airstrike at a Pakistani terrorist base at Balakot.
Proving all psephologists wrong as the NDA was inching towards a decisive victory with BJP alone winning 303 seats in the 542-member Lok Sabha, some opposition leaders didn't give up their claim to the prime minister's office till counting of votes began. Congress president Rahul Gandhi's not unjustified tirade that cronyism as evidenced in an Anil Ambani company securing a meaty contract in New Delhi's Rafale jet deal with Dassault of France remained in practice during NDA I regime and his slogan relating to chowkidar (watchman) was turned on its head by Modi himself.
Naveen Patnaik, leader of Biju Janata Dal who has now won a fifth term as chief minister of Orissa, was an exception who could see what was awaiting an ambitious opposition but without any bearing. A gentleman politician that Patnaik is, he kept his distance from the "non-cohesive opposition" not necessarily because his "interaction with the PM has always been cordial and he proved to be helpful."  
If the economy does not function well, then the worst affected is the common man. The ones in the job market will be angry if employment opportunities are not there. That the opposition was not able to convert the disillusionment with the NDA's indifferent economic performance into votes shows how cleverly Modi-Shah turned the discourse to the emotive national security issue and the Prime Minister's success in raising the country's profile abroad resulting in many leading companies from the US, the European Union and China making significant investments here.
But first, in what shape the economy was found when the electoral battle was fought. India's gross domestic product growth at 6.6 per cent in the 2018-19 third quarter ended December was the slowest in five quarters. If anything, things had worsened since. There are reasons to believe that GDP growth in the year's final quarter could be down to 6.4 per cent. The Central Statistics Office has recently further lowered GDP growth forecast for 2018-19 to 7 per cent from 7.2 per cent in January. NDA will in any case be boastful that India still remains the fastest growing economy among major nations.
For a nation with ambition of urbanisation and modernisation, it is important that industrial production should be recording significant rates of growth. But in the case of India with a population of 1.3 billion, industrial production fell steadily in the three months since December to finally contract by 0.1 per cent in March. What is particularly worrying is that manufacturing sector with a weight of 77.63 per cent in the index of industrial production shrank by 0.4 per cent in the final month of 2018-19 on top of a 0.3 per cent fall the month before.
India hardly had any export growth in the last five years. Economist Kaushik Basu, a former government of India chief economic adviser and now professor at Cornell University believes: "For a low wage economy like India, a little policy professionalism – a combination of monetary policy and micro incentives is all that is needed to grow this sector." Unfortunately, all the government rhetoric of manufactured products, commodities and services should find their way into the world market in growing quantities has not been backed up by policy design. Economist Rathin Roy, member of the prime minister's economic advisory council, is worried that the Indian consumption story is trailing off. He argues that India's consumption is driven by its "top 100 million citizens" who could afford things like cars and air-conditioners. 
But the NDA II will have to contend with the challenge of providing "nutritious food, affordable clothing and housing, health and education – the leading indicators of economic growth – for the whole population," says Roy. But it is beyond the capacity of the government to arrange subsidies and income support to ensure consumption on this massive scale. Roy says: "At least half the country's population should earn incomes enabling them to buy things at affordable prices so that a maximum of 500 million people can be subsidised for their welfare." Roy gives the warning that unless India is able to achieve this in the next decade, it will be headed for a "middle income trap" when it will be face to face with the reality of not being able to achieve rapid growth easily and compete with developed economies.
The country's economic situation may be worse than the information available from government agencies. This is because official data about growth and job situation are under cloud. The institutions associated with collection, analysis and dissemination of data have been for sometime subject to political interferences. Indian data like the Chinese are now seen with suspicion by institutions and economists here and abroad. The question is asked if the official GDP data faithfully reflect the multi-year lows in growth in power generation, air traffic and passenger vehicle sales.
Moreover, according to the Centre for Monitoring Indian Economy, the unemployment rate at 8.1 per cent in April 2019 was the highest in the last two and a half years. This is in spite of Modi, an autodidact, making the promise in 2014 that his government would create 10 million jobs a year. Notwithstanding Modi's promise to double the income of farmers by 2022, rural distress, going by their indebtedness and inability to secure officially announced minimum prices for crops, except for wheat and rice, is on the rise.
The biggest challenge for NDA II will be to fix the faltering economy. As has been seen earlier in Gujarat when Modi was chief minister (2001-14) and thereafter in NDA I rule, he is inclined to be the final arbiter in economic decision making. But a problem is there as has been pointed out by Financial Times editor Lionel Barber and Morgan Stanley head of emerging markets Ruchir Sharma. Barber writes in FT: "But it is uncertain whether he (Modi) grasps the economy's complex challenges, or the financial system's woes. Nor is it clear that his few advisers have the technical expertise – or courage – to explain it, to help him calibrate his kinetic policymaking." Sharma is equally emphatic that the prime minister needs "new voices in his brain trust… more expertise in his inner circle might have helped prevent an experiment like demonetisation." Sharma has warned that the voters will not be found forgiving if Modi makes another big mistake like demonetisation.
When private sector investment is disappointingly low, a redeeming feature is the sustained interest of multinationals, which are already here to do more. The others are arriving in India at regular intervals.  All emerging markets, including India want FDI as besides capital, it brings technology and create jobs. The Indian automobile industry is the best example of none of the major global brands wants to miss out on the promise that this market holds. Demand fall for vehicles is seen as a phenomenon that will go away in a few quarters. The latest to get into the Indian auto band wagon is Morris Garages owned by China's largest automaker SAIC. At its Halol plant in Gujarat, MG will be making cars with 75 per cent localisation. That creates a lot of jobs. Similarly, Scandinavian furniture maker Ikea which made its debut in India in August 2018 is committed to procure at least 35 per cent of what is kept in its stores. Wal-Mart of the US completed a $16bn acquisition of India's largest e-commerce firm Flipkart in August in the hope that the two would achieve a lot more together than each could separately.
Unfortunately FDI is still not significant in metals and mining in spite of the sector's pressing need for foreign capital and technology. This is because at every stage leading to mining from exploration to prospecting to finally getting mining leases, investors will encounter frustratingly long bureaucratic delays. India will be a major gainer if the world's largest producer of steel ArcelorMittal is not made to wait any longer to acquire the insolvent Essar Steel for which it has trumped all the other bidders. Insolvency & Bankruptcy Code says all resolutions must happen in nine months. But even after more than two years, ArcelorMittal has not got the ownership of the insolvent Essar Steel. Simpler rules and absence of red tape will make India an even more compelling destination for FDI.