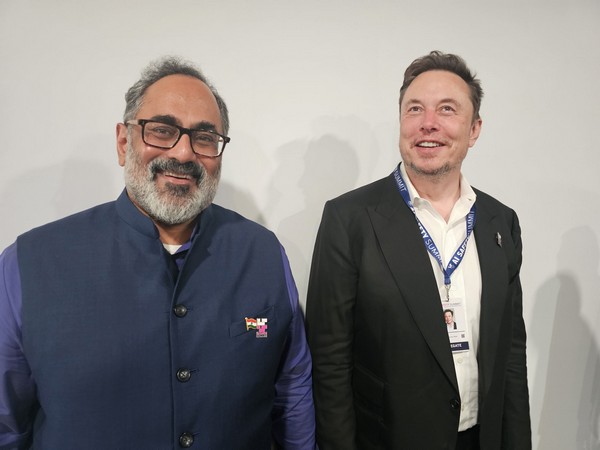 LM NEWS 24
LM NEWS 24
Elon's Son Has Chandrashekar As Middle Name, Reveals Union Minister
Union Minister Rajeev Chandrasekhar "bumped into" the Tech billionaire and Tesla owner Elon Musk in the United Kingdom as both of them arrived to attend the AI Summit on Thursday.
In course of the meeting between the two, Musk said his son with Shivon Zilis has a middle name "Chandrasekhar", who he specifies was inspired by the Nobel physicist Prof S Chandrasekhar's name.
In a post on X, the Union Minister said, "Look who I bumped into at #AISafetySummit at Bletchley Park, UK. @elonmusk shared that his son with @shivon has a middle name "Chandrasekhar" – named after 1983 Nobel physicist Prof S Chandrasekhar."
The summit underway in the UK saw representatives of several governments, academia and companies working in artificial intelligence to debate and identify risks, opportunities and the "need for international collaboration, before highlighting consensus on the scale, importance and urgency for AI opportunities" a statement by the British High Commission read.
British Prime Minister Rishi Sunak has said that he will have a live conversation with Elon Musk on X after the AI summit. PM Sunak posted on X, "In conversation with @elonmusk. After the AI Safety Summit, Thursday night on @x.
"The summit aims to put light on the transformative benefits that AI technology can offer, putting a predominant focus on "education and areas for international research collaborations".
Representatives from The Alan Turing Institute, The Organisation for Economic Cooperation and Development (OECD) and the Ada Lovelace Institute are also among the groups confirmed to attend.
Prime Minister Sunak had last week stated that the summit will focus on understanding the risks such as potential threats to national security including the dangers a loss of control the technology could bring.
On the agenda are discussions around issues likely to impact society, such as election disruption and erosion of social trust.
According to government estimates, the UK already employs over 50,000 people in the AI sector and contributes 3.7 billion pounds to its economy annually. Michelle Donelan will be joined by members of the UK's Frontier AI Taskforce – including its Chair, Ian Hogarth. The task force was launched earlier this year with an aim to evaluate the risks of frontier AI models (generative language models of AI).
Additionally, on the first day of the Summit, Union Minister of State Rajeev Chandrasekhar participated the AI summit and conveyed India's thoughts on AI. On the second day of the summit, Chandrasekhar will contribute to discussions regarding the establishment of a collaborative framework for AI among like-minded nations. He will shed light on India's perspective concerning AI risks in areas such as disinformation and electoral security.
Moreover, earlier in June after meeting PM Modi, Elon Musk has expressed his willingness to invest in India. He had said that he is planning to visit India next year adding that he is confident that the electric carmaker will be in India and will do so "as soon as humanly possible." (ANI)
For more details visit https://lokmarg.com/