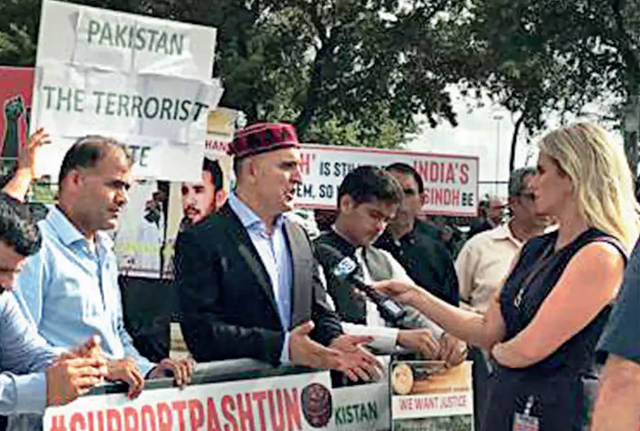 LM NEWS 24
LM NEWS 24
Enforced Disappearances: Anti-Pak Protests In US, Canada
On the International Day of Victims of Enforced Disappearances, scores of people protested outside the Pakistan consulate in New York, at Toronto and outside UK Prime Minister Boris Johnson's house, against the forceful abductions of people from the minority communities in Pakistan by its Army and intelligence.
"Today, we are here to protest against all those disappearances which the Pakistani army has enforced and the Pakistani intelligence has been carrying out for a long time. There are thousands of people including politicians, political workers and journalists who have been forcefully disappeared," said Najeeb Khan, a Pashtun who lives in Balochistan.
"We are here at the Pakistan consulate to raise our voice. We want the world to know that Pakistan has become a huge prison for minority religions today," he added during the protest on Sunday.
Meanwhile in Toronto, members of Baloch, Sindhi and Pashtun organisations staged a protest to mark the 'International Day of Victims of Forced Disappearances', demanding the United Nations and international community to press Pakistan to end forced disappearances, enforced conversion to Islam and extrajudicial killings.
The leaders and members of Baloch National Movement, Canada Pashtun Council, Pashtun Tahaffuz Movement and World Sindhi Congress gathered in downtown Toronto and raised slogans like 'Pakistan Army Terrorist, ISI Terrorist'. They called Pakistan Army an "occupied Army of Pakistan, Balochistan and Sindh."
The protestors urged the Canadian government to pressurise Pakistan for reinstating human rights for Baloch, Sindhis, Mohajirs and Pashtuns. They held banners that read 'stop Baloch genocide' and 'stop enforced disappearances in Balochistan'.
A protestor outside the Pakistan consulate in New York said that for the past two decades, Pakistan has been committing atrocities on the minority communities and the cases have been increasing rapidly.
"Before it was Balochistan, but now they have started in other regions of Pakistan. One of the major problems that we are facing is that we don't have any access to information about the enforced disappearance happening in Pakistan," he added.
He further said that close to 50,000 individuals have been disappeared by the Pakistani security forces and kidnapping and brutal killing of Baloch people was taking place in Balochistan on an everyday basis.
Speaking on the brutality being committed by Islamabad, a Pakistani journalist said: "I am here meet the people that have gathered to protest against the policy of Pakistan military who abducts people that don't necessarily agree with their policies."
He said: "There is a complete media blackout in Pakistan regarding these issues. The reporters are afraid to report on critical human rights issue which has been going on in the last 20 years, especially in the tribal areas. Its high time Pakistan should take notice of this situation because the world is taking notice."
The Free Balochistan Movement on Sunday held a protest against Pakistan outside the official residence of UK Prime Minister Boris Johnson here on the occasion of the International Day of the Victims of Enforced Disappearances.
Several Baloch and other human rights activists joined the protest from different cities of the UK and expressed their support for the families of those who have been forcefully disappeared.
The protestors were carrying banners and raised slogans against Pakistan military's atrocities against Baloch people. They demanded the immediate release of previously abducted Baloch people and stopping of more enforced disappearances.
They also urged the international community, including the UK, to stop supporting Pakistan as their support is allowing Pakistan to commit more crimes against humanity.The activists stated that thousands of innocent Baloch people have been arrested and later disappeared. Many of them have been killed in custody. They also strongly condemned the recent murder of Hayat Baloch, who was shot dead by Frontier Corps in front of his parents, in Turbat, Balochistan.
"On International Day of the Victims of Enforced Disappearances, we are staging a protest outside Boris Johnson's residence. Pakistani forces are committing human rights abuses against Baloch people. We appeal to the international community to take note of what is happening in Balochistan," said an activist.
"We saw how a woman named Malik Naz was killed in front of her four-year-old daughter Bramsh by the Pakistani military. A 12-year-old girl was also killed by the establishment. These things were not coming to light earlier due to blackout (in Pakistan). But now, the news on atrocities committed by Pakistani military is there on social media and people are coming to know about it," she added.
(ANI)