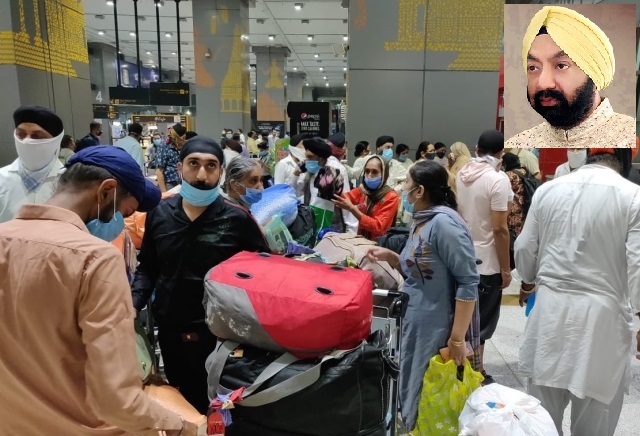 LOK ISSUES
LOK ISSUES
'Evacuation Of The Stranded Is 'Sewa', My Religious Duty'
Padma Shri Vikramjit Singh Sahney, president of World Punjabi Organisation, was instrumental in evacuating hundreds of Sikhs and Hindus from trouble-torn Afghanistan over last one year. He reveals his inspiration to LokMarg
It is the religious duty of every Sikh to help those in distress. Saving a life is considered Sewa, or selfless service, which is a way of life for the Sikh as commended by the Divine. I consider it my fortune to be given a chance to perform Sewa for my brethren in Afghanistan.
Our mission first began on March 25, 2020, when a bomb blast at Gurdwara Guru Har Rai Sahib in Kabul killed over 30 of our Hindu and Sikh brothers. The incident created a frightening environment. A few of our community members discussed the situation and decided that we must evacuate our people from the war-ravaged zone.
The challenges were many. Foremost, there were no flights operational due to the raging Covid-19 pandemic and the shutdown. Second, coordinating with people stranded in Kabul or other parts of Afghanistan was another major hurdle as the administrative network there was stretched due to violent environment.
The Delhi Sikh Gurdwara Management Committee and World Punjabi Organisation coordinated with the Indian embassy in Kabul and Ministry of External Affairs in New Delhi to establish communication with the stranded and our evacuation plan. We then arranged and sent three Spice Jet chartered flights to bring Afghan Sikh and Hindu families to New Delhi.
We managed to evacuate around 500 families from Afghanistan who were granted long-term visa. Since all the Gurdwaras were closing down in Afghanistan, we also got 12 Pavan Saroops, physical copies of the Holy Guru Granth Sahib, to India.
This experience came handy when on August 15, Kabul was taken over by Taliban forces and largescale exodus from the country began. We again got together for a redux of Afghan Hindus and Sikhs.
We are keeping a close watch on the situation in Afghanistan and have prepared a list of families stranded there in Gurdwaras. Meanwhile, 180 Afghan Sikhs and Hindus returned to their respective homes in Jalalabad, Gahzni and Kabul and a few of them are in Karte Parwan Gurdwara in Kabul. They had a narrow escape from the bomb blast that happened last fortnight at Kabul airport and we subsequently advised them to return to Gurdwara.
When the Kabul airport reopens, we will try and ensure we get them to India as soon as possible. We are in touch with MEA and remaining Afghan Sikhs and Hindus in Afghanistan and evacuation plan is being chalked out in next 10 days. MEA officials in Delhi and Doha have got assurance from Taliban leader for safe evacuation of these families.
I must add here that our work does not stop at evacuation alone. Rehabilitation of these families begins soon after the evacuation under our "My Family, My Responsibility" programme in West Delhi. The evacuees were provided houses, household expenses, health insurance and enrolled in a skill centre.
Free skilling services have been extended to all Afghan Muslim refugees as well in the wake of recent protest by Afghan refugees seeking jobs and means to livelihoods. The World Punjabi Organisation and Sun Foundation remain committed to save lives for all Afghan refugees irrespective of their caste, creed or religion. I pray to Waheguru that we are successful in evacuating more of such families and subsequently rehabilitating them to earn a dignified life.
As Told To Mamta Sharma