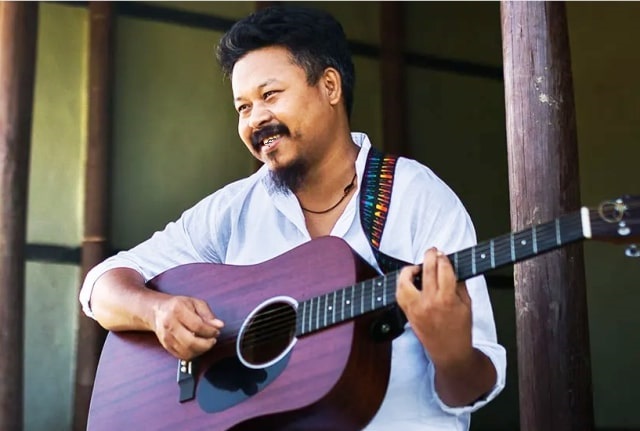 LOK ISSUES
LOK ISSUES
'Every Corner of Imphal Has Become A Relief Camp For The Displaced'
Speaking through erratic phone network and partly via SMS Akhu Chingangbam, an Imphal-based musician, singer, songwriter and social activist, says peace looks a distant reality for Manipuris
The violence which engulfed the state of Manipur about ten days ago has subsided comparatively in terms of the intensity with which it had earlier started and spread. But, news of gun-firing and killings are still coming from different parts of Manipur. A state of curfew is still imposed in the city and there has been no Internet for a very, very long time.
We are all very concerned about peoples' lives and their livelihoods here in Manipur. There have been confirmed reports that three members of the Meitei community were killed recently at Churchandpur, a Kuki-dominated district. Besides, we have heard news that all the vacated houses of the Meiteis in several districts have been occupied by the Kukis.
It is tragic that every nook and corner of Imphal is turning into relief camps. We, a group of young men and women, have been working in the relief camps from morning till night. The living condition in these camps is heart-wrenching. There are many cases of missing persons too. Peace is far, far away in our collective imagination for now.
When the violence first broke out, the law and order machinery simply gave away. The state government in Manipur was rather slow in taking action to control the violence which spread rapidly with terrible and tragic consequences. Consequently, a large number of people were displaced and forced to leave their homes and belongings to save their lives. Ordinary folks have also complained about the inactive role of the security forces during the crisis.
Indeed, this is high time that all the communities across the state should come together and reconcile in a realm of peaceful understanding, tolerance and co-existence. Since there is no Internet in Manipur, there has been a lot of false propaganda and fake news in the national and international media. Certainly, in the given, delicate circumstances, it is of utmost importance that all media houses should fact-check the information they receive before they publish it.
(The narrator leads Imphal Talkies, a popular folk rock band which is acclaimed not only in Manipur but in many parts of India. He has performed at various states in India, including in public protests, and especially with his song seeking the release of Dr Binayak Sen. Amid zeroo Internet and intermittent phone connectivity, Chingangbam communicated with Lokmarg over phone and partly via SMS)
Read More: lokmarg.com
As told to Amit Sengupta