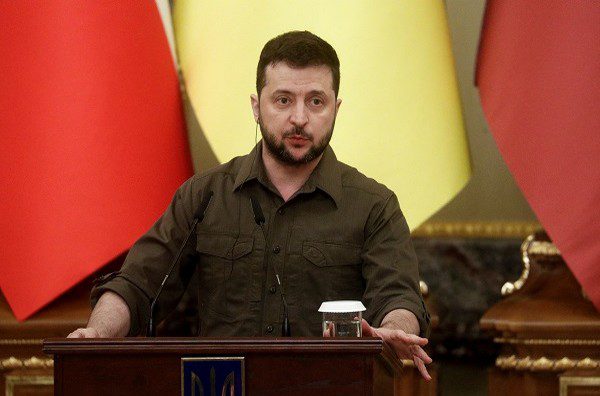 LM NEWS 24
LM NEWS 24
Evil Russia Will Be Defeated Like Nazi Germany: Zelenskyy
Ukrainian President Volodymyr Zelenskyy vowed that the "evil" Russia will be defeated just like Nazi Germany was beaten in World War II, according to the Kyiv Post.
In a speech to mark Victory in Europe Day, Zelenskyy said, "All the old evil that modern Russia is bringing back will be defeated just as Nazism was defeated," Zelensky said in a video statement standing in front of a war memorial.
"Just as we destroyed evil together then, we are destroying a similar evil together now," he added.
Zelenskyy also announced that he had submitted a Bill to parliament to formally commemorate World War II in Ukraine on May 8 and celebrate Europe Day on May 9. This is yet another step to distance his country from the traditions of Russia, reported Kyiv Post.
His address comes on the anniversary of Nazi Germany's surrender to Allied forces on May 8, 1945, and one day ahead of Victory Day in Moscow, which celebrates the Soviet Union's victory in World War II.
Meanwhile, on Twitter, Zerlenskyy tweeted, "It is on May 8 that most nations of the world remember the greatness of the victory over the Nazis. The world admires all those who were protecting and protected life. Who threw down the Nazi flags on the liberated territory and who opened the gates of the concentration camps. Who restored freedom to the nations, who destroyed and condemned Nazi evil."
"It is on May 8 that the world honours the memory of all those, whose lives were taken by that war. It is pure history, without ideological admixtures. And it is the history of our people, our allies, the entire free world. Today, we are returning it to our state. Today, I submitted a bill to the Verkhovna Rada of Ukraine proposing that May 8 be the Day of Remembrance and Victory over Nazism in the Second World War of 1939-1945," he added.
The Ukrainian President conveyed his condolences to all those people who died in the Second World War. "Glory to each and every one who fought against Nazism and won! Glory to all our heroes of different times, to whom we equally owe our lives!" he added.
Meanwhile, Russia fired eight long-range missiles at the city overnight Sunday, Ukraine's air force said in a statement, CNN reported.
At least one person was killed and three were injured in that missile attack which strikes on the southern port city of Odesa on Monday, according to the spokesman for the head of the regional military administration.
"A guard at the warehouse where an enemy missile hit was killed. His body was found under the rubble," the spokesperson wrote on Telegram.
"Around midnight, the Russian occupiers attacked Odesa Oblast with Tu-22M3 long-range bombers. A total of eight missiles were launched from the area of Cape Tarkhankut (occupied Crimea)," the air force said, adding: "Some of the missiles did not reach their targets," according to CNN. (ANI)