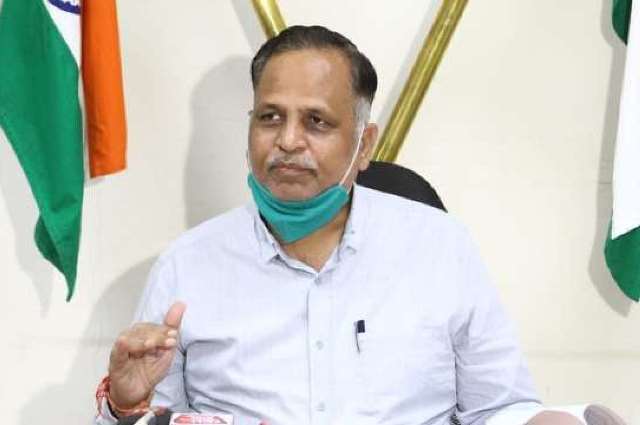 LM NEWS 24
LM NEWS 24
Excise Case: CBI Quiz Satyendar In Tihar Jail
The Central Bureau of Investigation (CBI) has quizzed Delhi's Minister Satyendar Jain in Tihar Jail in connection with alleged corruption in the implementation of the Delhi Excise Policy.
He was questioned in the Tihar on Tuesday in relation to excise matter.
Jain is presently lodged in Judicial Custody in connection with another case related to money laundering case registered by the Enforcement Directorate (ED).
He has not been made an accused in Excise Policy case. His name surfaced in the matter alongwith other cabinet Minister's of Delhi alongwith Chief Minister Arvind Kejriwal.
According to the concerned lawyers, CBI has also quizzed Vijay Nair, who is also lodged in Tihar Jail in connection with the ED case related to the Excise policy. Nair was granted bail in a CBI case by the Trial court earlier.
Recently, CBI and ED have made several arrests for alleged corruption in the implementation of the Delhi Excise Policy.
The ED last week has also arrested Raghav Magunta, son of YSR Congress Party MP Magunta Srinivasulu Reddy, in the Delhi excise policy money laundering case
Earlier, CBI also questioned Raghava Reddy and asked whether the liquor cartel paid bribes to AAP government functionaries in Delhi through a middleman.
It was alleged that the Magunta family was running one of the liquor cartels in Delhi and has been in the liquor business for the last several years.
The Trial Court recently sent businessman Gautam Malhotra, son of former Shiromani Akali Dal MLA Deep Malhotra, and Telangana CM's daughter K Kavitha's auditor to ED, CBI remand respectively in the Delhi excise policy case.
Hyderabad-based chartered accountant (CA), also said to be the auditor of Bharat Rashtra Samiti MLC K Kavitha, was sent for three days of CBI remand in the liquor scam.
According to the CBI, during the course of further investigation, his (Butchibabu Gorantla) role has surfaced in the criminal conspiracy with other co-accused persons, in the formulation of favourable liquor policy and deriving undue benefits out of the same.
The ED in its supplementary chargesheet stated that the Prevention of Money Laundering Act (PMLA) investigation done so far has revealed that, the Delhi Excise Policy, 2021-22 was created by the top leaders of the AAP to continuously generate and channel illegal funds to themselves.
The ED further stated that the extent of involvement and abatement by the leaders of the AAP of the criminal activities undertaken by the accused covered in the subject Prosecution Complaint further substantiates their design and scheme of the scam.
The policy promoted cartel formations through back door awarded an exorbitant wholesale profit margin of @12 per cent and a huge retail profit margin of 185 per cent and incentivized other illegal activities on account of criminal conspiracy by the top leaders of AAP to extract kickbacks from the businesses, stated the ED.
The ED revealed that it is disclosed by C. Arvind, DANICS, Secretary to Manish Sisodia, in his statement dated December 7, 2022, the draft GoM report was given to him in the mid of March 2021 when C Arvind was called by Manish Sisodia to the residence of Arvind Kejriwal, CM (where Satyender Jain was also present). (ANI)
Read More:http://13.232.95.176/