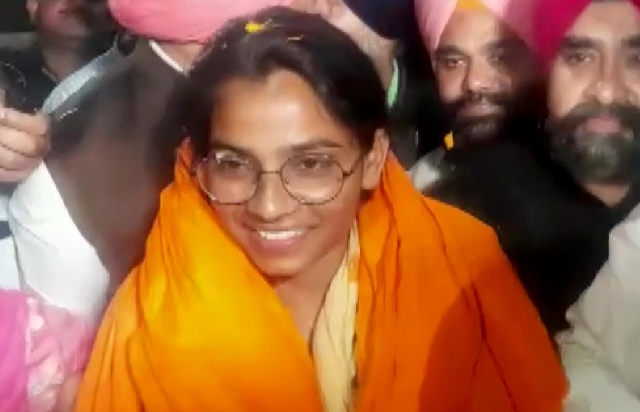 LOK ISSUES
LOK ISSUES
EXCLUSIVE–Nodeep Kaur Recounts Her Stay In Prison
Nodeep Kaur says she studied books by Dr Bhimrao Ambedkar and sang revolutionary songs with fellow inmates every day to keep her morale high
The image of a prison in my mind was different from what I saw in person. I had always imagined jail to be a place inhabited by outlaws and criminals. There was fear also in my mind when I was ushered into the barrack for under-trials. But I soon realized that many of the inmates were languishing because they had rubbed the State the wrong way.
Whoever stands up before the powerful or tries to be the voice of the people, he or she runs the risk of arrest and charges that a judge will find difficult to grant bail for. I feel fortunate that my case was highlighted and concerned citizens raised their voice in my favour. My lawyers too worked diligently. Else, I could be just another labour activist languishing in prison.
I found to my dismay that jails officials disallowed any book to be delivered from outside. Also, you cannot get a pen or a notebook to write down. So whatever books I could get hold of in the jail, I read most of them. There were books on Ambedkar and penal laws. Ironically, I could see it there that the reality of laws in paper and on the ground was so different.
I would talk to other inmates and discuss their cases. I saw that even women had been charged with acts like POCSO and rape. These charges make chances of a bail dismal. There was gloom.
During our protests, I had picked up many songs that talked of revolution, justice and hope. I would sing those numbers with the fellow inmates. It lifted the atmosphere. In a short time, it became a routine. Every evening, ginti band hone se pahle (before the final roll-call) we would all sing together. Thus, talking to inmates, reading, reciting poems or talking about what was happening in the protests outside helped me sail through that time.
Punjab and Haryana High Court granted me bail last week (February 26). But achieving bail is not an end in it itself. The fight is far from over, and it is a long fight ahead. My bail doesn't mean that the condition of the labourers has improved. Workers' demands have not been met by the factory owners. Many other innocent people are in jail and even today caste and religion divides our society. My fight will continue for a just society.
I will continue to support farmers at the Singhu border and also raise voice for labour rights. My parents have supported me in my fight. Even when I was in jail, they said they want me to continue my fight for the people. Those who fight for the rights of others, leave behind a legacy.
I came to know that some famous personalities highlighted the issue of my arrest and false charges. It may have helped the case, but it is the support that I got from the people makes me humble and proud.
As told to Mamta Sharma