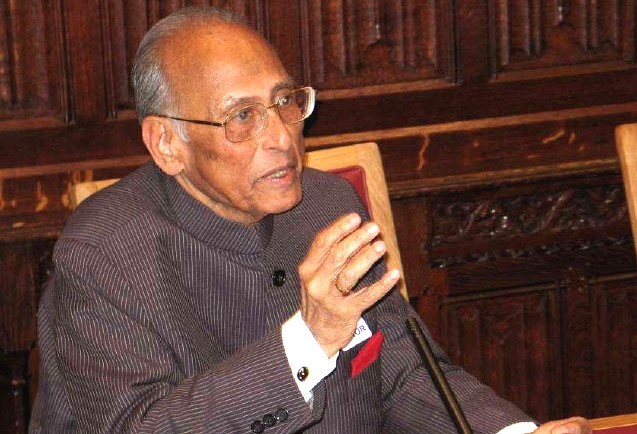 LM NEWS 24
LM NEWS 24
Exclusive: When LM Singhvi's Sculpture Plan Sent UK Officials Into A Tizzy
Deepak Pant
The world of diplomacy is predicated on national interests couched in politeness, spin and a way with words. The work of diplomats is less under scrutiny and known to the public at large than that of civil servants working within the country. But declassified documents can shed a light on the cut-and-thrust between diplomats and the administration of the country they are posted in.
One such Indian diplomat was L M Singhvi, who had one of the longest tenures in London as India's high commissioner, from 1991 to 1997. He was in post during celebrations to mark 50 years of India's independence, and was known to vigorously push India's interests in the UK.
One of his proposals was to celebrate India-UK friendship in 1996 by placing sculptures of the two prime ministers at the time – P V Narasimha Rao and John Major – in a public place. But this unnerved top British officials, who exchanged several confidential letters for six months. The proposal was made in December 1995 by Singhvi, who wanted Major to attend the ceremony in London on January 26, 1996, the documents released by National Archives show.
The idea was to place the two sculptures in 10 Downing Street or the Treasury office, but officials opposed it because it contravened the convention against statues in public places to living UK politicians – the two venues are considered public places.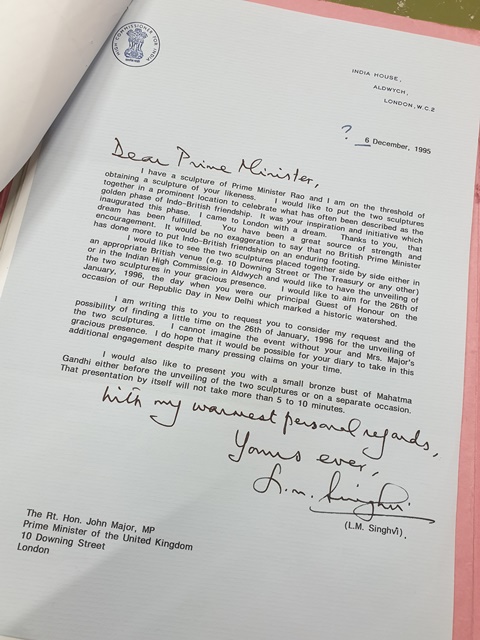 "There is no written rule about this, but is well-established convention. Both HM The Queen and HM The Queen Mother have decreed that there should be no statues of them erected in the United Kingdom during their lifetimes", the Foreign Office wrote to Number 10.
Besides, the note released by National Archives added: "A general election is expected in India in April. It is possible that the Prime Minister's attendance at the unveiling of twin sculptures of himself and Narasimha Rao could be seen in India as an intervention in Indian politics."
John Holmes, Major's private secretary, wrote to him: "An odd story. You will know that the Indian High Commissioner here, Dr Singhvi, is pushy and not easily put off…Having taken advice, I wrote back to say that it was not usual practice here to erect sculptures of living British politicians".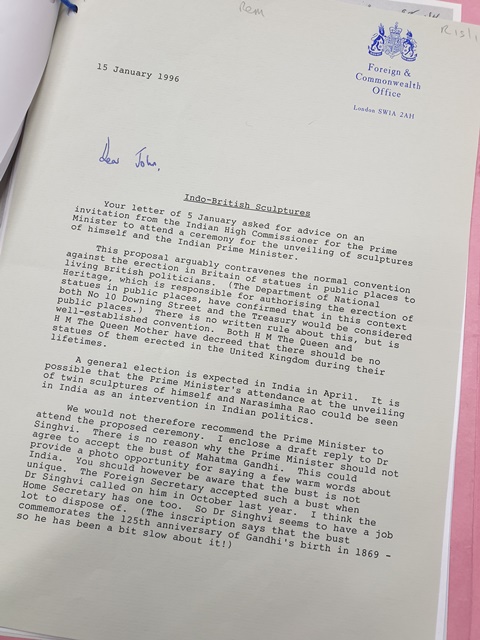 "This would have put off most people, but not Dr Singhvi. He telephoned me to explain that he had specially commissioned the sculpture from Shenda Amery…He would still like to present you with the sculpture and put it somewhere appropriate".
After several exchanges between Downing Street and the Foreign Office, Major met Singhvi on May 1, 1996, when the latter said Narasimha Rao was likely to emerge as the leader of the single largest party in the Indian election (the BJP won the largest number of seats).
A note on the meeting said: "Singhvi presented the Prime Minister with a small bust of Gandhi. He also brought along the bust of the Prime Minister which he had commissioned…The Prime Minister explained, again, that it was not the practice here to display publicly busts of serving politicians".
"We have returned it to the High Commissioner's office for private display", it added.
S L Sharpe in the Foreign Office had advised Holmes that Major should accept the Gandhi bust, but added: "You should however be aware that the bust is not unique. The Foreign Secretary accepted such a bust when Dr Singhvi called on him…I think the Home Secretary has one too".
"So Dr Singhvi seems to have a job lot to dispose of. (The inscription says that the bust commemorates the 125th anniversary of Gandhi's birth in 1869 – so he has been a bit slow about it!)," the letter remarked.
British officials also doubted another of Singhvi's proposal for a video-conference lasting between 5 and 10 minutes on live television between Major and Rao to commemorate 125 years of communication links between the two countries in early 1996.
"We doubt whether this proposal, which appears to be a personal initiative of Dr Singhvi, has yet been cleared with Prime Minister Rao. We would not want therefore to recommend that the Prime Minister agree at this late stage to participate in what we judge to be a rather ill-prepared scheme", the Foreign Office wrote to Downing Street on January 15, 1996.
Singhvi, a jurist, writer and parliamentarian who passed away in 2007, was one of the few high commissioners since 1947 who were not career diplomats. He was appointed to the office by Narasimha Rao, and remained in the post until 1997 as governments changed in New Delhi.