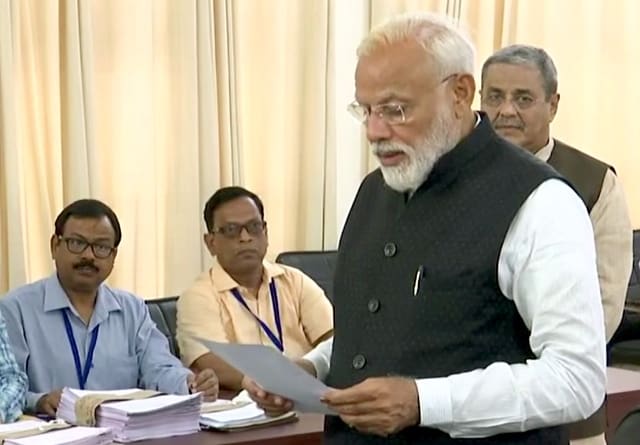 LM NEWS 24
LM NEWS 24
Exit Polls Predict Return Of Modi Govt
<![CDATA[
As soon as the election in the last phase got over on Sunday evening, various news channels flashed the forecast of their respective Exit polls, predicting a comfortable sail to power for the NDA, with seats ranging from 287 to 306.
ABP-Nielsen was the only poll that said NDA would fall short of a clear majority.
Meanwhile, about 61% polling was recorded in the seventh and the last phase of the Lok Sabha election that were held in 59 Lok Sabha constituencies on Sunday across eight States, including Uttar Pradesh, Punjab, Madhya Pradesh, Himachal Pradesh, Jharkhand, West Bengal, Bihar and Chandigarh. There were incidents of alleged EVM rigging and poll-related violence in West Bengal.
Among the prominent seat went to poll on Sunday will decide the outcome of prominent candidates like Prime Minister Narendra Modi, Union minister Ravi Shankar Prasad, and Shatrughan Sinha and Manish Tewari of the Congress.
Many exit polls predicted that SP-BSP alliance in Uttar Pradesh would trump the BJP in the politically most crucial State, which had sent 71 seats for the saffron party in 2014 general elections. The alliance may not be able to win 40 seats in Uttar Pradesh, several polls predicted. However, there have been other states where the party seems to have made fresh inroads to fill up the deficit, the exit poll results showed.
In fact a poll of polls conducted by NDTV news channel indicated that the BJP would make up for its losses in Uttar Pradesh with a surge in Odisha and West Bengal. The Mayawati-Akhilesh Yadav combination would get, according the average prediction, 29 seats while the Congress is set to do no better than it did in 2014 with just two seats.
In Bengal, Chief Minister Mamata Banerjee's Trinamool Congress will get 26 of 42 seats and the BJP will move to double digits at 14 while in Orissa the BJP will be equally positioned against Naveen Patnaik's BJD which is an improvement for it as it won just one of the state's 21 seats in 2014.
The gains in the two states will offset what the BJP is predicted to lose in Uttar Pradesh, it is said.
The BJP leaders were quick to express satisfaction with the predictions. "The exit polls results are according to our expectations," BJP national vice president Vinay Sahasrabudhe said. "The grand alliance experiment has failed. The BSP and SP could not take our votes. The main opposition parties in Uttar Pradesh are divided thin, whose benefits the BJP got."
Congress leader Ashwini Kumar said: "I hope for my party's sake these exit polls aren't true." Mr Kumar is true as on several occasions the Exit poll have gone misearbly wrong in predicting the true outcome of the elections.
The results will be declared on Thursday, May 23.
LokMarg Desk