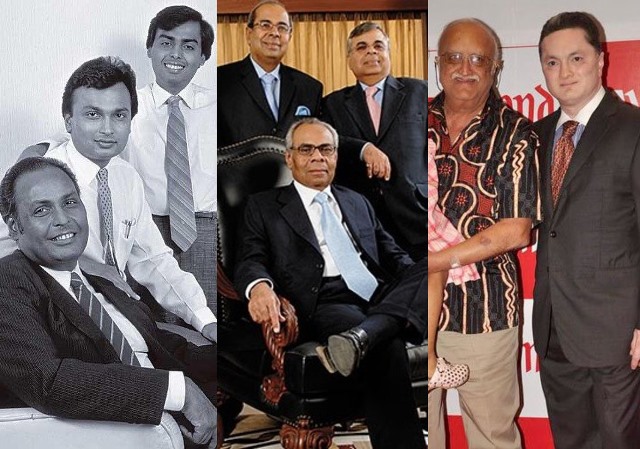 OPINION
OPINION
Family Business & Succession Plan
Kokilaben Ambani must still be ruing that her husband Dhirubhai did everything else but write a will clearly stating what their two sons would inherit beyond him. Dhirubhai had an outstanding career of building a monolith that is Reliance from a scratch outsmarting a system in prevalence during his time that to say the least did not encourage new entrepreneurship. Moreover, leading business houses found then had no love lost for adventurous businessmen seeking a place in the sun. Dhirubhai could take care of all that. In fact to the shock of tall men of Indian business, they found Dhirubhai ahead of them, including the storied Birlas and Tatas.
In the pursuit of what even today in a more open environment looks seemingly unachievable, Dhirubhai had his two sons Mukesh and Anil working closely with him for most of the time. The burden of running the business fell on the shoulders of young Ambanis when Dhirubhai suffered the first stroke in 1986 which left him partially paralysed. Even that grievous experience was not enough for the buccaneering industrialist to formally spell out what exactly would be the inheritance of his progeny.
Nobody in the family or his close associates have ever thrown light on what might have baulked the otherwise worldly-wise man charting the course for Mukesh and Anil beyond him. In any case, as was to be expected, the post Dhirubhai days were marked by nasty sibling fights that made way to public domain. Intervention by the mother based on the sane advice of renowned banker KV Kamath who enjoyed the confidence of both Mukesh and Anil ensured splitting of Reliance businesses between the two engaged in a ten-month public row.
Having experienced the nastiness of sibling rivalry and washing of dirty linen in public, it is only to be expected that Mukesh and his wife Nita, who has proved her mettle in a number of areas from sports to education to philanthropy will be working hard to prepare a blueprint for succession so that their three US educated children –Isha, Akash and Anant – continue to move seamlessly to significant roles in Reliance Industries under the watchful eyes of their parents. Under Mukesh's charge, Reliance Industries has become a behemoth spreading its wings beyond oil-refining and petrochemicals into telecommunications, retail (read both e-commerce and brick and mortar) and technology.
Known for delivering what he promises, Mukesh made an announcement in June of his plans to invest $10bn in green energy over the next three years and at the same time "aggressively" pursue the goal of producing cheaper green hydrogen. All this is to substantially bring down the group's carbon footprint.
As Mukesh does all this to set the next phase of Reliance diversification and growth, one of the world's eleven richest individuals is said to be studying the models of billionaire families in the US and Europe transferring control of businesses and wealth to the next generation and also succeeding thereby in wealth preservation. But what must be accepted is that every big family of the Ambani kind has its own challenges and problems and therefore, an arrangement that has worked splendidly well in one case may be found inadequate in other families. For example, at the time of passing of Dhirubhai there was enough in Reliance basket that could have been amicably distributed among Mukesh and Anil. But then sibling rivalry, ill feelings towards each other and blind ambition played spoilsport. Richer by that avoidable experience, Mukesh is reportedly working on a succession plan that will draw ideas from other billionaire families where successions are well settled but still will have its uniqueness.
Bloomberg in a well researched report says: "The 64-year-old Indian tycoon's favoured plan shares elements with that of Walmart Inc.'s Walton family, people familiar with the matter say, and could provide the framework for one of the biggest transfers of wealth in recent times. Ambani is considering moving his family's holdings into a trust-like structure that will control Reliance Industries."
If what is speculated turns into reality, then Mukesh, Nita and the three children will have stakes likely in equal proportions in the trust which will have oversight over the working of Reliance to be run by professionals. Walton family, the owners of big-box retailer has the Walton Family Foundation in place for a long time. Family members may be on the board, controls the listed Wal-Mart Stores Inc. and its direction through majority ownership, but the day-to-day operations are left with professionals who bring new winning ideas and implement them. At the same time, the world is not to doubt that no major decision at the world's largest retailer with footprints in a number of countries outside the US, including China and India, will ever be taken without consultation with family leaders. No doubt, a good model for Mukesh to seriously consider.
Family business observers will say in one voice that business family heads should not leave any grey areas in matters of succession. No one knows at what point differences will occur even in families where businesses are run jointly by brothers with a sense of amity. Take the brother Hindujas – Srichand, Gopichand, Prakash and Ashok – who between them control a nearly $20bn British-India group. From a high pedestal, the brothers signed a never heard motto in 2014 saying that "everything belongs to everyone and nothing belongs to anyone." Some years down the line comes the reckoning for the richest London based family, which from trading in commodities and distribution of Bollywood films outside India graduated into sectors embracing automobile (Chennai based Ashok Leyland), banking (Hinduja Bank in Switzerland and IndusInd Bank in India), oil (Gulf Oil International), healthcare and education.
The claim of togetherness got a jolt when Srichand laid claim to sole ownership of the Swiss bank and wanted the London court to rule that the letter signed by four brothers to the effect of common ownership of assets is not legally binding. The 85 year old Srichanda's health is failing and he also suffers from dementia. His wife Madhu and daughters Vinoo and Shanu believe that the other three brothers are misogynists and therefore, taking actions against them. How the unravelling of more than a century old the House of Hinduja will come about will depend upon decisions of courts in London and Switzerland. No doubt the third generation curse have befallen Hinduja brothers.
Not only siblings fight among themselves. There are quite a few instances in Indian business where parents become victims of the misbehaviour of children. In his newly published An Incomplete Life: The Autobiography, Vijaypat Singhania who made Raymond a household name, there is a chapter The Biggest Mistake in My Life which deals with the blunder of giving away his shares to his son Gautam Hari Singhania and all that followed. He writes: "Things really started to go downhill in 2000–2001, when our clashes became more frequent. After a period of unpleasantness, I thought that the only way out for me was to, in fact, resign as Raymond's Chairman and Managing Director. I committed the first Himalayan stupid mistake of my life when I sent my resignation letter to Gautam. I had foreseen a scenario where he and I would hug each other – as we had done several times in the past after a disagreement – and we would make up. But this is not how things went. A meeting of the board of directors was urgently called, and my resignation was accepted in my absence. I was in London at the time. You can imagine my abject shock when I came to know of it. I berated myself mentally and not a day went by when I didn't kick myself for being so impulsive with my legacy… Even after what had felt like an appalling betrayal, I just forgave him for what he did. What else could I do?"
Difficult to find another father like Gautam Hari Singhania who could speak so candidly about the treatment he got from his son and still would be forgiving. The lesson is if you have got a billion dollar or more then keep everything under control as long as it suits you and also write a will clearly stating how your wealth is to be distributed among your children.