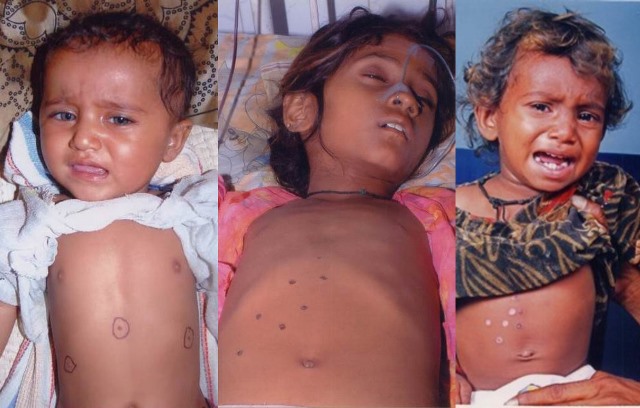 THEBUZZ
THEBUZZ
Fighting The Hot-Iron Branding Of Kids As Treatment
Google the word 'branding' in India and you learn of commercial marketing of various products – till you find, somewhere down the line, that this term also refers to deliberate scalding of an ailing person, mostly an under-ten minor. Meant to be a cure, it only makes for greater pain and longer treatment than the original ailment.
Unbelievable, but true, in this modern age, parents, often untouched by modern medicine, or scared and dissuaded from it by 'branders', use this mediaeval custom and practice as a vaccine at child birth, in many poor countries across Asia and Africa.
It is between the 'brander' and the hapless 'branded'. The authorities take little notice. The clinics and hospitals are content with treating them as burn cases without touching branding as the cause. And the politicians do not want to prevent an age-old practice that could disturb their potential voter.
A red-hot iron rod is the means for 'cure', though not the only one. Heated nails, wires and incense sticks are also used. An iron ring or even a burnt rope is used. Rod is pressed on the chest of the child for pneumonia, on the left side of abdomen for malaria and on the right side if it jaundice. For brain fever, it is pressed right on the forehead. The list is long.
For the uninitiated city-bred, branding would be unknown or be confined to stories. It is a traditional practice whereby third degree burns are inflicted on the skin with a hot iron rod or metallic object, burning ropes and metal rings, to treat various conditions. In several Asian and African societies where traditional medicine is still widely prevalent, branding is used. These ancient methods are crude and inhuman, causing the treatment to be more unbearable than the original complaint, and carry the risk of complications. Despite advances in medicine, crude and harmful methods of healing like Branding are still prevalent all over, especially among illiterate and poor people.
It can cause acute infection, allergic reactions and sequelae arising from third-degree burns. Indian constitution provides immunity to our children by any 'Hurt' under the Juvenile Justice 'Care and Protection of Children' Act, says a report in Indian Paediatrics, journal of the Indian Paediatrics Association. It demands "stringent action to prevent these hazardous practises to protect our children."
The mediaeval custom it seems has its roots in the treatment of domestic animals like cows and buffaloes, which are cured of their septic boils or wounds by wielding of red hot iron rods. But gradually, the practice also started among human beings and especially children. It attained a kind of religious sanctity among the illiterate village folks mainly from the backward communities.
A sliver line has emerged, in a small way, in the rural areas of Kutchh, India's western-most district in Gujarat. No case of branding has been reported in 2021, thanks to the untiring efforts of a child specialist.
It took him 19 years for Dr Rajesh Maheshwari Jeswani to convince the loving but ignorant parents in village after village of the district's Vagad region that when a child is branded as a cure to various ailments, it grows with not just burn marks, but also psychological trauma.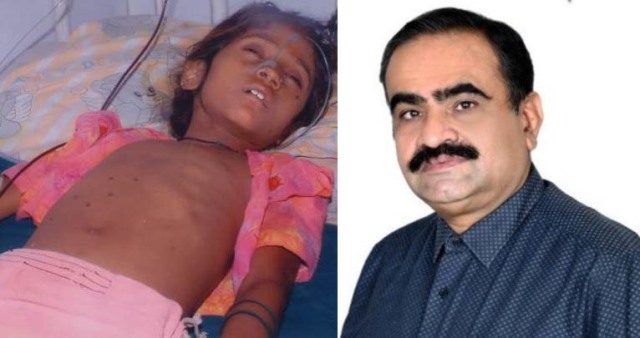 Although Vagad region extends from southern Rajasthan to northern parts of Saurashtra in Gujarat, this is the story of two Talukas, Rapar and Bhachau. A large populace of Kolis, Rabaris, Bharwad, Dalits and Muslims – mostly farmers and shepherds, but also landless labour – in a remote region that is backwaters of this "Little Rann", the desert region.
For want of a paediatrician or otherwise, they used to follow this practice that, over a period, has also acquired religious overtones. It was the norm till Dr Jeswani persevered, rendering mostly unwanted advice to parents.
He recalls that while training as a child specialist, he was told by his peers that since the 'case' before him is silent', being too small to express pain and its cause, the doctor should also be its advocate. This meant persuading tradition-embracing parents.
After much opposition and boycott, the effort has borne results. He would know, having traversed the region for long years. His hospital in Gandhidham town of the district would receive 5-6 such cases every month. The number used to be high since other doctors also received such cases.
It was not easy. For the ignorant villagers who would go to the illiterate branders, the situation was precarious as the warning that the patient would die if he is taken to a doctor. In some cases, they would be told not to approach a doctor till the brand marks heal.
The practice was rampant in many pockets of Gujarat in the early 19th century but it was eradicated in most parts as awareness in modern medical science grew. Now people of Vagad in Kutchh have joined in, and with that they have joined the modern world.
The writer can be reached at mahendraved07@gmail.com