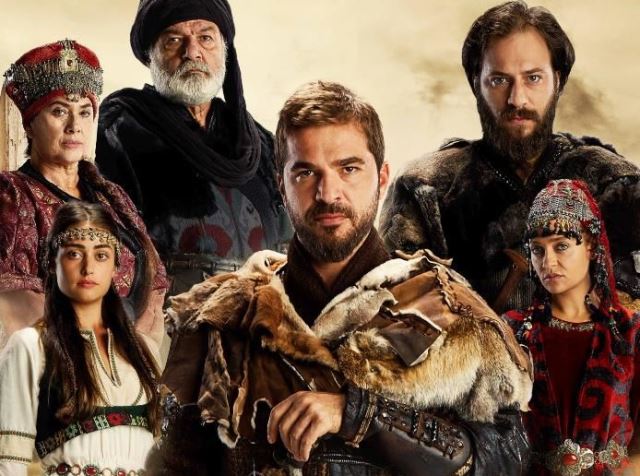 OPINION
OPINION
Ertuğrul – Solace In Fictional Glory
How far and deep into the past can a people go, be it history or mythology popularly perceived as history, to rejuvenate their present that is in turmoil and one that portends a bleak immediate future? Answer to this complex question may be found in the heady mix of piety and populism dished out with political support to people locked-in by Coronavirus pandemic.
After the Indian experience of Ramayan and Mahabharat television serials, it is time to see Pakistanis glued to their television sets watching an epic-size Turkish series about 13th century Muslim renaissance. Begun in the holy Ramazan month, it continues to win audiences.
Dubbed Muslim Game of Throne, Dirilis (meaning Resurrection): Ertugrul has established viewership records with 240 million people watching it on YouTube alone. Said to be the new avatar of a 2002 film on the same subject that was an entry at the International Film Festival of India (IFFI) in 2002, this 2014 series is a milestone in Turkey's entertainment world. After five successful seasons, Director Mehmet Bozdag is planning a sequel.
Its main protagonist is Osman I who rallied squabbling tribes of Oghuz Turks, won territories and paved the way for his son to establish the Ottoman Empire. It stretched to parts of Europe, Asia and North Africa and remains an enduring phase of Muslim political, military and cultural supremacy.
The end of this empire, the Caliphate, a century back post-First World War has not impacted its lure. A modern secular state that Kamal Ataturk then created stands rejected by the new political leadership and Turkey continues to reclaim its past glory.
The Turkish prowess, past and present, attracts Muslims in general, but especially in Pakistan as it explores an identity away from a hostile India. In that quest, it is wary of a Shia Iran and an iffy Afghanistan, although Ghazanvi, Ghori and Abdali are used to remind what remains of India of the past conquests.
"At its heart, what Ertugrul represents in this scenario is a battle for the soul of the Islamic narrative and for Pakistan's own self-image," Imran Khan, a Doha-based journalist writes for Al Jazeera.

He queries: "Does the country have a unique Muslim identity forged via Muslim India, or is it part of the wider history of the Muslim world?" He concludes: "The answer to that is what informs its current self-image."
But it is not so easy and simple. Pakistan's largest benefactor – spiritually (being the home to Islam's highest shrines), in terms of political influence and even financially – is Saudi Arabia. Born in the aftermath of the end of the Caliphate, it has no reason to take a secondary position to Turkey in Pakistan.

Ahmer Naqvi, a freelance cultural writer, sees Ertugrul as part of a wider agenda. "There is definitely an element of the Pakistani state pushing a certain idea of Islamic history, that focuses on conquest and expansionism and that has a long history of being used as propaganda," he writes.

"This push has come at the expense of even acknowledging the history of what is now settled Pakistan. So, you would know about Muslim general Salahuddin but not about Chanakya, who lived in settled (present day) Pakistan, so yes, there is valid concern that the state is pushing a wider history and not its own," Naqvi says.
Naqvi's viewpoint is debatable, but there is no escaping Prime Minister Imran Khan's push for Ertugrul. He watches it regularly and has even promoted it in an interview for its "Islamic values". He thinks they are in contrast to the 'vulgarity' that Hollywood and Bollywood dish out to the entertainment-starved Pakistanis.
With such popularity, political flutter is but natural. Parallels are being drawn in domestic arena. Supporters of the prime minister see in him qualities of Ertugrul – the larger-than life saviour/conquorer. Not to be left behind, the opposition Pakistan Muslim League sees such virtues in Maryam Nawaz Sharif, the imprisoned daughter and political heir of Pakistan's three-time premier. The young and handsome Bilawal Bhutto Zardari, it seems, is yet to make the grade.
The Pakistani lure of a relatively more prosperous Turkey is immense. Former military ruler, Pervez Musharraf, posted there as a soldier, used to be a great Turkey fan. But his being seen with his pet dog in the initial phase of his rule caused anger. Dog is a no-no for Pakistan's Muslims.
This is only one of the reservations Pakistanis nurse about Turkish entertainment fare, going by reports of how Ertugrul is being received. The more serious one, perhaps, is the way women consorts of mighty Turkish characters live in real lives. Many viewers explore the social media for 'more'. The veil-less Instagram images of these actors put them off. They have taken to criticising and even counselling the female players, particularly the lead character, Esra Bilgic, on how they should dress and behave in public. It should be befitting a Muslim woman, they insist.
Pakistani feminist writer Aimun Faisal says: "If you are a Pakistani man, here's why this Turkish woman has you simultaneously exasperated and enchanted." She writes: "Ever spurred on by their commitment to religiosity and piety, Muslim men from Pakistan who had looked up a Turkish actress on a photo and video sharing platform, felt it their spiritual duty to educate her, or advice her, or berate her – depending on their self-confidence – on the ethics of being a pious Muslim woman."
Faisal sees this as an act born out of misogyny. To the Pakistanis, a Turkish woman, almost-Westernized, "is desirable, but not achievable" unlike their brown-skinned compatriot who can be dumped-down into domestic social/moral milieu, but then, she becomes less 'desirable'.
Truth be told, such conflicts have also bedevilled Indian audiences – at least they did in the past. Many were angry with Anita Guha, last century's actor who usually played mythological characters and was Sita in Sampoorna Ramayan (1961) because she dressed and drank like any Bollywood socialite. Saira Bano and Sharmila Tagore, wives to famous, liberal Muslims, continued to act in films long after marriage, to the chagrin of their traditional audiences/admirers. They would volunteer to "protect the honour" of the bhabhi (sister-in-law) by destroying film posters depicting them fashionably clad.
Sadly, that body-shaming is now becoming rampant on the social media, also some mainstream one, as the conservatives who seek to dictate dress code for women get stronger.
Come to think of it, is it the return of "Victorian values" in the 21st century? Then, blame the British! Faisal approvingly quotes a study by Frantz Fanon and Partha Chatterjee about how "the encounter of men of colour with colonialism impacted gender ties in the colony."
The writer can be reached at mahendraved07@gmail.com