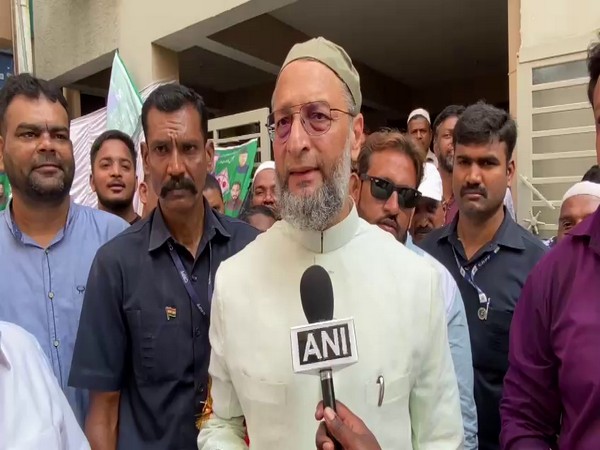 LM NEWS 24
LM NEWS 24
First Look In Mirror Before Pointing Fingers At Others: Owaisi Rips Into Rahul
Launching a no-holds-barred attack on Congress leader Rahul Gandhi, All India Majlis-E-Ittehadul Muslimeen (AIMIM) chief, Asaduddin Owaisi, on Saturday said the latter should look at himself in the mirror before pointing fingers at others.
Speaking to media persons while holding a door-to-door campaign in support of party candidate Majid Hussain in Nampally Assembly constituency in Hyderabad on Saturday, the AIMIM chief said, "Under the presidentship of Rahul Gandhi, the Congress fought on 540 Lok Sabha seats and, yet, its count in the 2019 general elections was reduced to 50. Did he question how much money he took? How much money did you (Rahul) take from (PM Narendra) Modi? He should first at himself in the mirror before pointing fingers at others. They are in alliance with the Shiv Sena (UBT in Maharashtra) which had a hand in the demolition of the Babri Masjid. They are worried as the AIMIM has emerged as the voice of minorities and the poor. We have been fighting them and will continue to do so," Owaisi told ANI.
Weighing in on the Congress manifesto in Telangana, the AIMIM chief said their list of poll pledges is just "ink on a piece of paper".
"There is nothing in their manifesto. They have proposed a matrimonial scheme as part of which non-Muslims are to be provided a lot of benefits and Muslim women nothing. This shows their selective approach. Polling just ended for Chhattisgarh and Madhya Pradesh. Why didn't they (Congress) come out with any minority declaration in these states? The reason they did it here is because they know that the AIMIM has a strong footing here. They are scared of us," Owaisi said.
Reacting to Rahul's remark that the Congress will open 'Mohabbat ki Dukaan' in Telangana if elected, Owaisi said what they represent isn't love but hatred.
"Their chief in Telangana (Revanth Reddy) is from RSS. When fingers are being pointed at our clothes and caps, what will come from all their talk about love?" he added.
Telangana will go for Assembly elections on November 30 and counting of votes, along with those of four other poll-bound states, has been scheduled for December 3.
AIMIM has fielded candidates for nine seats in Hyderabad in the Telangana elections.
In the previous Assembly election in 2018, the ruling Bharat Rashtra Samithi (BRS), previously known as Telangana Rashtra Samithi (TRS), won 88 of the 119 seats, grabbing 47.4 per cent of the total vote share.
The Congress came a distant second with just 19 seats. (ANI)
For more details visit us: https://lokmarg.com/