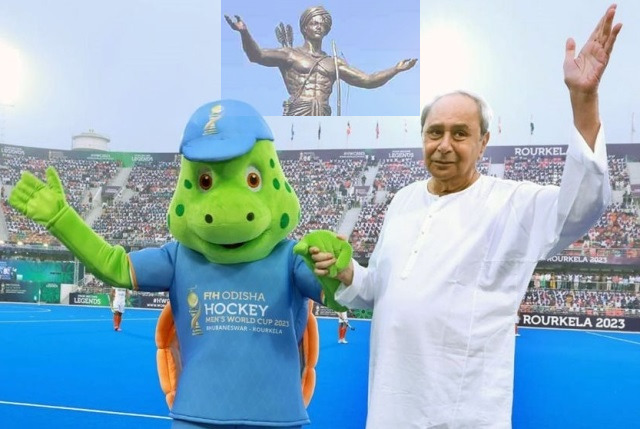 OPINION
OPINION
Fishing In The Tribal Talent Pool
In a way the hosting of Men's World Cup Hockey 2023 at two centres in Odisha – the capital city Bhubaneswar and Rourkela – is paying homage to the genius of tribals who in spite of being immiserated over the centuries, including their being driven away from the mainland to the jungle fastness. When the enlightened Odisha chief minister Naveen Patnaik named the newly built world's largest hockey stadium with seating capacity of over 20,000 in the steel city Rourkela after the legendary tribal leader Birsa Munda, it was seen as an attempt to acknowledge the grave wrongs done to the children of Indus Valley civilisation and at the same time pay tributes to the indomitable spirit of adivasis to overcome all odds.
The folk hero Birsa Munda (born November 1875) did not live even 25 years, killed as he was while imprisoned by the British. Come to any place where adivasis are found in large numbers, Birsa is principally remembered for his clarion call "let the kingdom of the Queen be ended and our kingdom established" and his phenomenal work in the short time available to him for revival of tribal culture, then under colonial rule facing onslaught from Christian missionaries and others. A rightly deserved tribute demanded by adivasi history in the form of dedicating the Rourkela stadium to memories of Birsa Munda apart, the stadium naming after the great warrior-reformer comes as recognition of the genius of tribals, who though lacking in proper hockey gear mastered the art of the game to the extent of making sterling contribution to India's global ranking in the sport when competition is becoming increasingly stiffer. Come to an adivasi village, you will find boys and girls enthusiastically playing the game on an uneven surface with makeshift sticks and two bamboo poles on either side of the field standing as the goalpost.
Eminent scholar Gopalkrishna Gandhi has done a major service at the point of the country hosting the World Cup, the extraordinary story of Jaipal Singh Munda, born 120 years ago to a cattle-herding family in what is now Jharkhand. Missionaries were early to recognise Jaipal's scholarliness as also his skills in weaving magic with the hockey stick to see him through St. Paul's school in Ranchi and then ensure his admission to the prestigious St. John's College in Oxford. There as he expectedly did well in studies, Jaipal distinguished himself as the first Indian Oxford hockey blue. That someone of his talent and intellect would make to the charmed Indian Civil Service (ICS) was taken for granted. But what at that time took everyone, especially the British by surprise was his unequivocal decision to quit the vaunted service when India Office refused to grant him leave to enable him to lead the Indian hockey team at 1928 Olympics. For the record, under his captaincy, India won its first gold medal at Amsterdam Olympics.
As if the decision to give up the gilded career of ICS was not audacious enough, Jaipal plunged into politics headlong on his return to India. He became president of Adivasi Mahasabha in 1939 and later on he was elected to the Constituent Assembly where in a historic speech he encapsulated the long unending sufferings of adivasis saying: "If there is any group of Indian people that has been shabbily treated, it is my people. They have been disgracefully treated, neglected for the last 6,000 years. The history of the Indus Valley civilisation, a child of which I am, shows quite clearly that it is the newcomers – most of you here are intruders as far as I am concerned – it is the newcomers who have driven away my people from the Indus Valley to the jungle fastness…"
ALSO READ: Breaking Bread With Tribals –Around A Sublime Fire
Naveen Patnaik's empathy for tribals is widely known, as it should be. After all, in the coastal state the share of scheduled tribes, according to the 2011 census, in the state population is a high close to 23 per cent. An admirer of hockey, having also played the game in his school days, Patnaik has emerged as the leading patron of the sport in the country, which like so many other sports was crying for state and corporate support. Remember, the latter comes easily on board when the state becomes a passionate promoter like Odisha is for hockey. Perhaps this would not have been the case without Patnaik at the helm. For the development of the sport requiring heavy investment in supporting players, both female and male with the required talent and infrastructure building, Patnaik not only opened the state purse quite liberally, but he also prevailed upon corporates such as Tata Group to support the national cause of hockey. The trail that Jaipal blazed many decades ago remains an inspiration for adivasi boys and girls, particularly from Jharkhand and Odisha to make it to the national team. What they badly needed to excel in the sport is a supporting system, which, thankfully, Patnaik has provided.
Take Dilip Tirkey, who hails from Odisha's Sundargarh district and has the distinction to lead India in as many as three Olympics and an identical number of World Cup and Asian Games. Unlike in the past when politicians such as Sharad Pawar, Priya Ranjan Das Munshi and Praful Patel would head various sports bodies and make a mess of such assignments because of their poor knowledge of the games and needs of players. In a refreshing change, however, the highly financially rich Cricket Control Board of India is now chaired by Roger Binny, a former Test cricketer (even while important offices of secretary and vice president are headed by non-professional Jay Shah and Rajeev Shukla) and Hockey India by Dilip Tirkey. Think of the big reforms that happened in Indian cricket, including woman participation in that when Sourav Ganguly was president of BCCI.
It will be apt to remember here what Tirkey recently said about his one encounter with the present Odisha chief minister. "In 2003, I got an opportunity to sit next to the chief minister. I used that opportunity to tell him that an artificial turf in Bhubaneswar would be of great help. He thought about it for two minutes and told me to give a proposal in writing. My thinking wasn't big. I was looking at a ground for us to train. But clearly his vision was different. He said it should be one of the best stadiums in the country. And here we are 20 years later, with world class facilities." Give us a few more chief ministers with Naveen Patnaik kind of vision for India to emerge as one of the world's leading sporting nations.
Jaipal Singh and Dilip Tirkey apart, adivasis through decades have proved to be achievers of great fame in hockey. Watchers of the game will remember the achievements of Michael Kindo, Lazarus Barla, Birendra Larka and Prabodh Tirkey. The recently concluded World Cup saw maiden participation of the 24-year old tribal Nilam Xess from village Kadobahal on the outskirts of Rourkela. Why only men, adivasi girls like Nikki Pradhan, Savitri Purty and Sunita Lakra would spell magic moves – take flight with the ball in attack or defend with clean tackling to avoid conceding penalty corners – to earn success for the Indian team.
Many years ago when Imran Khan was still the captain of Pakistani cricket team he wondered why India, which shares borders with its neighbour in the north and has a large population of well-built tribals was not able to produce world class fast bowlers like his country. He said he would take the trouble to visit tribal regions of Pakistan to identify well-built young boys who could become good fast bowlers with training.  This is an advice worth pursuing by us.
Read More: https://lokmarg.com/