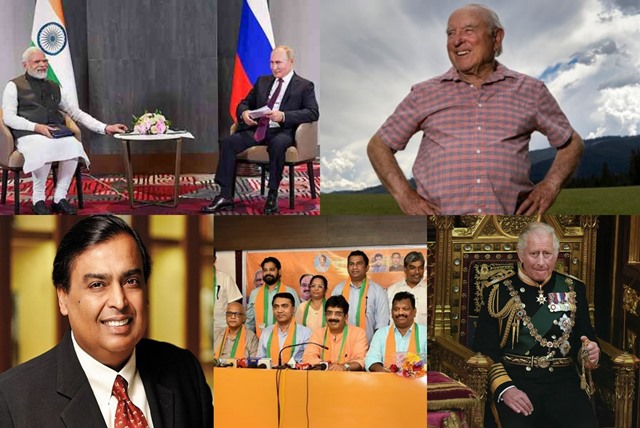 THEBUZZ
THEBUZZ
Five Things That Happened Last Week (And what to make of them)
Making sense of the Shanghai Cooperation Organisation
Views on the Shanghai Cooperation Organisation (SCO), the Eurasian political, economic and security organisation, which just held its recent summit in Uzbekistan, are sharply polarised. The West views the bloc as an effort to forge a new multinational cooperation that would compete against the West and act as a foil against US-led multinational mechanisms. On the other hand, China, which initiated the creation of SCO's predecessor, The Shanghai Five Group in 1996, views it more as a multilateral economic zone.
The Shanghai Five comprised, besides China, Kazakhstan, Kyrgyzstan, Russia and Tajikistan. Today, in its evolved form, the SCO has nine members. India and Pakistan were inducted a few years ago; and most recently, Iran became a permanent member. In addition, there are three observer countries (Afghanistan, Belarus, and Mongolia); and nine dialogue partners (prominent among them are Turkey and Saudi Arabia).
In this context, the western critique has been that beyond China's proclamation that the SCO is mainly an economic zone, the presence of Russia, Turkey and some other nations really means it is more of a security-focussed response to the West. Recently, the Jerusalem Post, which is considered to have a political right stance in Israel, observed in an article that "with the exception of India, the countries that attend the SCO are generally authoritarian regimes," a quite unambiguous description of what many western observers feel.
India's membership of SCO and its role in the organisation has had mixed reactions. But first, a bit about the significance of this year's summit. This year's meeting in the historic city of Samarkand (in Uzbekistan) is the first in-person summit since the pandemic broke out more than two years ago. Second, it was attended by Russia's president Vladimir Putin at a time when his armed forces have invaded and been at war in Ukraine for more than half a year. And, third, it witnessed the induction of Iran as a permanent member of the organisation. The induction of Iran is viewed by western analysts as further bolstering what they perceive as Russia and China's motive of working towards destabilising the role that the US plays in the world.
Taking into account that background, it was interesting to observe India's Prime Minister Narendra Modi's interactions at the SCO. While India closely cooperates with Russia on trade and defence requirements, and is keen on expanding its oil purchases from Russia, Modi, for the first time, criticised Putin about the war in Ukraine. "I know that today's era is not an era of war, and I have spoken to you on the phone about this," he told Putin in a televised interaction. Putin, in response, assured Modi that his country was doing what it could to end the conflict. An "assurance" many would like to take with large amounts of salt.
The fact is that Russia, alienated as it is from the western world, has no option but to look to the east for support. For Putin, therefore, the SCO's importance couldn't be more necessary than it is now. But what of India? How significant is the SCO for the country's future?
The significance of SCO for India has to be viewed in the context of the failure of the South Asian Association for Regional Cooperation (SAARC). While the reasons why SAARC failed are many, India led a boycott of SAARC after the terrorist attack in Uri in Kashmir in 2016 alleging that Pakistan aided the attack and this led to the eventual collapse of SAARC. In the wake of that, SCO is the only platform for India to interact with a growing range of regional players, including powerful ones such as China and Russia, as well as smaller ones.
It is easy to criticise India's international policy for its non-committal nature: it hasn't officially aligned with the West to criticise Russia; it continues efforts to enhance relations with the US as it does with China; and it is often seen as a fence-sitter when other nations take sides on major international developments. But this stance, which one Indian newspaper recently termed as "all alignment" may, at least for now, provide the nation the flexibility and a range of options related to trade, defence and security, which few other nations enjoy.
How to be a billionaire, Patagonia style
Last week, Yvon Chouinard gave away his company. Chouinard, if you haven't heard of him, is the 83-year-old eccentric founder of the outdoor clothing and accessories maker, Patagonia. And Patagonia, valued at $3 billion, is a company that he and his family (his wife and two adult children) have run successfully and profitably since 1973. In 2022, estimated revenues are $1.5 billion.
Patagonia has also always been an active protagonist in the war against climate change. Chouinard's latest move is to transfer the ownership of the company to a specially designed trust and non-profit organisation that will use all of its annual profits (some $100 million a year) in the fight against climate change. While the details of the plan are available to read online in various published forms, the significant thing is the nature of the giveaway.
The clear and completely altruistic nature of Chouinard and his family's decision is quite unprecedented. Chouinard has always been a reluctant capitalist. He has been a rock climber and has always had a spin on capitalism that can put every other billionaire in the world to shame. Take the recent decision to give away all of the family's shares. While most rich tycoons dabble in philanthropy partly motivated by the tax breaks that they get out of it, the Chouinards will actually pay millions of dollars in tax because they are donating. And they are fine with that.
But then Chouinard is not your common garden variety tycoon. He wears worn clothes, drives an old Subaru, has modest homes, and does not own a cell-phone or a computer. Before he started Patagonia in the early 1970s, he lived in his car and often subsisted on tins of discount cat food. Even to this day his company discourages customers from replacing their Patagonia brand clothing and gear by buying new ones, instead offering to repair them.
They don't make billionaires like that any more.
But they do make them like this…
In August, Indian newspapers reported that Mukesh Ambani, the chairman of the ₹792,756-crore Reliance group, had bought a luxury home in Dubai for ₹640 crore. The tycoon, among India's richest, had ostensibly bought the villa for his youngest son, Anant, 27.
Several years ago, when Ambani built his Mumbai residence named Antilia, it sparked quite a bit of controversy even in India's characteristically benign mainstream media. Antilia, named after a mythical island, is a skyscraper with 27 stories, and is 173 metres (568 ft) tall, with a space of over 37,000 square metres (400,000 sqft). It has three helipads, a 168-car garage, a ballroom, nine high speed elevators, a 50-seat theatre, terrace gardens, swimming pool, spa, health centre, a temple, and a snow-room that spits out snowflakes from the walls!
In 2014, Antilia was believed to be the most expensive private residence for which the Ambanis are estimated to have paid more than $2 billion (nearly ₹800 crore). It takes ostentation to a stratospheric level.
It is, of course, also true that the Ambanis, like many rich Indian business tycoons, are also philanthropists. At least they dabble in that as well. There are some figures that you can peruse to see how generous Indian billionaires are. In 2021, The Economic Times published a report that listed India's biggest philanthropists among industrialists.
The chairman of Wipro topped that list. He donated ₹9,713 crore. HCL's founder Shiv Nadar came second on that list by donating ₹1,263 crore. Oh, and Mukesh Ambani was third–he donated ₹577 crore.
No comment. You be the judge. But here's a suggestion, you could read this excellent story on Chouinard (remember, the guy who gave away his company?), here.
Crisis is now routine in the Congress
Goa is not a big state. It is tiny, really. But in India political developments even in the smallest regions can have much bigger repercussions. After last February's elections for the 40-seat assembly in the state, the Bharatiya Janata Party-led NDA had 20 seats; the Congress-led UPA had 12; and the rest were with smaller parties. The NDA formed the government although it didn't have a simple majority on its own.
Things have just changed. Eight of the 11 MLAs from the Congress party have jumped ship and joined the BJP. So, immediately the NDA now has 28 seats (in an assembly with 40 MLAs that is a strong majority) and the Congress is reduced to a wisp.
For the party, which considers itself the main opposition party at the national level, such debacles have now become routine. Many important leaders have left the party in recent months and years, disappointed and unhappy with the party's leadership, which continues to be in the hands of the Gandhi family, which is fast losing its ability to hold the Congress together. The Goa exodus will likely be a forerunner of many other exits in other parts of the country.
King Charles III and his eye-popping wealth
Quick question: Who owns the Oval, the storied cricket ground in London? If you said King Charles III, you are right. Yes, even before he became King of England and was the Prince of Wales, Charles developed his private estate, the Duchy of Cornwall, by investing and expanding what he inherited to grow his wealth to dizzying proportions.
The Duchy today owns the Oval, huge farmlands, beach resorts, several office spaces in London, and retail supermarkets. The total acreage of real estate that the Duchy (read King Charles) owns is estimated to be 130,000 acres, which brings in millions of pounds in rental income each year. The value of the Duchy's holdings is estimated to be £1.2 billion. That is nothing compared with the British royal family's total fortune, which is estimated to be £24 billion. And this does not take into account their personal fortunes that are not made public.
But back to King Charles. Now, he will inherit his mother's assets and other investments, estimated at £822 million and also inherit his share of her fortune that is not known to the public. Oh, and another little fact: unlike the general public the royal family does not have to pay inheritance tax. So neither King Charles or his eldest offspring, William (who is the new Prince of Wales), will pay taxes on the wealth they inherit. God save the ordinary Briton!