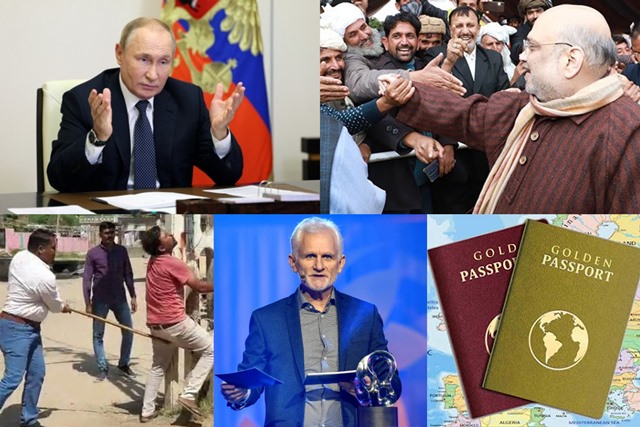 THEBUZZ
THEBUZZ
Five Things That Happened Last Week (And what to make of them)
How serious is Putin's not-so-veiled threat of a nuke strike?
As Russia's offensive against Ukraine enters the eighth month, speculation is growing over whether Russian president Vladimir Putin will follow through on his repeated threats about using nuclear weapons in the ongoing war. Most recently, after a counter-offensive by Ukrainian forces, which led to significant gains for Ukraine, Putin said Russia would "defend its land with all the forces and resources" that it has. Clearly, that is a reference to nuclear weapons but how real is the threat of Russia using them and thereby triggering a worldwide catastrophe of unprecedented proportions?
To help answer that question it would be meaningful to look at the most recent developments in the ongoing Russian offensive against Ukraine and the latter's response. Over the past month, Ukraine launched high-powered offensives against Russian forces in the southern and eastern fronts, liberating dozens of towns and other settlements in regions that Putin had declared were part of Russia and had to be "recovered" by his country.
Ukraine's president Volodymyr Zelensky last month claimed that his forces had recovered more than 6000 square km of land, more than the area that Russia had invaded in the past few months. As of last week, Ukraine was believed to be continuing to gain ground. The problem is the ambiguity of the "facts" that have been trickling down from the area–much of it coloured by propaganda and counter-propaganda with either side making conflicting claims.
What is less ambiguous, however, is the fact that winter is fast approaching and that can make things more difficult on the ground in the region. First, Ukraine has far less than the number of armed forces personnel than Russia does. In 2021, Ukraine had 246,445 (195,626 military personnel and the rest reserves) armed personnel. Compare that to Russia's active personnel of 10,00,000 and reserves of 20,00,000. Also to be noted is Putin's widespread mobilisation through conscription of able-bodied males, which will further add to Russia's number on the battlefield.
Against that background, how serious is Putin's threat of a nuclear offensive in the region? The threat has predictably set off fears across the world. US president Joe Biden said that a nuclear offensive by Putin could lead to "Armageddon" for the world, implying an apocalyptic final and conclusive battle between the forces of good and evil. Elsewhere, there has been much speculation on what could happen if Putin does initiate a nuclear strike.
But will he? Last week, Euronews, a European television news network, headquartered in Lyon, France, spoke with Nikolai Sokov, a senior fellow at the Vienna Centre for Disarmament and Non-Proliferation who used to work at Russia's foreign ministry who said the chances of a Russian N-attack against Ukraine were "very, very low". That was because much of Putin's nuclear threats so far have been against the West and NATO and not against Ukraine. The more likely scenario that could emerge according to him was that of Russian nuclear tests at the regular Russian test sites such as Novaya Zemlya in the north of Russia in the Arctic. These would be to further signal to the world about a potential nuclear strike.
Euronews quoted Sokov as saying: "Nuclear weapons have more utility when they're not used and when you threaten their use. But once you cross the threshold the situation changes. Even though we've seen a lot of nuclear blustering on Moscow's side. We have not seen any practical steps that might suggest that Russia is preparing to use nuclear weapons."
Reassuring as that might sound, the fact is that the situation is fluid in the Ukraine conflict and nothing really can be predicted or ruled out.
As BJP pushes its campaigning, is Kashmir finally peaceful?
While addressing a public rally in Baramulla in north Kashmir, home minister Amit Shah last week said the assembly election in Jammu and Kashmir will be conducted once the Election Commission completes the exercise of publishing the revised electoral rolls. Shah's rally was notable for the fact that it has been more than three decades since a Union cabinet minister had addressed a public gathering there as the state was torn by violence insurgency.
In fact, the BJP has been seeing bright prospects for the party in the forthcoming elections, which are expected to be held in 2023. On Shah's trip to the state last week, he met representatives of the Dogra, Sikh, and Pahari communities and said he was committed to considering granting Scheduled Tribe status to Paharis. He also announced development projects worth Rs 2000 crore in the state.
There have been attempts to normalise life in the violence-scarred state in recent times such as the reopening of cinema theatres. But things are not yet fully normal. During Shah's visit, a director-general of police who was the head of prisons in the state was killed in mysterious circumstances. While the number of major incidents of violence have been far fewer in recent months, Kashmir is still not fully normal.
How medieval is our society?
Last week, in Gujarat's Kheda district, during a garba dance performance, a few men, allegedly Muslim, were arrested when they threw stones at the dancers. Garba is a form of dance common in Gujarat and many traditional garbas are performed around a centrally lit lamp or a picture or statue of the Goddess Shakti. The men attacking the dancers were rightfully detained. But what happened next was shocking.
Videos that went viral showed policemen in plainclothes flogging the men in public in front of a cheering crowd. The men were then made to apologise with folded hands to the cheering public that had gathered to watch the garba event.
Such kind of vigilante justice is not uncommon in India, where society exists on various primitive levels, including the absolutely barbaric. While vigilantism of the kind that happened in Kheda is commonplace when it comes to majoritarian communities such as Hindus targeting Muslims (remember the lynchings that took place related to allegations of cow slaughter?), it is common even in incidents that are unrelated to inter-communal conflicts. Take road rage-related violence on streets of big cities. Or even minor scuffles in crowded public transport. More often than not they end up with members of the public taking the law into their own hands and dispensing "justice" that is usually marked by egregious use of violence.
What makes the incident in Kheda especially abhorrent is the fact that the proponents of vigilantism were cops who flogged the men in public and in doing so may have set an example for ordinary citizens to follow.
An appropriate Nobel Peace Prize
There is a common thread that is shared by this year's Nobel Peace Prize winners. Last week the prestigious prize was awarded to human rights organisations and advocates in Belarus, Russia, and Ukraine. These activists, including an imprisoned human rights activist, Ales Bialiatski, are all campaigners against abuses and civil rights violations by Russia or its Soviet past or, in the case of Belarus, Russian president Vladimir Putin's ally, president Aleksandr Lukashenko.
Bialiatski, 60, is the founder of the country's Viasna (Spring) Human Rights Centre, which was set up in 1996 in response to a brutal crackdown of street protests by Belarus's authoritarian leader Alexander Lukashenko.
The second joint winner is the Ukrainian Centre for Civil Liberties (CCL). CCL is one of Ukraine's leading human rights organisations and was founded when leaders of human rights groups from nine post-Soviet countries decided to create a cross-border resource support centre in Kyiv.
The third winner is Russian human rights organisation Memorial, which the Putin regime shut down earlier this year. For more than three decades, Memorial worked to compile and highlight the focus on the millions of people who were killed, imprisoned or persecuted during the Soviet regime.
Malta's golden passport
The picturesque small island of Malta in the Mediterranean has something that the unspeakably rich could vie for: a golden passport. It is also known as investment citizenship. Many countries have the scheme where when an individual or a family brings in large sums of money as investment they get a citizenship but Malta's is particularly seductive. For amounts starting at US$680,000 or so, Malta offers the right to a golden passport (that is, citizenship). But that is not all. Malta being a member of the European Union, it is essentially a passport that enables individuals free movement and visa-free travel to most of Europe and, basically, the right to live anywhere there.
The problem is that the EU is not taking kindly to it and has taken Malta to court. One of the problems is that although Malta has raised over $1 billion from the scheme, it is feared that many applicants could have criminal records and the passport offers them refuge from prosecution or possible incarceration in their home countries. It is also felt that citizenship should be a right and not a commodity that can be bought. For now, however, it is over to the courts.