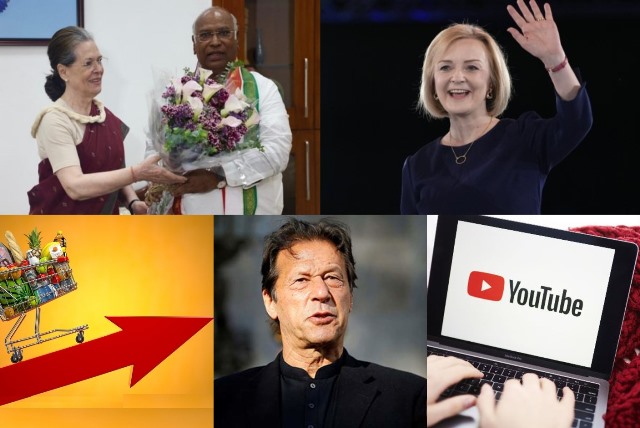 THEBUZZ
THEBUZZ
Five things that happened last week (And what to make of them)
Who will run the Congress: The family or the 'family man'?
"Historic" is the word that has popped up frequently in the Indian mainstream media to describe the election of veteran Congress party leader, Mallikarjun Kharge, 80, as the party's new president because he is the first non-Gandhi to head the party in 24 years. Newspapers have "analysed" the tasks that lie ahead for Kharge at a time when the Congress party's state has reached rock bottom, a nadir in its political timeline that is better described by the word historic than Kharge's ascent to the party's helm.
"Sham" would probably be a better word to describe the long-awaited elections for the office of the party's president, which was held by Sonia Gandhi for the past 24 years (except for a short break during 2017-19 when her son, Rahul, was the president). It was a vice-like grip that she and her family had over the party–dissent was not tolerated; and deep loyalty, bordering on subservience, was rewarded.
If the use of the word "sham" to describe the elections that Kharge won by a landslide vote (he got 7,897 of the 9,385 votes, while his rival Shashi Tharoor, 66, got 1,072 votes) seems harsh, consider this. When counting was underway across all of the Indian states, Tharoor, who was considered a pro-change candidate, in an internal letter, alleged rigging in the largest state, Uttar Pradesh. Although Tharoor later clarified that his complaint was an internal one that should not have been leaked, does not the suspected rigging of a party's organisational election for a top post smack of shame and scandal?
Wait, there's more. On October 20, hours before the results of the "secret ballot" were to be revealed, while at a press conference, Rahul Gandhi was asked what his role in the party would be once the new president was elected. He said words to the effect that it would be for "Khargeji" to decide that. Many in the Indian media, a strangely forgiving lot when it comes to some things, dismissed it as a "slip of the tongue" but it was perhaps more a Freudian slip, an unintentional error that reveals subconscious knowledge or feeling. As far as the Gandhis were concerned, "Khargeji's" election was a foregone conclusion. It had been preordained.
Now, let's turn to Khargeji. The Congress party is in dire need of a complete revamp. It has witnessed large-scale exodus of leaders; it has suffered humiliating drubbing in elections both at the national and at the state levels; and the morale of its cadres, workers and supporters has never been lower. At the root of all this is the widespread disenchantment with the family that has been at the helm of the party for nearly a quarter of a century. Many party leaders–in private and public–have alluded to the Gandhi family's autocratic grip over the Congress. And, although it has been only a few days since he was elected, there is speculation about whether Kharge will be a leader who leads with his own mind or one that continues to be subservient to 10 Janpath, the residence of Sonia Gandhi that has been the omnipotent centre of the party.
Kharge, a Congressman from Karnataka, was till recently, the leader of the Opposition in Rajya Sabha, and he has, in the past been minister of railways and minister of labour and employment in Congress-led UPA governments. He is also considered to be a loyalist in the family. In the election for president of the party that he won, he was pitted against Tharoor who was considered to be a pro-change sort of Congressman. You could look at it (if you go by the somewhat stretched definition of youth in Indian politics) as a Young vs. Old election. A 66-year-old with a mind of his own (well, sort of) pitted against an 80-year-old with a mind heavily influenced by a powerful family.
Now, however, after the contest has been won, Kharge will have an onerous task. One that not only involves rehabilitating a decrepit party but also dealing with the Gandhi family: the matriarch, her son, Rahul, and her daughter, Priyanka Gandhi. Watching him, if not anything else, will be entertaining.
The UK provides a bit of distraction
In 1996, India had a government at the Centre that was gone in a blink. It was the year when in the general election, the Bharatiya Janata Party emerged as the single-largest party in Lok Sabha and the late Atal Bihari Vajpayee was invited by the then President of India, Shankar Dayal Sharma to form a government. But 13 days later, Vajpayee was unable to prove a majority in the House and had to resign.
The circumstances of Liz Truss' resignation are somewhat different. Basically, she lost the trust of her Conservative Party colleagues after first announcing a series of untenable tax measures designed to pull Britain out of its economic crisis; then sacking her finance minister; and trying to salvage the situation.
Britain's economic woes now are any political leader's nightmare. The pound sterling has plummeted, inflation has soared (to levels higher than 10%), driving energy and food prices to levels that have pushed the cost of living so high that thousands are skipping meals or trying to deal with life without electricity.
Truss' own party, the Conservatives, which have had a majority in Parliament since 2019, is wrecked with dissent and the future looks uncertain. The three leaders who are now in the fray to succeed Truss are Rishi Sunak, former chancellor of the exchequer (who had lost out to Truss in the race for premiership), Boris Johnosn, the controversial former prime minister (who had to resign after losing the confidence of his party members in parliament), and Penny Mourdant, the leader of the House of Commons, who announced her candidacy for the Conservative party leadership.
Many Britons, including several in the opposition parties are in favour of a general election rather than finding another Conservative candidate as a new occupant of 10 Downing Street, the official residence of the British prime minister. The coming weeks will be worth watching to see which way British politics heads.
Brace up for high prices
Okay, so what, according to leading economists worldwide, is the global average expected inflation in 2022? The answer is a depressing 9.5%. According to a survey of economists by Ifo Institute for Economic Research, a Munich-based research institution, "This [9.5%] is the median of the average expected inflation rates at the country level. The median is used because expected inflation rates vary widely by region and are dramatically higher in individual countries and regions such as Africa than in the rest of the world."
Ifo is an acronym from Information and Forschung, one of Germany's largest economic think tanks. The organisation's survey has forecast the 9.5% average rate of inflation for the third quarter of 2022. This is up from an expected rate of 7.7% in the second quarter of the year. According to Ifo, "If the experts are correct, the inflation rate for 2022 will be 6.7 percentage points higher than the World Bank's average inflation rate over the past decade (2010 to 2019). The experts also expect high inflation rates worldwide in the coming years. Thus, expectations for future price increases remain high."
What about India? What are inflation expectations in India? If we shift from Ifo's survey to the Indian central bank, Reserve Bank of India's own prognosis, the inflation rate remained consistently higher than the bank's targeted range. According to data compiled by Trading Economics, the annual inflation rate in India increased to a five-month high of 7.41% in September of 2022 from 7% in August, above market forecasts of 7.3%.
More importantly, prices increased faster for food–8.6% in September compared to 7.62% in August and the main reasons for this were an erratic monsoon and supply side constrictions as a result of the Russian invasion of Ukraine.
A setback for Imran Khan in Pakistan
In April 2022, Imran Khan, the Pakistani cricketer-turned-politician, was ousted as the country's prime minister by a no-confidence vote after occupying that office for less than four years. Last week he was disqualified from running from any political office by Pakistan's election commission for a period of five years. This is a setback for Khan whose party, Pakistan Tehreek-e-Insaf (PTI) won seats in recent bye-elections.
Khan's disqualification comes after the election commission found him guilty of not disclosing details of toshakhana gifts and proceeds from their sale when he was prime minister. Toshakhana is a government owned department that keeps gifts which are received by members of parliament, ministers, foreign secretaries, the president and prime minister.
In Pakistan, as in other countries, cases such as these are often used politically to hobble rivals and the latest that Khan, 70, faces can be viewed similarly. Pakistan's current prime minister is Mian Muhammad Shehbaz Sharif, 71, of the Pakistan Muslim League (N). He is also the brother of Nawaz Sharif, Pakistan's longest serving prime minister (nine years over three terms) and currently an absconder who is on an expired bail in London after being convicted in Pakistan on corruption charges.
Will YouTube die?
Remember MTV? In the 1980s, MTV's impact was huge. Musicians and bands such as Madonna and Guns N' Roses owed their success to MTV and the channel's music videos were an intrinsic part of marketing for music labels, bands and artists. Then, the internet came and everything went south for MTV. It tried to turn into a reality show channel but that didn't really work.
Now there are predictions that YouTube may go a similar way. The Google-owned video website is still popular: according to the latest official figures, YouTube has 2.6 billion users. But trend spotters say that can change.
The reason could be ads. The free version of YouTube requires a viewer to watch two ads before the video he actually wants to watch (sometimes you can skip ads too) but, according to media reports, YouTube could be testing five ads before you can play a video.
Intrusiveness of ads is one factor that could dislodge YouTube's prime position as a video site. Low quality content, censorship and restrictions on sharing could be other factors. Then there is competition. Twitter, in which billionaire Elon Musk has the biggest shareholding, is believed to be planning video sharing and video uploading. Among the younger generations of internet users, other video services such as Tik Tok are gaining in popularity.
It may be too early to predict YouTube's demise. But in tech, you never know!