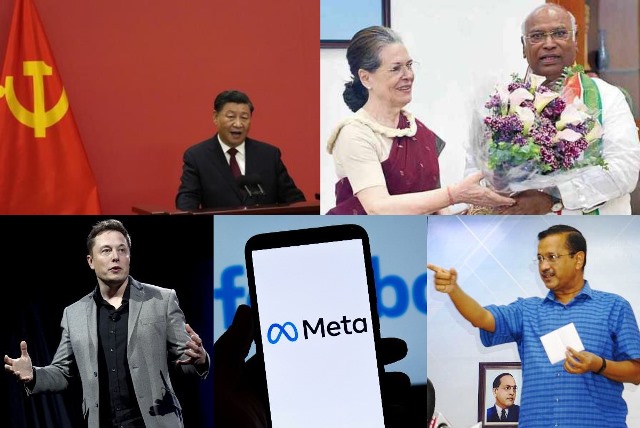 THEBUZZ
THEBUZZ
Five things that happened last week (And what to make of them)
The formidable rise and rise of China's Xi
The West is often flummoxed by the goings on in China. This has been particularly true since 2013 when Xi Jinping became president (or rather, the supreme leader) of China. Last week, after China's Communist party congress, which is held twice every 10 years, Xi emerged even stronger than he has been in his tenure. First, deviating from the norm, he got for himself a third term as head of China's Communist party as well as president of the country. In addition, he reconstituted the seven-member all-powerful top decision-making body of the party, the Politburo Standing Committee, appointing his closest allies for six members besides himself.
Besides recognising that Xi, 69, is now formidably powerful as China's leader, the western media and some of the west's political observers seem not to have comprehended the full impact of Xi's latest move–to empower himself to a degree that rivals the status of the late Mao Zedong, who was the founder of the People's Republic of China, which he led as the chairman of the Chinese Communist Party from the establishment of the of the republic in 1949 until his death in 1976. Last week, on a major US TV news channel that shall remain unnamed, a correspondent from Beijing and the anchor of the show were together wondering why Xi had appointed his hardcore loyalists to his core team and had not sought to include some members with more diverse views. Seriously?
The problem is that many observers do not understand the mind of Xi Jinping. Unlike his predecessors–and, most importantly, unlike the late Deng Xiaoping, widely regarded as the leader who took China towards free-market economics through a series of far-reaching market-economy reforms and away from strictly ideology-driven policies–Xi is a hardliner when it comes to ideology. Under him, ideology dictates policy and not the other way round. This has several consequences for the rest of the world–the west, as well as China's Asian neighbours such as India.
Here's a peek at what Xi's all-powerful clout means on several fronts. First, in Xi's regime, there is a new form of nationalism that China has embraced–one in which China plays a dominant role in shaping the world order. It is a nationalism that derives from Marxism and in which the face-off is between the Communist party and its ideology versus free-market tycoons and western ideas of economics and politics. These could sound alien to western ears but as Xi pursues that approach, the impact on the rest of the world could be huge.
Second, already under Xi's regime the role of the Communist party and the state in economics and business has been growing–either through regulation or policies. The crackdown on China's tech tycoons and other private sector enterprises is an example of how China believes enterprises should strive towards higher socio-economic objectives than just financial returns. It is believed that involvement of the party and the state could get ramped up in the coming years. Already there are reports that many wealthy Chinese are attempting to leave the country as they anticipate possible crackdowns.
It is not that economic reforms are stopping in China. Instead, as reforms continue, unlike in the past when they were market driven, under Xi, the state and the party has been increasing its role in economic policy. The objective of that regulation is believed to be to make China become more self-sufficient while the world becomes more dependent on China.
The common thread in the 'super-empowered' Xi regime is "dominance". China would likely try to be more dominant–in global economics, global politics, and the world's social and environmental issues. China has been expanding its military and commercial access in the Indian Ocean region–by building ports, airports, and other infrastructure projects in countries such as Pakistan and Sri Lanka. You could expect more of that. Likewise, China has been pushing its Belt and Road Initiative, a global infrastructure development strategy, which calls for China to assume a greater leadership role in global matters by investing in the infrastructure of 150 countries in Asia, Africa and Eurasia.
The bottomline is that China's ambitions to play a dominant role in the world, driven hugely by ideology (where the objective is for China to play the main role in the emerging world order), will be accelerated in the new extra powerful status that Xi has carved for himself.
Congress' new prez makes predictable moves
(Caveat: You could skip this item in the column and not miss anything; or, read it for pure distraction)
The Congress party in India has for some time now been resembling more of an amusing, black humour laced distraction than anything of consequence for serious politics. When it makes news these days it is usually for avoidable reasons. Earlier this month, it held an election for the post of the president of the party for which there were two contenders, with one of them alleging that, at least in some parts of the country, the polling was rigged. This was an internal election of the party, mind you. Also, in an instance that smacked of farce, one of the party's leaders and descendant of the dynastic family that has ruled the party for the longest time, Rahul Gandhi, alluded to Mallikarjun Kharge as the new president even before the results of the election were declared.
Now, Kharge, an octogenarian and a life-long loyalist of the family, has made his first move by replacing the party's working committee with a 47-member steering committee. And guess what? It has on it all the members of the Gandhi family: former president Somia Gandhi, her son Rahul, and her daughter Priyanka. The steering committee also includes former Prime Minister Manmohan Singh and several other seasoned veterans (all of them staunch loyalists of the Gandhis).
What next? Not much except to wait and watch for Kharge's attempts to revamp and resuscitate a dying party. If you're an incorrigible optimist, you could think he'll do it with an independent unforced hand. But we'll see. As mentioned in the caveat, you could have skipped this section!
Musk kicks off with firings at Twitter
After he took over Twitter, the ubiquitous social media platform that has some 330 million active monthly users, Elon Musk who paid an eye-popping $44 billion for it has kicked off his inning with firings.
He began by sacking Chief Executive Parag Agrawal, Chief Financial Officer Ned Segal and legal affairs and policy chief Vijaya Gadde, all of whom he had accused of misleading him and other investors about the number of fake accounts on the platform.
Earlier, Musk, 51, after concluding his deal, had walked into Twitter's headquarters with a bathroom sink and declared (via a tweet): "Let that sink in." He had also changed his Twitter profile to 'Chief Twit'.
Social media trackers are keenly watching Musk's moves at the popular but divisive platform. Earlier, in an interview Musk had said he has plans to eliminate nearly 75% of the workforce at Twitter. He has also promised to preserve free speech but was also inclined to side with world leaders who are concerned about BIg Tech's dominance and ability to facilitate activists. This has worried many who feel his commitment to preserving free speech might eventually be compromised.
Are Meta's financials in free-fall?
One year after Facebook was rechristened as Meta, the company's finances and valuations have tumbled. Last Thursday, Meta's shares crashed 24% to $97.94, the lowest in four years. In one year the company's market value has been reduced by an eye-popping $650 billion. Meta market capitalisation now stands at $263 billion. It is out of the ranks of the top 20 companies (by market cap) and its value is now lower than that of Home Depot.
Meta's spiralling decline in valuation has also pushed down Facebook founder and CEO's personal net worth: he lost $11 billion after the stock plummeted and is now down to being the 29th richest person in the world (he was the 25th before last week's crash of Meta's stock).
The more important aspect of Meta's decline is that both its main property–Facebook–has been losing users consistently for the past few years. Although Facebook has 2.93 billion users, it is not a huge draw among younger netizens who prefer newer platforms such as TikTok. And Meta's other property, the messaging platform WhatsApp, has been losing sheen because of privacy concerns with many users opting for other services such as Telegram and Signal, which are considered by many to have more privacy protection.
Life on the high streets of social media can be ephemeral.
Meet Arvind, the latest proponent of mystical mumbo jumbo
Just when we thought the engineer-turned-successful politician and Delhi's intrepid chief minister, Arvind Kejriwal, had honed his political acumen to a degree where he could plant his clout at the national level, he gave us reason to not take him too seriously. Last week, Kejriwal urged Prime Minister Narendra Modi to have Indian rupee currency notes emblazoned with images of religious deities such as Lakshmi and Ganesha. If newspaper reports are to be believed, Kejriwal said he believed the Hindu religious symbols of prosperity will help the economy get back on track.
There could be two ways, though, to look at his motives. First, could it be that Kejriwal who has been a staunch critic of the pro-Hindutva rightwing BJP regime has experienced some sort of epiphany and become deeply religious? Or could it be that by proposing that gods be depicted on currency notes he is merely being canny and pragmatic in a national zeitgeist that is increasingly becoming Hindutva tinged? If you remember that his Aam Aadmi Party (AAP) has national ambitions and is eyeing to make big gains in the forthcoming elections in Gujarat (it won handsomely in Punjab recently), then it is probably the second motive that is triggering in him such pious thoughts.