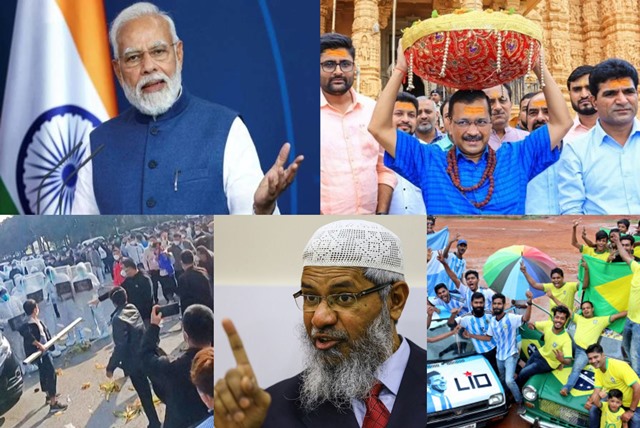 THEBUZZ
THEBUZZ
Five Things That Happened Last Week (And What to Make of Them)
Modi tops approval ratings of global leaders
Indiaäs Prime Minister Narendra Modi has topped a survey by Morning Consult Political Intelligence, a global decision intelligence company headquartered in the US, which tracks approval ratings of leaders in Australia, Austria, Belgium, Brazil, Canada, Czech Republic, France, Germany, India, Ireland, Italy, Japan, Mexico, Netherlands, Norway, Poland, South Korea, Spain, Sweden, Switzerland, the United Kingdom and the United States. With a 77% approval rating, Modi topped the latest list of ratings based on a survey conducted during November 16-22, 2022.
Modi was followed in the second spot by the Mexican president Andrés Manuel López Obrador, and in the third spot by Australian prime minister Anthony Albanese.
The Bharatiya JanataParty (BJP) is predictably chuffed about Modi topping Morning Consult's list. The survey also reiterates what could be called the TINA (There Is No Alternative) factor that serves to benefit Modi. There is no leader with a national stature that could be considered as an alternative to Modi really. The Congress, which is the only other national party, is in shambles and needs a complete overhaul under the newly elected party boss, Mallikarjun Kharge; the other national parties are too small to matter; and although regional leaders such as Arvind Kejriwal of the Aam Aadmi Party and Mamata Banerjee of the Trinamool Congress may have emerged as BJP's challengers in some state elections, neither has the heft yet to challenge Modi on the national arena.
Surveys such as Morning Consult's come accompanied by the usual caveats. It is a moving average of a continuous survey and the sample size is typically small. The company's website does not specify what the sample size for India is but states that it could range between 500 to 5,000, which is pretty vague, and that for India, the sample is representative of the literate population. For a country with a population of nearly 1.4 billion and an estimated literate population of over a billion (if we assume the literacy rate is more than 77%), a sample size of even 5000 would seem minuscule.
Yet there is another aspect of the Morning Consult survey. Since it is a dynamic survey, it is interesting to note that Modi's approval rating has remained consistently high. In early May 2021, it was 63% but since then it has been climbing steadily and now stands at 77%.
Morning Consult also tracks what it calls "Country Trajectories" where it asks respondents whether they would say that things in their country are going in the right direction or have gone off on the wrong track. In that survey, India scores well with the latest results showing that 75% of respondents saying that things are going well.
Kejriwal plays the "good guy" card in Gujarat campaign
He may not have the national stature required to challenge Narendra Modi or the BJP at the national level but Delhi chief minister Arvind Kejriwal, who heads AAP and is helming his party's campaign in the forthcoming Gujarat state assembly elections, has always pitched development and policies aimed at bettering the lives of common citizens in his electoral strategies.
Even as he faced an attack by the BJP's star campaigner in Gujarat, chief minister of Uttar Pradesh Yogi Adityanath, who labelled Kejriwal as a "sympathiser of terrorism", the Delhi chief minister chose to go high when others went low. He emphasised that he and his party stood for development against the BJP's "politics of abuses and hooliganism".
Kejriwal, whose party won a stunning victory over the BJP, the Congress and the Akali Dal in Punjab recently and runs the government there as well as in Delhi, used social media to state in Hindi: "If you want dirty abuses, hooliganism, corruption, or dirty politics, then vote for them. If you want schools, hospitals, electricity, water, roads, then vote for me."
The Gujarat elections are scheduled for December 1-5. The BJP, which has been in power in the state for decades, has pulled out all stops in its campaign aimed at retaining power in the state where Prime Minister Modi was the chief minister for more than 12 years. But political analysts are watching how it will all pan out, especially with the gutsy, development-focused campaigning of AAP.
Protests at Apple's biggest iPhone factory in China
The Covid virus' resurgence in China has led to many instances of protests across the country. The protests are ostensibly against the strict lockdown measures that various cities are adopting. But one of the biggest protests has erupted in Zhengzhou, a city in central China with a population of 12.6 million. The protests are at the world's biggest iPhone factory there.
The factory is run by Foxconn, which makes the iPhones for Apple Inc. and the protests broke out when the company locked down its factories preventing workers from leaving the premises. Videos circulating show hundreds of workers demonstrating and being confronted by guards and riot police in hazmat suits. It is alleged that workers were beaten by the police. Allegations have been flying about Foxconn not honouring the terms of its contract with workers after the outbreak of a fresh wave of Covid casesand that many new recruits were being forced to share dormitories with workers who were tested positive.
Foxconn has denied the allegations and said that it has taken all the necessary precautions to protect workers. Last month when Covid cases in the factory rose,the company locked down the facilities and that led to many workers breaking out and returning home. Foxconn is then believed to have recruited new workers offering them lucrative bonuses. Butworkers allege that Foxconn has not honoured terms of its contracts such as provision of food and other facilities.
Whatever the facts, it is a terrible PR disaster for Apple and the tech giant's next moves in response will be watched closely.
Ire over Indian Islamic preacher in Qatar
Qatar, which is hosting the FIFA World Cup, has been in the eye of a storm after LGBTQ+ protests across the world broke out because of the country's strict laws against homosexuality. Other controversies surrounding Qatar's hosting of the World Cup included a global corruption scandal, the massive cost of building the necessary facilities, and serious human rights concerns about the country's treatment of migrant workers.
But there is another controversy that dogs the country. Apparently, the controversial Islamic preacher Zakir Naik has been invited by Qatar to preach in the country. Naik is an Indian Islamic televangelist and public orator. In 2018, Naik was outlawed by India and accused of money laundering and hate speech that incited communal violence. Naik fled India and is based in Malaysia.
The Qatari government has denied that it had invited Naik but the Indian government is quite peeved that he is in Qatar to preach during the World Cup games.
Football follies in Kerala
The southern state of Kerala is probably one of the few states in India where football (and not cricket) rules. Kerala is football crazy and people there take the sport very seriously. So even as World Cup fever grips the world, there was a kerfuffle in Kerala when a man, Deepak Elangode, tore down a Portuguese flag that had been hoisted by fans of Cristiano Ronaldo, superstar footballer and captain of Portugal's football team.
Elangode apparently mistook the flag for the emblem of a controversial Islamic group. He was arrested after enraged fans confronted him.
Read More: https://lokmarg.com/