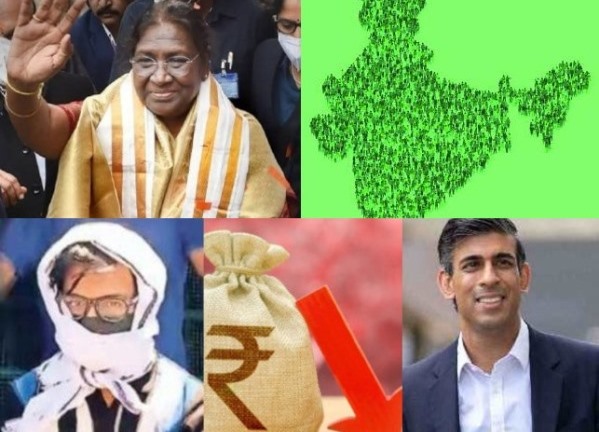 THEBUZZ
THEBUZZ
Five Things That Happened Last Week (And What to Make of Them)
President Murmu's story is that of the Great Indian Dream
The Great American Dream is often defined as the faith in the fact that anyone, regardless of the socio-economic class that they were born into, is able to achieve whatever version of success in life that they want to. In other words, apparently, there is no limit to upward mobility for anyone who desires or is driven to achieve their ambitions, no matter how high they set their targets. But the celebrated and much-lauded belief in the Great American Dream in present times seems a bit hollow. America is still far from being a society that presents equal opportunities to everyone. Discrimination against minorities, particularly African-Americans, is so stark that it doesn't require emphatic repetition.
Besides, poverty levels, lack of access to medical care, joblessness, and rampant spread of drug use such as opioid abuse has crippled American society. As inner-city areas in America's largest cities increasingly resemble an apocalyptic disaster, the so-called Great American Dream seems like a hollow epithet–a sort of unreal fantasy.
Let your focus shift instead to India and a recent instance of how the Great Indian Dream can play out. It is the story of the newly-elected President of India, Droupadi Murmu. The first tribal President of the country (and the second woman to be elected to that office), Ms. Murmu's is a heart-warming story of how someone from the most under-privileged rungs of society can make it to the highest office provided for by the Constitution of India. Ms.Murmu, 64, was born and raised in a Santhal family in a village called Uperbeda (population now: 2314) in Mayurbhanj district, Odisha. She was the first of her village to attend college. Her parents could afford to give her a monthly allowance of Rs 10 those days.
Before joining politics via the Bharatiya Janata Party (BJP), Ms. Murmu worked as a junior government officer and then as a teacher. In her political career she served as a minister in the BJP-Biju Janata Dal Odisha government as a minister and then as the governor of Jharkhand.
Last week she became the President of India. If this is not the Great Indian Dream, what is?
The politics of India's population explosion
Next year, India's population is expected to cross China's. At current estimates, China is the most populous country in the world with a population of 1.42 billion; India is close behind with 1.41 billion. But next year, India's population is expected to cross China's.
There is another piece of statistics that is relevant in this context. In 2021, China'sper capita GDP was US$12,556: India's was US$2191. Do the math. China's per capita GDP is nearly six times that of India's. So as India's population continues growing (in the meantime, China's population growth rate is declining), the future of India's economy, particularly the wellbeing of its citizens, could look far from bright.
According to several studies, there are intra-communal disparities in India's population growth that makes things even more complex. A PewResearch Centre study found that from 1951-2011, the population of Hindus and other religious groups grew three times; but the Muslim population grew five times. And while the total fertility rate (TFR) across all communities is declining, the TFR for Muslims remains higher than that of other religious communities, notably the Hindus who make up the majority of the Indian population.
The fact, however, is that ever since the disastrous family planning campaign of the 1970s when mass sterilisations were undertaken, espoused by the late Congress leader, Sanjay Gandhi, efforts to control India's population have been fraught with caution. Now, however, with the current political dispensation where a nationalist regime has been in power, right-wing Hindus groups have been voicing their views about the rise in Mulim population and the so-called risks that it poses for India's future. While this has yet not become a major electoral issue, the decibel level is rising.
Many point to the fact that India's Muslim population, estimated at 213 million, is the world's third-largest and that 1% of the world's Muslims live in India.
Majoritarian Hindus increasingly see this as a population time bomb. And as the 2024 parliamentary elections approach, you could expect more vocalisation on this issue.
'Fact-checker' Zubair freed on bail
Last month Mohammed Zubair who runs a fact-checking website called Alt News and is a vocal critic of the ruling regime led by Prime Minister Narendra Modiwas arrested and denied bail on charges of using the social media platform, Twitter, to make what was deemed to be provocative statements that could strain relations between Hindus and Muslims. The tweet was four years old. The charges were levelled by an anonymous Twitter user.
Last week, Zubair, 39, was released on bail after his case was heard in the Supreme Court, and judges said that the power of arrests must be pursued sparingly and that while investigations can continue, there was no justification for keeping Zubair in custody.
While the Supreme Court's direction is welcome, freedom of speech has come under constant attack in India in recent years. Criticism of the ruling regime is not tolerated. Even satirical references to lawmakers, the government or even religious icons attract vociferous protests and punitive action. Thin-skinnedness is the order of the day. And that is never a hallmark of a mature society.
Is the Indian rupee in free-fall?
Last week the Indian rupee plunged to its lowest level. One US dollar was worth 80 Indian rupees. This was not unexpected. Rising crude oil prices (India imports 85% of the oil it requires), especially in the wake of the Russian attack on Ukraine and the ripple effect on oil prices that it has created is one of the main reasons for that.
But there are others. Globally, US investors have been moving their investments overseas back to the US where the Fed Reserve has been increasing the interest rates or planning to hike them further in order to check what the highest level of retail inflation in the US is in recent times.
A declining value of the rupee would mean more expensive imports for India and that could generate a rise in prices of goods and services domestically. India's current account deficit (when the total value of goods and services a country imports exceeds the total value of goods and services it exports) was US$ 9.6 billion in July-September 2021-22, equivalent to 1.3 percent of the GDP, compared with a surplus of US$ 15.3 billion in the same period of the previous fiscal year. Clearly, this does not portend well for the Indian economy.
A new twist in the race to 10 Downing Street
As former British chancellor Rishi Sunak faces off with former foreign secretary Liz Truss in the race to become the next prime minister and succeed outgoing PM Boris Johnson, Sunak faces charges of being a "privileged" candidate.
The Sunak camp has always highlighted his humble background. Despite his elite educational background–Sunak went to Winchester College and Oxford University and has an MBA from Stanford University–his Indian origin parents were not rich or titled. His father was a general practitioner and his mother ran a local pharmacy.
But recently, his opponents ran campaigns against him mainly targeting the fact that he is married to Akshata Murthy, the daughter of one of India's richest billionaires, N.R. Narayana Murthy. Akshata's net worth is valued at around US$1.2 billion.
The Sunak camp, however, dismisses these by claiming that his career is the product of hard work and sacrifices by his parents who financed his education despite the odds.
The contest is still open, however, and Sunak and Truss are still head to head for the prime minister's post. The results of the final vote will be known by September 5.