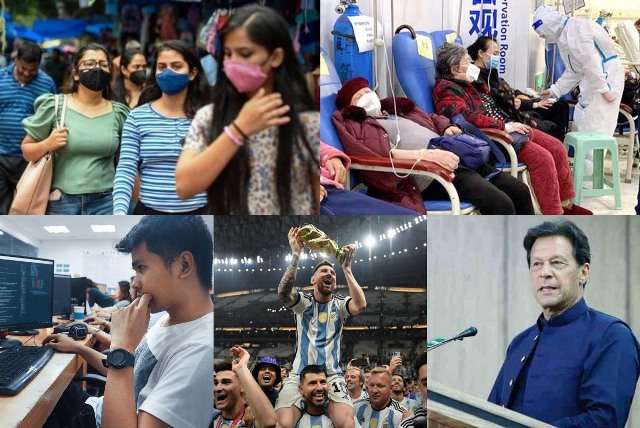 THEBUZZ
THEBUZZ
Five Things That Happened Last Week (And What To Make Of Them)
Will Covid's resurgence in China spread to India
Public memory is notoriously short-lived. As a new and highly contagious Covid virus strain spreads in China with fears that it might kill more than a million people in the coming months, the response in India has ranged from being blase and indifferent to moderate concern. Some reactions to the situation in China can even seem downright smug. Adar Poonawala, CEO and founder of Serum Institute of India, said in a tweet that  "we need not panic given our excellent vaccination coverage and track record. We must continue to trust and follow the guidelines set by the Government of India." 
Serum Institute of India, an Indian company, is the world's largest manufacturer of vaccines and the chief supplier of Covid vaccines in India. In late 2021, the Serum Institute announced that it had produced more than 1.25 billion doses of the Covishield vaccine (an Oxford/Astra-Zeneca formulation). That number of doses is a highly laudable achievement but how effective have Covid vaccines been? The instances of people who have been vaccinated with multiple doses of anti-Covid vaccines succumbing to the virus run into millions globally and as of now the efficacy of different vaccines in preventing infection is largely unproven. Some theories suggest that "fully vaccinated" people can still get infected by the virus but the symptoms can be mild. To be sure, however, there have been significant numbers of vaccinated individuals who have required serious medical care when they got infected by the virus.
Meanwhile, the Covid virus has been mutating continuously. The current strain that is spreading in China has been called the BF.7 and is a sub-variant of the Omicron strain. BF.7 first emerged a few months ago when it started replacing earlier variants.
What do we know about the BF.7 strain? First, the fact that it is less likely to be neutralised by antibodies from vaccinated people or those infected by the virus than say the original virus emanating from Wuhan in 2020 was. Second, the new variant has an R-value of 10-18. That means one infected person can transmit the strain to 10 to 18 other people. Third, BF.7 is more likely to spread quickly and infect or re-infect people, including those who are vaccinated.
Last week, a CNN report based on leaked notes from Chinese health officials suggested that "almost 250 million people in China may have caught Covid-19 in the first 20 days of December". If that is right, it means around 18% of China's 1.4 billion people have been infected by Covid. That is a staggering number and the rest of the world needs to take note of that as countries cobble together strategies to prevent a resurgence of the virus in their regions. 
In India, when the virus first broke out in 2020, it spread mainly because of unpreparedness. Isolation, lockdowns and administering vaccines is a daunting tasks in a country with a population that rivals China's but has health and other infrastructure that may arguably be much less efficient than in China, which is economically far stronger than India. 
Last week India's health minister advised people to take precautions against Covid-19, including getting vaccinated and wearing masks. Random testing of international travellers arriving at Indian airports has also been mandated. The second phase of Covid's spread in India took a huge toll on lives, livelihoods and the economy in India. We also witnessed how difficult it is to implement and ensure restrictions aimed at containing the spread of the virus. It is time for the central government and local authorities to devise strategies well in advance to check the virus' spread instead of waiting till it is too late or being complacent about the vaccine coverage that the country has achieved.
Meanwhile, in China…
After spreading in China's bigger cities and towns, the new variant of the Covid virus could now spread in rural areas as migrant workers go back to their villages for the Chinese New Year in late January. More than 500 million Chinese live in rural China and after the country removed the restrictions on the movement of people, they could face the risk of infection as workers come back from the cities. 
The risk of the virus spreading in rural China is higher because of the lack of adequate healthcare infrastructure and already there are estimates that cases are surging in the rural areas. 
The Nordics beckon Indian techies
India's information technology professionals have now become so ubiquitous globally that much of the international perception of India's human resource skills centres only around that: India is almost synonymous with software coders… of, if you like, coders who are cheaper than those in most other parts of the world. The number of coders in India is roughly estimated to touch 10 million in 2023. Little wonder that the world looks at India's skilled professional hordes of software coders and programmers huddled in front of screens busy coding. In many parts of the world, it represents a cheap source of software professionals. The latest to focus on that pool of skills is tiny Finland.
With a population of 5.5 million, Finland is a tiny country but its technology needs are big. Recently, Finland's employment minister Tuula Haatainen visited India and signed an agreement that is aimed at making it easier for Indian software techies to move to Finland and live and work there. The Hindu quoted Ms. Haatainen who said: "We see that India has such a pool of professional talent that we need in Finland. We need more workforce, we need talent, we need professionals, skilled people. If they want to enter Finland, I see that it is valuable for both sides, that people go abroad, and also earn and learn something there."
Finland is an ageing country where the workforce is only around 2.5 million. But the needs on the technology front are high. But Finland isn't the first choice of Indian techies. There are just around 1500 Indian students in the country and 15,000 Indians living there. But Finland wants to see the number of work-related Indian immigrants double and that of students treble by 2030.
Was the World Cup 2020 final the best ever?
Well, many think so. When Argentina won this year's FIFA World Cup in a nail-biting final against France, and the image of the team's captain and superstar Lionel Messi being hoisted on the shoulders of his teammates while carrying the trophy became iconic, many things were achieved altogether. Messi, 35, capped his career (he is to retire soon) by winning the sport's topmost trophy; Argentina wrested the title of world champions from dominance by European countries since 2006; and, on a more personal front, it was the victory of Messi against his Paris Saint-Germain club teammate Kylian Mbappé, another top star of this year's tournament. 
The Argentina-France final was won on penalty kicks after the two teams drew 3-3 in regular play. The results: Argentina won 4-2 on the kicks. Several analyses of finals over the past years have suggested that this year's finals have been the best both in terms of the run-up to the finals as well as the final match itself.
Imran Khan in a sex tape "scandal"
Fake or not, Pakistan's former president and one-time star cricketer who enjoyed a high glamour quotient in his younger days is caught in the midst of a "scandal". Audio clips have been leaked on YouTube by a Pakistani journalist that purportedly depicts Khan in intimate conversations with a woman. 
Khan lost power earlier this year and his party, the Pakistan Tehreek-e-Insaf (PTI) has alleged that the leaked conversations are fake and aimed at discrediting him. There are allegations that the tapes may have emanated from the current prime minister and Khan'srival, Shebaz Sharif's office.
The said audio clips are graphic and the conversations, allegedly between Khan, 70, and two identified women refer to intimate acts of sex and some crude references. 
Read More: https://lokmarg.com