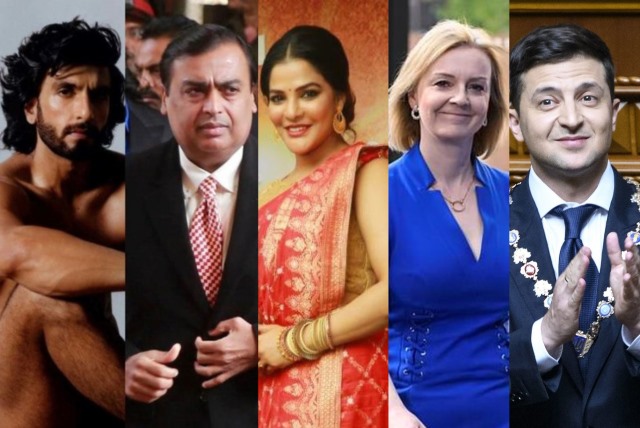 THEBUZZ
THEBUZZ
Five things That Happened Last Week (and what to make of them)
Of nude shoots, prudes, and fuss about the frivolous
Two years ago, long before the prevailing and, might I add, asinine controversy over the Bollywood actor Ranveer Singh's nude photo shoot for the New York-based fashion and pop culture magazine, Paper, broke out, veteran model and actor, Milind Soman, tried an experiment. He shared a photo of himself and another model, Madhu Sapre, who was then his girlfriend. The photo shows both the models in the nude and was shot for an advertising campaign for a sports shoe brand. It was shot in 1995; Soman was then 30 and Sapre 24. Both are now in their 50s.
I remember when the ad came out in a couple of Mumbai newspapers. The internet was still a pie in the sky. Social media was non-existent. And in August that year (1995), the first mobile call was made by the then chief minister of West Bengal, the late Jyoti Basu, to the then Union minister for communications, the late Sukh Ram. The ad showed the two models naked except for their sneakers (it was an ad for those, after all) and in a Garden of Edenesque twist, there was also a large python entwined with them.
As expected there was a mixed reaction to the ad. Some people (this writer included) quite liked the black and white photograph of the two models. Sapre, a former Miss India, and Soman, who was also a swimming champion and runner, had chiselled bodies; and the photograph was aesthetic, not vulgar. And, it did what a good ad is supposed to do: it drew the reader's attention.
But then, far from being homogenised, India exists on different levels, with moral standards, and cultural mores so diverse that different groups of people can seem from different planets and centuries. So yes, there was controversy. People called for banning the ad. The Social Service Branch (yes, there is such a thing!) of the Mumbai Police booked him and Sapre. I can't quite remember what happened to the case–but the protests over the ad lasted for a while. They were nowhere near the mindless mayhem that Singh's photo shoot has now led to.
That is exactly what Soman's experiment two years ago was all about. He tweeted the 1995 photograph and wanted to gauge how people would react to it now in the age of social media when everyone, regardless of maturity, prejudices, and motivation, has access to a keypad to give vent to whatever they would like to say. The tweet got modest reactions (18500 likes; 997 retweets; and a bunch of comments, not many of which were overly indignant).
The difference between the Soman and Sapre photo shoot and Ranveer Singh's recent one is that the latter has happened at a time when Indian society is more polarised and divided than it has ever been before. Outrage is easily triggered by almost anything. Much of it fuelled by so-called religious differences, with the minority community, especially Muslims, bearing the brunt of the violent, and hateful onslaught by an increasingly vocal (and social media-driven) majority. The problem is compounded by the fact that India's institutions have been rendered weak and vulnerable to political pressure. Cases such as the FIR filed against Singh for his photo shoot should ideally be dismissed on grounds of frivolity but, in reality, the actor will likely be harassed meaninglessly.
What is offensive, obscene or overtly against Indian culture is a subjective question with different answers if you ask different groups of Indians. And, often, the responses are underlaid with elements of hypocrisy. There are at least seven ancient Indian temples whose facades are adorned with explicit erotic sculptures. In some temples, everything from heterosexuality, homosexuality, polyandry, polyamory, masturbation, and bestiality, is depicted in detail. I am actually waiting for a campaign to be fanned up by some ultra-prudish groups to demand that such temple art should be covered because after thousands of years 8konark was built in 1250 AD; Khajuraho temples between 885 and 1000 AD, the keepers of Indian morals feel that they are offensive. That sort of a campaign would surely establish that we're finally in cuckoo land.
Bring back the corporate battles, it's getting boring in here
In the 1980s and the early 1990s, before Indian policymakers began opening up the economy, easing restrictions, allowing unfettered foreign investment, doing away with licensing, and freeing up imports, running businesses in India could seem like running a torturous obstacle race. Obtaining licences, permits, and various other procedures could often become a Kafkaesque nightmare. Then there was the stock markets. The opacity and lax regulations gave big operators and insider traders a free hand. Markets could be moved by cartels and individuals, often at their whim, and there was not much anyone could do.
Much of all that has changed now. Mostly for the better. But there is one thing that keen observers of India's corporate world must certainly be missing: intense corporate rivalries of that era. In the days of industrial licensing, most industries had just a few players that dominated the field. And that gave rise to the sort of corporate warfare that is rarely seen today. At the centre of most stories of Indian corporate wars there was usually one business group, Reliance Industries, founded by feisty entrepreneur, the late Dhirubhai Ambani. Reliance's battles with older Indian groups such as Bombay Dyeing, Tatas, and Birlas, are the stuff of Indian business lore.
For journalists who covered corporate news in that era, those were exciting times. You got tip-offs about the dirty laundry of a competitor from a rival group and vice versa. Sometimes the rivalry could resemble a thriller or potboiler straight out of a film. For instance, in 1989, a case was filed alleging a conspiracy by an executive at Reliance to murder Bombay Dyeing's top boss, Nusli Wadia. The allegations have not been proved but, here's the thing that case is still alive with hearings and so on held periodically!
Compared to that era, corporate warfare is a tame affair today. Recently, Gautam Adani, the Gujarat-based entrepreneur with interests in ports, power, and other infrastructure sectors, was in the news when he was estimated to be worth US$12.2 billion, making him the fourth richest person overtaking Microsoft's Bill Gates. Adani is now much ahead of India's former richest billionaire, Mukesh Ambani, who is estimated to be worth US$90.9 billion.
But there's more. If recent trends are to be construed, Adani, who has been diversifying into sectors such as cement and healthcare, is now eyeing the telecom sector by bidding for the government's ongoing 5G spectrum auction.
If Adani gets a foothold into telecom, it could be the beginning of a rivalry in that sector. Ambani's Jio Infocomm is the biggest player in the Indian telecom market with a share of more than 35%. Given his penchant for aiming big, if Adani enters the sector, it won't be for small beer. And that could mean an impending corporate battle between the two. Journalists on the corporate beat should be anticipating some fun.'
In Bengal, another politico is embroiled in a scam
A corrupt politician is an archetype in India. So much so that the common Indian citizen is often so cynical that he or she tends to paint every politician with the same tarred brush. "Oh, if he's a politician, he must be corrupt and have a hoard of unaccounted wealth." Literally or otherwise, that's a view that is nearly universal. So when Partha Chatterjee, 69, and a former minister in the Trinamool Congress-led West Bengal government was booked for being responsible for irregularities in a teacher recruitment scheme, it didn't raise too many eyebrows.
The Enforcement Directorate, which is investigating the charges against Chatterjee, also recovered ₹50 cr in cash and gold worth several crores from the house of Arpita Mukherjee, an actor and singer who the media have been describing as Chatterjee's 'aide', whatever that might mean.
For the moment, the minister has been divested of his portfolio and is in the directorate's custody. There is, of course, a political consequence to this. The Trinamool Congress's (TMC) supremo and West Bengal chief minister Mamata Banerjee, is a staunch critic and opponent of the Bharatiya Janata Party (BJP) and Prime Minister Narendra Modi. The BJP has been trying desperately to get a foothold in the state. The scandal involving one of the state's ministers will no doubt give the saffron party a handle to fight the TMC in the state.
Fresh twist in the Sunak-Truss race
After being in the lead for a while, Rishi Sunak is believed to be trailing behind Liz Truss in the race to become the next prime minister of the UK. Sunak, 42, is the former chancellor of the UK, while Truss, 47, is the former foreign secretary.
A betting exchange firm, Smarkets, has said that Sunak's chances are down to 10% now and Truss's are up to 90%. For a while, earlier, there was a perception that Sunak would win the race–it requires garnering votes from around 175,000 Conservative Party members. But now the tables seem to have turned. Both candidates are touring the country, campaigning for votes and we will have to wait till early September to know who finally wins.
Russia's war in Ukraine enters sixth month
Soon it will be six months since Russia attacked Ukraine and the war escalated there. And there are little signs of an early end to the conflict. Russia has been continuing to shell on the frontlines of Ukraine and casualties have been mounting. Both sides, however, continue to make conflicting claims about killing each other's troops.
In a recent development, however, Russia agreed to allow Ukraine to export wheat, 22 million tonnes of which are stranded at Ukrainian ports. According to Ukrainian president Volodymyr Zelenskiy, Ukraine is waiting for a go-ahead from the United Nations and Turkey for a safe passage of its ships.
Meanwhile, western observers continue to say that Russia is running out of steam but the conflict doesn't seem to be heading for an end. And although both countries claim that they have attacked and killed tens of thousands, no reliable tally is as yet available.