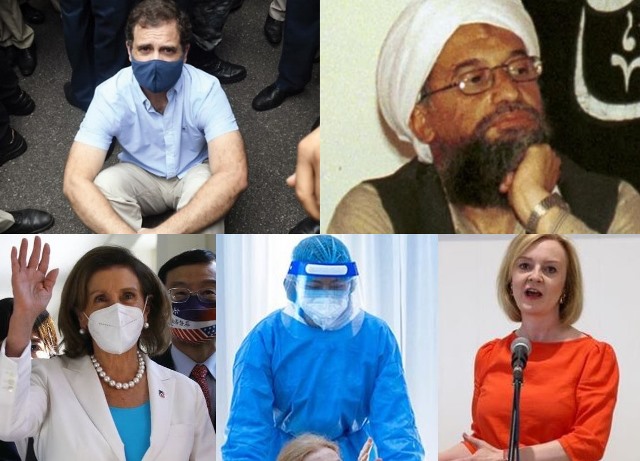 THEBUZZ
THEBUZZ
Five Things that Happened Last Week (And What to Make of Them)
Instead of whining about a vendetta, the Congress should answer some questions
To anyone who is following the investigation into the National Herald case, the Congress party's official reaction to interrogation of the party president Sonia Gandhi and her son Rahul should seem ludicrous. The Congress, which is in the Opposition, claims that the investigation amounts to political vendetta by the ruling Bharatiya Janata Party (BJP) against its leaders who have done no wrong.
Really? Let's take a quick look at what the National Herald case is all about. National Herald, published by Associated Journals Ltd. (AJL), was a newspaper started in 1938 by Jawaharlal Nehru along with 5,000 freedom fighters. The newspaper was intended to propagate the views of the more liberal sections of the Indian National Congress. Later it became the mouthpiece of the party. It has a storied history but by the 2000s it began facing financial troubles and had to cease publication in 2008. It is around then that the alleged irregularities which are now being investigated by the Enforcement Directorate, a Union finance ministry agency that fights economic crime, began.
A quick recap: In 2012, the BJP's former minister and MP, Subramaniam Swamy, registered a complaint against senior leaders of the Congress party alleging serious financial irregularities that involved the National Herald, AJL and other related companies. Here's what the details of the charges being investigated are: Around 2008-2010, the Congress party gave loans amounting to ₹90 crore to AJL, ostensibly to bail it out of its financial crunch. But, things took a twist in 2010 when a non-profit company called Young Indian was formed (its major shareholders were Ms. Gandhi and her son and some close associates).
The plot now began thickening. The Congress party transferred AJL's debt of ₹90 crore to Young Indian for an amount of ₹50 lakh. Then, Young Indian converted the debts into equity in AJL. As a result of this latter move, Young Indian (read: mainly Ms. Gandhi and her son) acquired AJL and its assets. Note that word, assets. AJL's assets are estimated to be around ₹400 crore, which includes real estate and other holdings across several Indian cities.
And there lies the rub. While there are more layers and details to the transaction, the basis of the case that the ED is investigating centres around whether the Congress party and its top leaders have used National Herald's publishing company as a conduit for personal benefit by breaking several rules–relating to income tax, political party finances, and those governing non-profits. In recent weeks both Ms Gandhi and her son have been interrogated by the ED for several hours; and assets property of the companies involved have been sealed.
It is in this context that the Congress party's reaction to all of this has to be viewed. The party's scratched-record refrain has been that it is a political vendetta by the ruling regime against its top leaders who, the party claims, are innocent and have not indulged in any misdoings. On August 2, Congress leader Jairam Ramesh, who also handles communication for the party, tweeted indignantly: "The raids on Herald House, Bahadur Shah Zafar Marg are a part of the continued attack against India's principal opposition—Indian National Congress."
"India's principal opposition–Indian National Congress" can seem a little bit comical viewed against the fact that with 53 seats in the Lok Sabha (out of a total of 543) and 31 in Rajya Sabha (out of a total of 245) the Congress is a faint shadow when it comes to its representation in Parliament. But more important is the fact that till date, aside from the whining about "a political vendetta" there has been nothing from the Congress party to counter the specific allegations that the ED is investigating.
Did Young India acquire the assets of AJL by "buying" its debt for a song? If so, what was the motive of a non-profit, ostensibly not involved in commercial activity, to do that? And, finally, did the top leaders of the party benefit from the deal? Instead of crying hoarse about a vendetta, why can't the brains trust of the erstwhile "principal opposition–Indian National Congress" respond to those questions?
Killing of Zawahiri and its repercussions
It was ironic that the Taliban regime returned to power in Afghanistan around the 20th anniversary of the 9/11 attacks last year. It has been a topsy-turvy ride for the US and the Taliban in the past 20 years in that besieged country. In 20021, the US tried to overthrow the Taliban, which in itself is a factionalised movement ranging comprising somewhat moderate to ultra-fundamentalist groupings, and which provided safe harbour to terrorist groups such as the Al-Qaeda. The US tried to install a pluralistic, tolerant, and economically viable government in charge. Those efforts failed and when the US exited Afghanistan, the Taliban was back.
Last week, Ayman Mohammed Rabie al-Zawahiri, who was 71, and considered to be a principal architect of the 9/11 attacks, was killed by US drones in a posh neighbourhood in Kabul where he was hiding. The killing of Zawahiri has led to speculation about how the Taliban regime will react to it.
There is no clear answer. On the one side is the fact that Zawahiri was living in a house owned by a close aide of (and probably at the behest of) Sirajuddin Haqqani, an Islamist militant who is now the Taliban's interior minister. Haqqani himself is wanted by the FBI, which offers a US$10 million reward for his head. Militant Taliban factions will certainly be chomping at the bit for retaliation against Zawahiri's killing.
On the flipside is the less confrontational and (relatively) pragmatic part of the Taliban. Afghanistan is now ruled by a government led by acting prime minister Hasan Akhund who took charge in September last year. Akhund and many of his cabinet ministers realise that after decades of turmoil, war, unrest, and economic devastation, Afghanistan needs to reach out globally, particularly to the west. It needs to rebuild its infrastructure: its economic activities need to be normalised; and its citizens need long-deserved peace.
So there are pulls and pressures from different sides on the Taliban leadership. Will it be a move towards development and normalcy? Or will it be a relapse into violence and uncertainty? All eyes or on what is in store for this much-tormented nation.
Pelosi's visit to Taiwan and its business impact
China's policy on Taiwan is well-known. China's government opposes Taiwan's independence and does not recognise the island as a separate country. It believes that Taiwan and mainland China are two parts of a single country's territory. So when US House of Representatives speaker Nancy Pelosi made a visit to Taiwan recently, the Chinese government's furious reaction was predictable and expected. China condemned the visit; started fire drills in the seas around Taiwan; and unleashed more economic restrictions against the island nation.
Whether these could escalate into more serious action by China is yet to be seen but the more important aspect of Pelosi's visit has to do with business. To get a grasp of that, let's take a look at the market for semiconductors, popularly known as chips, which are at the heart of everything from automobiles to electronic products of every kind.
For the past two years, the semiconductors market has been facing huge shortages. Partly this is because the demand for semiconductors has shot up–mainly from the auto manufacturers but also other consumers. Also, during the Covid pandemic's peak, chip manufacturers had to operate at low capacities. The world's largest chip maker is Taiwan Semiconductor Manufacturing Company, which is building a plant in Arizona, and Pelosi discussed with its CEO the subsidies that the US could offer.
But Pelosi's visit could also have a negative impact on global business. A Chinese electric car battery manufacturer, CATL, which had plans to invest in a large facility in the US, has reportedly delayed its decision. But on a macro level, things are not so linear. China's biggest trade partner is the US. China exported US$435 billion to the US in 2020. That is also a sort of trade co-dependency between the two economies; and geo-political muscle flexing over Taiwan might just not be worth it.
Why the Covid scare may not be over yet
On August 6, India registered a total of 19,406 new Covid cases in the preceding 24 hours, bringing the country's overall Covid tally to 4,41,26,994. Less than 20,000 cases in a country of more than 1.4 billion people is nothing. In statistics much bigger numbers can be discounted as rounding-off errors.
But should that mean India should relax the precautions regarding the pandemic? Probably not. The total death toll attributed to the pandemic since it spread in India is officially pegged at 527,000 and the number of cases at 44.1 million. Many experts, both within the government agencies and independent ones, however, think that those numbers are huge underestimates. This may be partly because statistical compilation in a nation as diverse and as socio-economically unequal can be a nightmare. Under-reporting is rife. Access to healthcare centres remains patchy in many parts of the country.
The thing is that by now the world has seen how the Covid vaccines have by and large been ineffective in preventing the spread of the rapidly mutating virus. The number of variants of the virus continues to grow and the instances of fully vaccinated (as well as boosted) individuals being diagnosed with a Covid variant is now quite common.
In India, the last three waves of the spread of the virus (particularly the second wave) have been devastating both for the health and well-being of its people, particularly the poor, but also for the economy. Prudence suggests that India, instead of relaxing Covid-related restrictions such as use of masks and limitation of public gathering, think of new norms for living in a world where Covid is not showing any signs of going away. At least not for now.
Truss Vs Sunak saga continues
According to a survey by a Tory activist website, ConservativeHome, Liz Truss has widened her lead over Rishi Sunak in the race for the UK prime minister's post: 58% of 180,000 Conservative Party members support her, while 26% support Sunak and 12% are undecided.
Sunak, who was Chancellor of the Exchequer, is focusing his campaign on his competent handling of the economy, particularly during the Covid pandemic by keeping jobs and demand afloat. But this has led to one of Britain's biggest budget deficits and that cannot portend well for the economy's future.
Truss, who is foreign secretary, has focused her campaign more on the things she would do if elected PM. Among those is cutting taxes to boost the economy and ease rising living costs. For the older Tory members that could be an appealing prospect. But, observers say, notwithstanding what the polls and surveys say, the race is not yet over and may go to the wire.