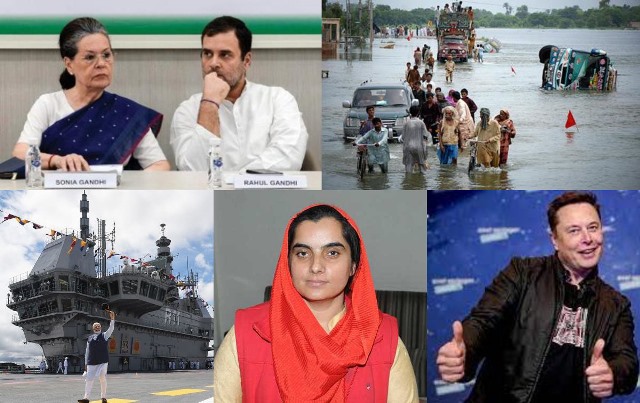 THEBUZZ
THEBUZZ
Five Things That Happened Last Week (And what to make of them)
Step 1 for the Congress today is for the Gandhis to step aside
In 1969, when the Indian National Congress party split after the late Indira Gandhi was expelled from the party and she formed her own party, then known as Congress (R), the "R" standing for Requisitionists, her new party's electoral symbol was a cow with a suckling calf. With that symbol, Ms. Gandhi won a landslide victory in 1971. Her long stints as Prime Minister of India (1966-77; and then again from 1980-84) were marked by historic events of both, of the favourable and adverse types. All that is part of history.
As is that symbol of her party, a suckling calf and a cow. The story about why that symbol was dropped and, instead, the open palm (which is still the Congress party's electoral symbol) was adopted is probably apocryphal but like many such tales it is one that is amusing. The story goes that in the immediate aftermath of the Emergency, the calf and cow symbol became the butt of jokes with Ms. Gandhi being compared to the cow and her son Sanjay, whose notoriety during the Emergency period is well known, to the calf.
Nearly half a century later, the Indian National Congress party's president is Indira's daughter-in-law and the widow of former Prime Minister Rajiv Gandhi. And her son, Rahul, is the next most important leader in the party. And going by the current turmoil in the party and the perception that the mother and son duo are a sort of autocratic power centre family in the Congress, the calf and cow symbol could be an apt symbol for it.
The most recent notable departure of a leader from the Congress has been that of the former Union minister and former chief minister of Jammu & Kashmir, Ghulam Nabi Azad. Azad has unambiguously highlighted the autocracy in the party, particularly pointing to Rahul Gandhi and his manner of leadership. He has not been the only one to do so. Several leaders, including relatively younger ones (in the Congress that can mean anyone under 60; Rahul himself is 52 and still referred to as being a young leader), have left the party in recent years and months and while few have been as articulate about their disenchantment with the Gandhi family's leadership style as Azad, the reasons for their departure are probably not dissimilar.
Much has been written about Rahul Gandhi's inability to lead his party; organise and revamp it; or win elections. So much so that except for die-hard Gandhi family loyalists–a breed that is rapidly going extinct–to everyone it is quite evident that Rahul is not up for the job of leading, reviving, or running his party with any outcome of meaningful consequence. It may be a bit unfair to slam the "young" leader, though. After all, these sort of things happen. The son of Bollywood's greatest superstar actor followed his father into acting and was a notable failure; another son of one of India's best-known opening batsmen in cricket followed his father into playing cricket but flopped and no one really knows or cares about what he is doing.
Such examples abound in almost every field. So it is in politics. Rahul is the scion of an illustrious Indian political family–his father, grandmother, and great grandfather were all prime ministers of India. His great great grandfather was the president of the Congress party in pre-Independence India. But since he himself embarked on a career in Indian politics 18 years ago, his achievements have been unremarkable.
Some Congress leaders absurdly talk about how Gandhi, a middle-aged man, is still evolving and needs more time. The fact is that under him and his mother Sonia, who will turn 76 this year, the Congress has all but collapsed. The party has fared abysmally poorly in parliamentary elections; and has continued to lose its base and power in regions, including states that were once its bastion.
An addict, whether he is addicted to alcohol, drugs or even sex, can only rehabilitate himself if he acknowledges his problem. An addict in denial cannot be cured no matter how expensive or exclusive the rehab facility is to which you send him. Congress's main problem is its leadership (read: the Gandhis). And the only way to revive it (or prevent its absolute and total collapse) is if the party recognises that and excises the Gandhis from it. Is that likely to happen? Because the party is all about the Gandhis, it can happen if, like the archetypal confessional alcoholic, the Gandhis decide that they are the problem and not anyone else. Step one for the Congress today is for the Gandhis to step aside.
Did India miss the chance to be a good neighbour?
The Biblical phrase "thou shalt love thy neighbour as thyself" is from the Book of Leviticus in the Old Testament about the ethic of reciprocity known as the Golden Rule or the Great Commandment. And while reference to a Biblical phrase can be a bit out of place in the atmosphere that prevails in public discourse–both in the social media as well as in mainstream discussions–it is is worth heeding that phrase, "love thy neighbour", particularly in the aftermath of one of the most tragic and devastating floods to have hit India's neighbour, Pakistan.
It is a climate disaster of an unprecedented kind. "A monsoon on steroids" is how the United Nations secretary-general Antonio Guterres described the natural calamity that has affected millions of Pakistanis and taken the lives of thousands.
India is Pakistan's big neighbour. The two countries share a 3,323-kilometre border. India has a population of 1.4 billion compared to Pakistan's 220 million (for perspective, Uttar Pradesh has a population of 234 million). India's GDP is expected to reach US$3000 billion this year, while Pakistan's is expected to be only US$292 billion.
But India and Pakistan are also in conflict. The two have been fighting several wars since Independence and the partitioning of the Indian subcontinent in 1947. The main dispute is over Kashmir where India and Pakistan are conflicted over who has sovereignty over how much of the area. India also alleges that Pakistan offers safe passage to separatists and terrorists who operate in Kashmir.
When the floods wreaked havoc across the border, it took some time before India's Prime Minister Narendra Modi came out with a statement about it. In a tweet last week, Modi said: "Saddened to see the devastation caused by the floods in Pakistan. We extend our heartfelt condolences to the families of the victims, the injured and all those affected by this natural calamity and hope for an early restoration of normalcy," But did Modi or the Indian government offer any help to Pakistan? No.
As a neighbour and more resourceful nation, the Indian government could have offered help in the form of medical assistance, food, help in evacuation of the thousands stranded and homeless because of the floods and so much more. Till now, there has been none of that.
It has been a missed opportunity for India. The disputes with Pakistan are long-standing and will probably continue for a long time to come. However, humanitarian assistance that is aimed at benefiting the common people who have been hit by a natural calamity such as the floods in Pakistan could have shown that India can rise above the disputes and conflicts with its neighbour and set an example of magnanimity in international relations.
An aircraft carrier is commissioned; politics ensues
Political bickering accompanies even notable achievements in India's development. Recently, when the INS Vikrant, India's first indigenously developed aircraft carrier, was commissioned by Prime Minister Modi to the Indian Navy, and marks the government's efforts to attain self-reliant development for India, an effort popularised by the term Atmanirbhar Bharat.
Development of the aircraft carrier makes India one of the few countries in the world to attain the capability to build a warship of this proportion. As many as 26 MiG-29K fighter jets, 4 Kamov Ka-31 helicopters, 2 HAL Dhruv NUH utility helicopters and 4 MH-60R multi-role helicopters can operate from INS Vikrant. It is 262 metres long, with a top speed of 28 knots, and endurance of 7,500 nautical miles. INS Vikrant has 2,300 compartments and can accommodate a crew of 1700 seamen.
The commissioning of the carrier was soured by comments from the opposition Congress party leaders who said the Prime Minister does not acknowledge continuity in development, a reference to the fact that the work on the aircraft carrier had begun at Cochin Shipyards in 2009, way before the present government had come to power. The protests seem to suggest that the Congress wanted the Prime Minister to give its earlier regime some credit for development of the warship. Petty politics.
Whither respect for women in India?
Recently, a video surfaced showing the husband of a woman member of the legislative assembly (MLA) slapping her in public. The video shows Baljinder Kaur, MLA from the Aam Aadmi Party (AAP) being slapped by her husband, also an AAP leader in the state.
The video has gone viral and so have the reactions. Women activist organisations have said they will initiate suo motu action against Sukhraj Singh, the husband.
The bigger issue, however, is that in India, gender equality remains a pie-dream and women's rights are in peril–no matter the status and social standing of individuals. It is a sad commentary on Indian society.
Elon Musk wants you to have more children
The billionaire investor and businessman Elon Musk whose statements and social media posts are often designed to shock and create sensation has said that people should have more children. "It's important that people have enough babies to support civilization," Musk, who himself has 10 children, has said. "If we don't have enough kids, then we will die with a whimper in adult diapers. And that will be depressing."
As the world's population is set to touch 8 billion (it is estimated at 7.97 billion now) and other experts warn of a dramatic catastrophe, Musk's latest exhortation comes across as being eccentrically contrarian. But then controversy and contrarianism are nothing new for Musk who is the founder, CEO, and Chief Engineer at SpaceX; CEO, and Product Architect of Tesla, Inc. and has an estimated net worth of around US$266 billion, which makes him the richest man in the world.