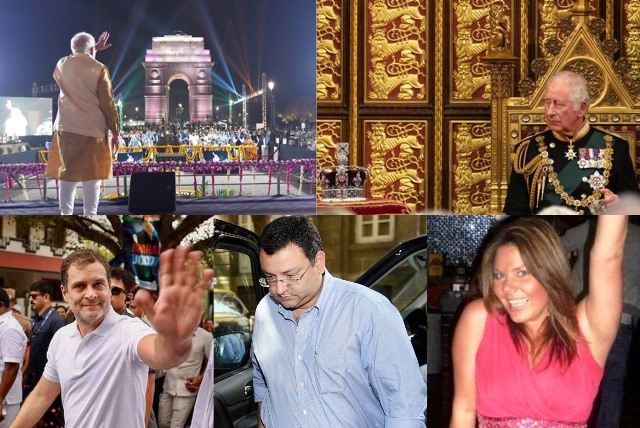 THEBUZZ
THEBUZZ
Five Things That Happened Last Week (And what to make of them)
What's in a name? Apparently, a lot
Rajpath, now renamed Kartavya Path, is one of New Delhi's best-known landmarks. The 3.2-kilometre ceremonial boulevard runs from Rashtrapati Bhavan on Raisina Hill through Vijay Chowk and India Gate, and the National War Memorial to Delhi's National Stadium. The broad, tree-lined avenue is the venue of the Republic Day parade, a ceremony held on January 26 every year on the anniversary of the day India became a republic in 1950. It is also symbolic of India's government–at one area, it is flanked by the North and South Blocks of the central secretariat, buildings that house the offices of the highest positions in government, including the Prime Minister's office.
After the British Imperial Government decided to move the capital of British Imperial India from Calcutta (now Kolkata) in 1911, Rajpath was designed as part of the administrative complex by the architect Sir Edwin Lutyens who conceived Rajpath (then known as Kingsway) as an axis around which the imperial city was built.
This year, on the occasion of Independence Day, the government announced that Rajpath was to be renamed Kartavya Path (roughly translated, it means "the road of duty").The Prime Minister also unveiled a statue of Netaji Subhash Chandra Bose at India Gate on the same day.
The renaming of the iconic road and the installation of the statue are part of Modi's endeavour to remove any trace of a colonial mind-set from the Indian ethos. "Raj", it is argued, harks back to the colonial raj of British rule that India was under for centuries before Independence.
Name changes of public places are not uncommon. They happen everywhere. In India, cities such as Mumbai (formerly Bombay), Bengaluru (Bangalore), Kolkata (Calcutta), Chennai (Madras) and several others have undergone name changes–often to reflect linguistic usage and sometimes to remove Anglicization. Street name changes aren't uncommon either. Kolkata's Dalhousie Square, named after a British Governor General of India, and an area that houses the state's seat of power, was renamed Benoy Badal Dinesh Bagh after Independence to commemorate three young Indian independence activists. Ironically, though, most people call it "BBD Bagh", which hardly pays any tribute to the three.
The interesting thing about Rajpath is that it is crossed by Janpath, a street whose name means the road of the people or the public. So the intersection of Rajpath (the road of rule or power) and Janpath could be interpreted as an interesting symbolism. But that is now history. The confluence of Kartavya Path and Janpath doesn't really evoke a sense that is similar.
Questions in the wake of a monarch's passing
Queen Elizabeth II reigned in Britain for nearly 70 years. After her death last week and the ascension of her son Charles, 73, as the new King of Britain, the question of the relevance of the monarchy has come back into public discourse. Is having a monarchy of the kind that Britain has anything more than mere symbolism? After all, the British monarch does reign but does not rule.
The question is sharply polarising –particularly so in Britain. The UK's republican movement that wants to abolish the monarchy has been rising and many among the younger generation see no relevance in having a monarchy. The Queen, whose reign witnessed historic events, had 15 prime ministers serving during her reign. Significantly too, her reign saw tumultuous events take place in the House of Windsor, the reigning royal house in Britain. But although scandals and unseemly incidents marked her tenure, she herself was beloved by the majority of the citizens.
That could change now. The respect and admiration that many had for monarchy when the Queen was alive could now fade. Last winter, an opinion poll run by the market research group, Ipsos, found that only 60% of Britons favoured monarchy, down from 76% five years prior to that. In the 30 years that the poll has been conducted, this was the lowest percentage in favour of continuing with the monarchy.
Another poll, conducted in June by YouGov, showed that while more than 60% of Britons were pro-monarchy, the majority of the support came from those who were 65+. Only 33% of those aged 18-24 favoured monarchy. This could be interpreted as a possible increase in the trend to not prefer a monarchy in Britain.
Another aspect is that with the ascension of King Charles, the reigning monarch in Britain might not enjoy the love and respect that his mother had found from citizens. Charles has been a controversial figure ever since his marriage with the late Lady Diana broke up and his affair with his current wife, Camilla. His younger son, Harry, and his wife also stepped back from the duties of the royal family, and have alleged discrimination against them by senior members of the family. This has added to the controversy that surrounds the British monarchy.
The main movement against the monarchy is vanguarded by the Republic campaign, a lobby that thinks monarchy has no relevance in modern society because it costs the public exchequer millions of pounds annually, which is taxpayers' money. Others feel the monarchy is a symbol of imperialism and colonialism and should be abolished. Many feel that in the wake of Queen Elizabeth's death, we cannot rule out a major upheaval in Britain's system of monarchy.
Petty politics over a T-shirt
When Rahul Gandhi sported a Burberry T-shirt while on a march entitled Bharat Jodo Yatra, aimed at unifying the nation, the ruling Bharatiya Janata Party (BJP) was quick to point out in a social media blitz that the T-shirt in question cost ₹41,000 and that it did not befit a political leader, who purportedly represented the masses.
Soon, however, the controversy spilled over into a "people who live in glass houses shouldn't throw stones" sort of thing. The Congress reminded the BJP about Prime Minister Narendra Modi's sartorial extravagances. A few years back he was seen wearing a gold embroidered suit (the embroidery was of his name) that was finally auctioned at an estimated price of around ₹4 crore. Modi is a dapper dresser and is known to pay attention to what he wears and his accessories. The thing, however, is that this sort of bickering and targeting between political rivals is juvenile. Both parties need to learn to grow up.
A focus on road safety and traffic rules
When industrialist Cyrus Mistry, 54, died in a road accident–his car hit a road divider on a highway–it brought the focus back on safety on Indian roads. Minister for road transport and highways, Nitin Gadkari, said that the government would be issuing new rules that made it compulsory for passengers in the rear seats of vehicles to wear safety belts. Currently, only the driver and his co-front seat passenger are mandatorily supposed to wear them.
It is a welcome decision to make everyone in a car wear a belt. However, is it easily implementable? The rule on seat belts, even as it stands now, is violated with impunity. In many older cars, the seat belts are so badly designed that they are of no more than ornamental use. And while the traffic police can enforce the rule in the cities, in smaller towns and rural areas (including the highways), there is very little checking to ensure that people are obeying rules.
In 2021, more than 4,03,000 road accident cases were reported in India, marking a 16.8% increase from the previous year. And road accidents killed more than 1,55,000 people on India's roads. The majority of these fatalities might not be of people dying or getting injured inside cars but the numbers are alarmingly high. What is needed is a combination of actions. First, strict monitoring of how people travel in and drive cars with hefty fines and other punishment; but also, aggressive campaigns that show how risky it can be while people are on the road. Violating traffic rules is commonplace in India. But that cannot go on forever.
(Mis)tweeted identity!
Last week, a woman on Twitter named Liz Trussell had her 15 minutes of fame when her account @liztruss was mistaken for the new British prime minister's account. Ms. Trussell, apparently got the handle before the real Liz Truss (who tweets from @trussliz).
Many, including some foreign dignitaries, mistook Trussell's account and sent her congratulatory messages when Liz Truss became the prime minister. Of course, most of them corrected their tweets after realising their mistake. But for a while Ms. Trussell responded to messages with tongue-in-cheek humour and a bit of hilarity. Good fun!