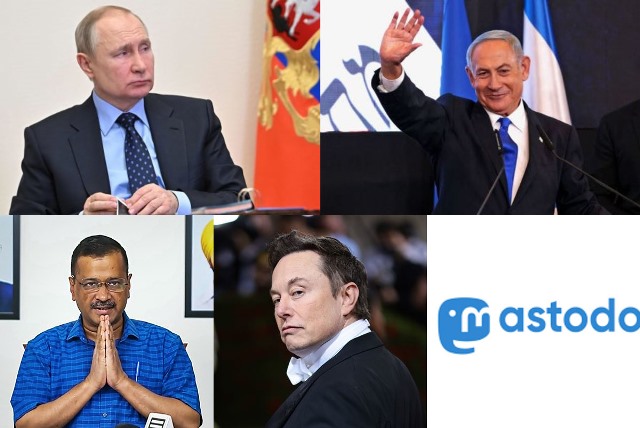 THEBUZZ
THEBUZZ
Five things that happened last week (And what to make of them)
How healthy is Vladimir Putin? What happens if he dies suddenly?
As Russia's military offensive against Ukraine enters the ninth month and shows no sign of an early end, there is speculation about whether the West (read: the US and its allies) can set the stage for negotiated settlement to the war. Given the relentless attacks by Russia that can seem far-fetched as of now but many observers feel that it could be the only logically plausible solution. But, equally, there is huge speculation about another matter: Vladimir Putin's health.
The Russian president, who turned 70 last year, has always been portrayed as a macho strong man. Photos of him bare-chested on horses, hunting with rifles, or swimming in icy seas have conjured up an image of a physically rugged man. The fact, however, is that he may not be that.
At 5'7", Putin is actually quite diminutive–not the big man that he is portrayed in larger than life photographs. Moreover, he may be suffering from serious health issues. According to emails purportedly leaked to the media about the Russian supreme leader's health, Putin may be suffering from pancreatic cancer that has been spreading to other organs in his body and which could prove to be fatal. Besides, according to the emails, Putin may also be suffering from early stages of Parkinson's disease, a brain disorder that causes unintended or uncontrollable movements, such as shaking, stiffness, and difficulty with balance and coordination. In recent photographs Putin's hands seemed discoloured and black, further fuelling speculation about his health.
If these leaked emails are correct and if indeed Putin is suffering from health issues that can turn fatal, what could happen if he suddenly dies? Geopolitical experts are debating this question and the answer is not so obvious.
First, according to Russian law, if Putin dies or is unable to continue in office, the Federation Council or Senate will have to call for fresh presidential elections within 14 days. In the meantime, Prime Minister Mikhail Mishustin would become interim president. However, Mishustin is not close to Putin nor is he likely to be a candidate in case there is a fresh election for the president's post.
Instead, many believe that Putin's exit could see the emergence of a power struggle. Putin has been president since 2012 (and before that he was also president between 2000 and 2008). So his vice-like grip over Russia's governance, foreign policy, and virtually everything else has been a long-lasting one. That means opposition against him is totally hobbled. And that also means there is no obvious successor to him. However, many speculate that defence minister Sergei Shoigu, 67, could be one of the most likely contenders for president in a post-Putin scenario.
Some others predict that if Putin departs, Russia's conservative elite–including business leaders–could regroup. Many of them, at least initially, were not so happy about Putin's decision to attack Ukraine. And many of them feel the sanctions against Russia have debilitated the economy seriously–a fact that they think Putin has not accorded enough attention to.
Although all of this is in the realm of speculation, if Putin departs, many think that with him his "historical mission" that fuelled the attack against Ukraine could also peter out.
Netanyahu's return and what it means for Israel and the world
Benjamin "Bibi" Netyanahu has been Israel's longest-serving prime minister, having served from 1996 to 1999 and again from 2009 to 2021. Now he has won another term by winning an absolute majority in Israel's general elections last week. This time Netanyahu, 73, has won on the wings of a right-wing bloc, a coalition of parties whose ideologies range from Netanyahu's own conservative Likud party, which won 32 seats in the 120-seat Knesset, to the extremist party Religious Zionists.
The significant thing is that the Religious Zionists managed to garner double the support it got in the previous elections. The Religious Zionists comprise a cocktail of extreme right-wing ideologues with their hallmarks being Jewish supremacists, anti-Arab sentiment and homophobia. Three parties make up the Religious Zionists platform: the supremacist Jewish Power (in Hebrew, Otzma Yehudit), the National Union, an alliance of smaller right-wing parties, and the anti-LGBTQ party, Noam. The Religious Zionists increased the number of seats they won from six to 14 this time and that was what gave Netanyahu victory.
Even as Netanyahu began his talks over the weekend to form a coalition government, there is no doubt that the extreme right will play a critical role in whatever configuration emerges in power. Western observers, particularly in the US, are still unsure about what this could mean. For one, it is unlikely that they would take easily to talks with ministers representing the far right with whom even Netanyahu does not share common objectives except the opposition to the creation of a separate Palestinian state.
Cut to India. Netanyahu and India's Prime Minister Narendra Modi have enjoyed a rapport for years. During his previous stint as prime minister of Israel, India forged deeper bilateral ties with Israel. It is expected that the two countries will continue to build stronger ties. For India, it means trade and know-how benefits but also strategic advantages in a world where its own diplomacy has been led more by pragmatism than ideological concerns.
Kejriwal and the politics of pollution
'Tis the time of smog in Delhi. Last weekend as the Air Quality Index rose to cross 250 in Delhi, it was a sense of unwelcome deja vu for the megacity's residents. As the weather cools down, Delhi's air pollution levels soar. For many years now, it has also led to a blame game. The Delhi state blames the Centre for not finding a solution and vice versa.
The smog that envelops Delhi's atmosphere is often blamed on stubble burning by Punjab farmers. Delhi's chief minister Arvind Kejriwal has in the past blamed that and not Delhi's own industrial emissions from factories, burgeoning traffic, and so on, for the high levels of air pollution.
Ironically, this time the shoe is on the other foot. Punjab is a state that is governed by Kejriwal's party, the Aam Aadmi Party (AAP) and if it is stubble-burning by that state's farmers that is a prime cause of pollution in Delhi, is it not the responsibility of the government of that state, which is run by the AAP, to think of ways to stop that? That was the sentiment expressed by the government of Haryana, another northern state that is beleaguered by air pollution. It would be interesting to see how Kejriwal and his government in Punjab react.
Elon Musk and his ongoing saga at Twitter
Even if you're not a big Twitter aficionado, the ongoing events at the social media platform could provide fodder for entertainment. It began recently when the billionaire considered the richest man in the world, Elon Musk (net worth: est. $203 billion) bought the platform for $44 billion.
Immediately after buying the company, Musk walked into Twitter's headquarters in San Francisco carrying a bathroom sink and declared: "Let it sink in." He then sacked the top four honchos at Twitter and paid them each $120 million.
That is the kind of drama that we have come to associate with the rich tycoon. Besides Twitter, Musk owns Tesla, SpaceX, Neuralink, and The Boring Company, which do everything from building electric cars, building rockets and brain chips to digging tunnels.
At Twitter, Musk recently changed the descriptor of his handle (@elonmusk with 114 million followers) to Twitter Complaint Hotline Operator shortly after he faced widespread criticism of some of his announcements, chief among them was his plan to charge a fee of $8 a month for users to retain the "blue tick" that one can get for a company-verified account. The proposal has led to uproarious protests from many who feel this can enable people or organisations who use social media for trolling or propaganda to be able to "buy" credibility. Others are of the opinion that Twitter being a for-profit enterprise should be free to choose whatever business model suits it.
Meanwhile in India, Twitter fired most of its employees. Reports suggested that Twitter fired 180 of the 230 employees that it had in the country.
Is Mastodon the new Twitter?
Heard of Mastodon? No? Well, it has been around since 2016 and is a small social media network with limited success… till recently. Media reports suggest that Mastodon is seeing a rise in the number of people ditching Twitter to join the platform.
Mastodon has similar looks to Twitter's and has gained 230,000 users since Musk bought Twitter. And although it is tiny still–with just 655,000 active users each month compared to Twitter's daily active monetizable users numbering 238 million–social media analysts expect it to grow into a sizable niche player. Will Musk's loss be Mastodon's gain? We have to wait and watch.