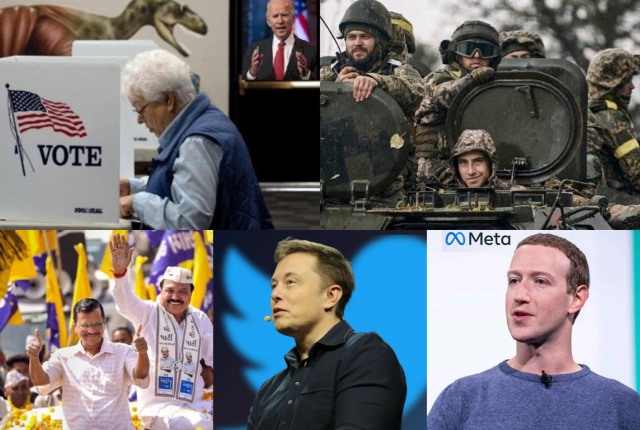 THEBUZZ
THEBUZZ
Five Things That Happened This Week (And what to make of them)
Is the Biden administration in a gridlock?
When it comes to elections, pollsters often get it all wrong. Before the US midterm elections that were held earlier this month, pre-poll surveys had predicted that there would be a huge wave in favour of the Republicans both in the Senate(upper house) and the House of Representatives (the lower house), which together make up the bicameral legislative body of the US government. On the basis of those predictions political analysts even began forecasting scenarios where the Biden administration could fall into an existential crisis that could prove to be fatal.
As it happened, the outcome of the elections was not as dramatic. In the Senate, the Republicans and Democrats are now head-to-head each with 49 seats in the 100-seat chamber; and in the House of Reps, the Republicans have 211 seats to the Democrats' 202 of the 435 seats, which means neither party has a majority. The US is largely a bipartisan democracy so unlike in other democracies such as in India or in several European countries, coalitions and electoral alliances are not meaningful options: the Republicans and the Democrats are always rivals.
But what exactly does it mean for President Joe Biden if the country's lawmaking body is so evenly balanced? After the results started getting announced, Biden expressed a sigh of relief that the pro-Make America Great Again (read: Donald Trump and his supporters) were not bouncing back to stymie his government. But that could have been a response that was too hasty. Because America's government could find itself in an unenviable gridlock.
Let's look at the scenario that has emerged. The Republicans have a majority with a slender margin over the Democrats in the House, while in the Senate, neither of the two parties has a majority. What does this imply? For one, it makes President Biden's task of making major new policy changes through law more difficult because his Democratic party has no clout in the House. Unless the Republicans are on board, it could be difficult for him to enact laws that have major implications. At a time when the shadow of recession looms large over the global economy; and Russia's war in Ukraine continues to spiral, hurdles to lawmaking in the US could prove to be costly.
There could also be other implications for Biden. Some analysts believe in a sort of eye-for-an-eye move, if the Republicans have an edge in the House they could call for impeachment of Biden–in a kind of retaliation for the impeachments that the Democrats initiated against Trump during his term.
Meanwhile, Trump has said that he will make a big announcement later this month and that could mean he may throw his hat in the ring for the 2024 presidential elections. Trump continues to have considerable support among Republicans and many in the party, including some who have been elected in the midterms, think the 2020 elections results were not credible and that actually it was Trump who should have been declared the winner.
Divisiveness has sharpened in the US political scene and the midterms, even if they haven't resulted in a clear verdict, have served to sharpen them. We can expect tensions to grow between the two parties and their supporters as 2024 approaches.
How many have died in the Russian attack against Ukraine?
As the war in Ukraine continues, and details of what is happening on the ground remains shrouded in ambiguity, a US military estimate suggests that around 100,000 Russian and 100,000 Ukrainian soldiers have been killed or injured in the nearly 10-month-old war. These figures, however, are a "western" estimate because both Moscow and Kyiv are extremely cagey about releasing official figures for casualties on their respective sides. Instead, ever since the war began last February, both sides have been contradicting each other–in terms of casualties, terrain recovered or captured, and other war-related statistics.
One slightly hopeful sign appeared last week. There were some reports that Ukraine was willing to consider negotiations with Russia for an end to the conflict. However, it is not known whether or how Russia would react to these overtures. Both countries would have to first agree that the 10-month-old war would perhaps not be resolved militarily but through diplomacy.
Speculation about the talks between the two sides grew after Ukraine's President Volodymyr Zelensky withdrew his demand that Russian President VladimirPutin should step down before any negotiations could happen.
Despite the contrary propaganda, both sides have suffered in the war but whether Putin responds to Zelensky's overtures for talks is something that remains uncertain.
In Gujarat, it's an AAP shadow that looms
Bombastic declarations are a part of India's electoral politics. Before Gujarat goes to the polls in less than a month from now, such declarations are flying fast, especially from the Bharatiya Janata Party (BJP), which has 109 of the 182 seats in the state. Releasing the first list of the party's candidates last week, BJP leader and Union minister Bhupendra Yadav said his party would break all records and win 150 seats in the assembly.
The facts could be quite different. In allocating seats, the BJP, which has ruled the state for practically 27 years (with a short break in between), has denied tickets to as many as 38 sitting MLAs, an indication that it fears that voters in many constituencies might be swayed by anti-incumbency sentiments. In its first list of candidates, it has included only 69 of the sitting party legislators as contenders for the coming elections.
This could be a sign that the party is fearing stiff competition from the Aam Aadmi Party (AAP), which won Punjab's last elections and has been running Delhi for the past seven years.
Gujarat is a prestigious state for the BJP. Not only has it been ruling it for nearly three decades, it is Prime Minister Narendra Modi's home state and one that he has been chief minister for more than a dozen years. Losing Gujarat and that too to AAP would be humiliating for the party. For now, all eyes are on AAP, which is clearly one of the most prominent rivals to older and bigger parties at the national level such as the BJP and the Congress.
Musk on the warpath in Twitter
After buying Twitter, sacking its top executives and as many as 3,700 employees worldwide, billionaire Elon Musk is continuing to unleash controversial decisions at the popular social media messaging platform. Twitter recently announced a subscription model for anyone who wanted a verified account (which comes with a blue tick).
More recently, Musk scrapped the platform's work-from-home policy and declared that all employees have to come to work and do a minimum work week of 40 hours. Coming on the heels of a mass sacking, this has created further uncertainty in the company.
Meanwhile, even as Musk reached out to major advertisers in a video chat last week to assure them of his sound business plans, many big spenders have abandoned or put on hold their ad spends on the platform. These include General Motors, General Mills, and United Airlines. Many of these companies are apprehensive about the direction a Musk-owned Twitter will go with regard to hate speech and divisive content. Many of them are waiting and watching how things pan out before resuming spending on the platform.
Facebook employees face the sack
Elsewhere on the social media scene, things are not very different. Faced with declining revenues and increasing losses, Facebook has been on a firing spree. Last week, on a single day, Facebook fired 11,000 employees comprising 13% of the company's workforce.
Many of those fired were Indians, including some who had just joined the company. In one instance, a woman employee on maternity leave till February received an email that said her job had been terminated.
Facebook's bossMark Zuckerberg has taken responsibility for the decision to fire employees and for the company's revenue collapse.
Meanwhile, he is betting big on Metaverse, a virtual world in which people live, work, shop and interact with others all from the comfort of their homes. Facebook's parent company, Meta, is working to launch this. But although Zuckerberg has invested nearly $36 billion thus far on Metaverse till now, there is little to show for it yet in results.
Read More: https://lokmarg.com/