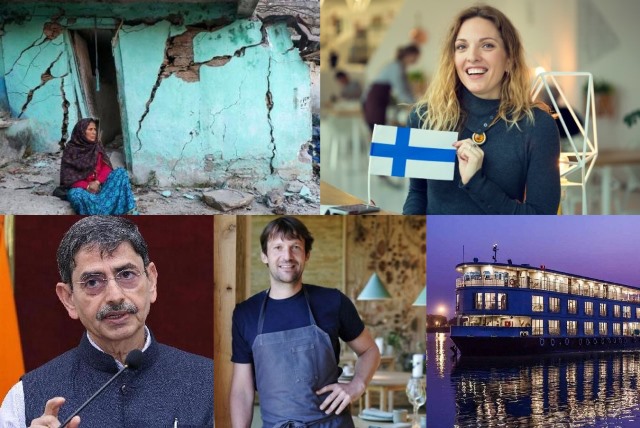 THEBUZZ
THEBUZZ
Five Things That Happened This Week(And What to Make of Them)
India's Himalayan region under constant threat
Joshimath (also known as Jyotirmath) is a small town in Uttarakhand in the foothills of the Himalayas. With a population of less than 25,000, Joshimath is an important portal town, the starting point that leads to several popular trekking routes, mountain climbing destinations, and, of course, to a pilgrimage center, Badrinath, which is held in great reverence by Hindu devotees. But early in January, the little town was in the news for the wrong reasons. Around midnight of January 2-3, several houses collapsed in a part of the town with cracks in buildings turning into wide chasms and walls and foundations crashing down.
Although the incident did not result in casualties, the authorities had to evacuate hundreds of families, including those whose homes had been destroyed but also others whose dwellings had turned perilous. The region around the foothills of the Himalayas, particularly in northern states such as Uttarakhand and Himachal Pradesh, has been zones threatened by landslides and related natural calamities for several years now. In 2013, in another Uttarakhand town, Kedarnath, a popular pilgrimage destination for Hindus, a sudden cloudburst and the resultant flash floods wiped out most of the town and claimed more than 6,000 lives.
There are two broad factors that make the area in the foothills of the Himalayas so prone to natural disasters. The first is the tertiary effects of global climate change. These have caused rainfall patterns to change–the cloudburst and resultant impact on Kedarnath is one example of how potentially dangerous the results of changing weather patterns can be. The second is a more directly man-made reason. The Himalayas are a relatively young range of mountains and it is believed that subterranean tectonic shifts are continuing in the area. Yet, over the years there have been rampant human incursions in the zone in the form of indiscriminate construction and the setting up of industries. Even a casual observer can see how the sides of mountains and hills have been transformed into haphazard urban sprawls, often as a consequence of thoughtless and completely environmentally unfriendly endeavors.
In Joshimath, residents had been complaining about cracks appearing in their homes for years. More recently, before the catastrophe struck, according to one account, a delegation of residents went to the state capital Dehradun to petition the chief minister of the state about their fears and predicament. Their main fear was the construction of a power plant by the government-owned National Thermal Power Corporation (NTPC). The corporation's project included tunneling and building roads in the area, which were believed to destabilize the terrain. The team that went to meet the chief minister apparently got a five-minute audience and there were no follow-ups by the authorities.
But such expressions of fear and warnings had fallen on deaf ears before. Last year, the state government organized a team of scientists, geologists, and researchers to conduct a geological survey of Joshimath. The group found that buildings and homes in the town were showing dangerous signs of land erosion, partly caused by intensified rainfall as well as ongoing construction and development activities that they recommended be curtailed immediately. The government did nothing. 
If that was the genesis of the catastrophe that the little northern town faced in early January, it is also a story that ought to act as a reminder to the authorities of all of the regions in India that skirt or span the foothills of the Himalayas. In Himachal Pradesh and Uttarakhand, particularly, construction and development activities have been going on without concern or caution. If these are not curbed, we could expect a spate of catastrophes such as Joshimath or Kedarnath.
Is there a lesson to learn from the World's "happiest country"?
For five successive years now, Finland has emerged (on the basis of a global survey) as the world's happiest country. While Finns (disclosure: this author lives in Finland) tends to downplay the findings of the rankings, recently a Finnish philosopher and psychology researcher gave her analysis of why the country keeps topping the list of happy countries.
The survey itself, titled the World Happiness Report, is based on a survey where respondents are asked to "value their lives today on a 0 to 10 scale, with the worst possible life as a 0." It also includes factors such as social security, life expectancy, and the degree of corruption. The higher the social security and life, the happier people would tend to be, and, obviously, it would be the other way around for corruption.
Why are people in Finland so happy with their lives? The researcher, Frank Martela, who works at the reputed Aalto University in Finland, says there are three main factors that are at play.
First, Finns don't brag about their happiness nor do they compare their lives with others. In fact, wealth and material possessions, at least relatively, are not accorded much priority. The president of the country is known to mow his own lawns or shovel snow in his yard. The prime minister is known to routinely clean her own home. And, says Martela in a guest column he wrote for CNBC: "I once ran into one of the wealthiest men in Finland. He was pushing his toddler in a stroller toward the tram station. He could have bought himself an expensive car or hired a driver, but he opted for public transportation."
Martela's tip No.1: "Focus more on what makes you happy and less on looking successful. The first step to true happiness is to set your own standards, instead of comparing yourself to others."
Second, Finland is blessed with natural resources such as forests, lakes, and the sea. More than 75% of the country is forest and there are around 188,000 lakes. For a population of around 5.5 million, that is a lot of nature. And Finns love it and routinely spend time in natural surroundings. Because Finnish cities and towns are compactly built access to forests, lakes, rivers, and seas are easy. 
Martela's tip No.2; "Spending time in nature increases our vitality, and well-being and gives us a sense of personal growth. Find ways to add some greenery to your life, even if it's just buying a few plants for your home."
Third, is the aspect of trusting one another. Martela quotes research from the National Bureau of Economic Research (NBER) to show the correlation between trust and well-being and describes a "lost wallet" experiment in 2022. In it, the honesty of citizens was tested by dropping 192 wallets in 16 cities around the world. In Helsinki, the capital of Finland, 11 of the 12 wallets dropped were returned to the owner. 
Martela's Tip No.3: "Think about how you can show up for your community. How can you create more trust? How can you support policies that build upon that trust? Small acts like opening doors for strangers or giving up a seat on the train make a difference, too."
Could Indians follow these three simple tips to improve their well-being and happiness? What do you think? Write to us.
(This segment includes excerpts from Frank Martela's column in CNBC)
Another governor spats with a state government
Governors of Indian states are usually titular positions. They are appointed by the President of India but in practice, the appointments are of candidates who are very strongly recommended by the central government of the day. Often the governorship is a post-retirement reward for trusted political leaders, ex-ministers, and so on, but almost always they are people who owe allegiance to the ruling party at the Centre. The governor, like the President, is more of a figurative position with little executive powers that fall into his or her domain of responsibilities.
Yet, inherent in the office of a governor is the potential for conflict with his state's executive. Take, for instance, R.N. Ravi, the governor of Tamil Nadu who was appointed in 2021. A quick recap of Ravi's antecedents: he was governor of Nagaland and governor of Meghalaya before he became governor of Tamil Nadu. But, and more importantly, he has served in the Central Bureau of Investigation (CBI) and was appointed the Chairman of the Joint Intelligence Committee in 2014. He was then appointed Deputy National Security Advisor of India in 2018. If you glance at those dates, it is not difficult to see which regime at the Centre to Ravi owes his allegiance.
Now, in Tamil Nadu, the government in power is led by the Dravida Munnetra Kazhagam (DMK), which is opposed to the Bharatiya Janata Party. Recently, Ravi in a speech at an event asked Tamil Nadu's civil service aspirants to put the Centre's interests over the State's–an outlandish suggestion considering that the civil servants are assigned to be part of a state's cadre and, therefore, report to the state's executive. Then at his customary address at the state's legislative assembly, he omitted some of the paragraphs in his speech that referred to Dravidian governance and, instead, suggested that Tamil Nadu should be renamed Tamilagam, ostensibly because, in some interpretations, the term Nadu implies a higher degree of autonomy for the region. The state government took umbrage at the suggestion and soon the fracas spilled out to the streets with BJP and DMK cadres clashing.
Governors' spats with state governments are not new in India. Instances of such confrontations have happened in Telangana, Maharashtra, and Kerala recently. Is it prudent for governors to elbow into what are usually the responsibilities of a state's executive? Perhaps a debate on the issue would be timely.
World's "best" restaurant will close in 2024
Noma, in Copenhagen, is considered to be the world's best restaurant. Run and co-owned by the head chef René Redzepi, it is famously difficult to get a reservation at the restaurant. Bookings are typically done three months in advance and reservations can only be made on the 6th of every month. Usually, when lines open for bookings, a few thousand people call or contact the restaurant to get a table and all bookings get exhausted in a couple of hours.
But things seem to have changed in the post-pandemic era. While globally many restaurants have had to close down or change the way they operate (some posh fine-dining places have introduced takeaways or deliveries), last week Noma, a sort of rarefied shrine for gourmets around the world, announced that it was shutting down operations.
Chef Redzepi has, in an interview, said that Noma will now have to completely rethink its model and may return in 2025 as a giant "food lab" where its kitchen will focus on food innovation and developing new flavours. The new Noma could create pop-up restaurants worldwide instead of a permanent one
Noma, which has three Michelin stars, opened in 2003 and is considered to have revolutionized the world of fine dining by introducing what is now known as New Nordic dining, which focuses on seasonal products and local ingredients.
Since it opened, Noma has consistently topped the rankings of best restaurant surveys and Redzepi has continuously innovated with his recipes, ingredients, and presentation of food. Of course, all of that doesn't come cheap. For a multi-course tasting menu dinner at Noma, the minimum cost per person could be at least US$500.
World's longest river cruise… in India
If you have 51 days free and around Rs 20 lakh lying around spare, take a cruise down the Ganges. Last week, Prime Minister Narendra Modi flagged off MV Ganga Vilas, the world's longest river cruise, in Uttar Pradesh's Varanasi. A total of 32 Swiss tourists will take the maiden journey to reach Dibrugarh in Assam via Bangladesh, traversing almost all of the length of India's longest river.
The cruise vessel, MV Ganga Vilas is the first such vessel to be made in India. In 51 days, it will travel 3,200 km.
Billed as a moving five-star hotel, the cruise vessel has 18 suites and a capacity of hosting 36 passengers. Besides, it has accommodation for 40 crew members. The ship is 62 metres in length and 12 metres wide and needs a draft of 1.4 metres. It also has a spa, salon, and gym. During the journey, passengers will be able to see 50 tourist destinations, including world heritage sites, national parks, and cities such as Patna, Kolkata, Dhaka, and Guwahati.
During the inauguration of the cruise, Prime Minister Modi was quoted as saying: "India has everything that you can imagine. It has a lot beyond your imagination. India cannot be defined in words. It can only be experienced from the heart." And, of course, your wallet, if you choose to go on the cruise!
Read more: http://13.232.95.176/