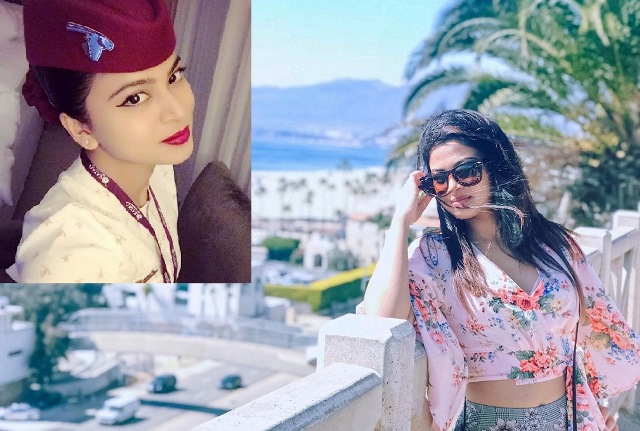 LOK ISSUES
LOK ISSUES
'Flying As We Knew It Has Changed, Crew Wears PPE Suits'
Gitanjali Dey, 28, a Qatar Airways cabin crew, says aviation industry has been severely hit by the Covid-19 pandemic but work ethics and hope keep them flying
I am employed as a cabin crew with Qatar Airways and currently based in Doha even though my parents live in Kolkata. I have been a part of the aviation industry for nearly six years now and I can vouch that most airlines across the world are witnessing their toughest times ever.
I am proud to say that despite the prevailing panic amid the Covid-19 pandemic, Qatar Airways never stopped its operations completely; it would be safe to say that we showed exemplary courage and confidence and kept flying the travellers, many of whom desperately needed to reach home.
I say this because it is tough to be away from your family at such an uncertain time. But my parents have taught me to respect work ethics and rules in place, so I will go home only after it is totally safe for both me and my family. Till that happens, I try to be in touch via voice or video calls for the wellbeing of my parents concerns me.
The flying operations as we knew them have changed completely. Instead of the stylish uniform, we are now covered from head to toe in personal protective (PPE) gear, with face shields, surgical masks and sanitised gloves.
It is mandatory for us to use hand sanitizers at regular intervals, whether or not we have come in contact with someone. We also take care to serve the customers food that is prepared keeping in mind all the latest health and hygiene standards in place.
Thankfully, most airlines are flying on half-capacity so we are able to give proper attention to every individual on board. We were doing that earlier too, but in view of the pandemic the crew has to be extra attentive. The planes are thoroughly sanitized and the temperature of each passenger is checked before they board the plane.
As a cabin crew I report for duty after a gap of 2-3 weeks; so on an average every month I go on international flights twice. Initially, I was a bit worried about having to operate in a potentially contagious atmosphere, but with time those anxieties have subsided. I actually feel happy to be able to contribute in easing the lives of those who still have to travel at such times.
The pandemic has been particularly devastating for the aviation and hospitality industry the worldwide. With most international airports still not fully operational, a large number of aircraft grounded and thousands of job layoffs, we are headed for very uncertain times ahead.
But we have hope.
It will perhaps take a long time for the aviation industry to recover as more and more people are giving up on travelling unless it is an emergency. The world is re-calibrating itself to weather the pandemic and its after-effects. For now, I guess each individual will have to maintain self-discipline and practice social distancing, so we can win this war against the virus.